[Bumped up x2, updated and comments opened so that you can post any protest/rally observations in comments.]
*** UPDATE 13 - 5:14 pm *** Here are Rep Harris, Rep. Turner, and Rep. Feigenholtz with some passionate speeches…
*** UPDATE 12 - 2:45 pm *** Here is Gov. Quinn's speech…
*** UPDATE 11 - 2:22 pm *** Another view of the rally…
*** UPDATE 10 - 2:01 pm *** From Fran Eaton's Facebook page…
Fran Eaton wonders when people who depend on the government to meet their needs will realize how enslaved they've become.
2 hours ago

Fran Eaton thinks we should support the Republican House members who are staring down angry tax demanders who've been ushered out of the Capitol.
15 minutes ago
*** UPDATE 9 - 1:50 pm *** More on Quinn and the corporate tax hike proposal…
The governor still wants to raise the income tax rate on individuals by 50 percent. But now the governor says he's open to negotiating the size of the tax hike on businesses.

"Some of our Republican friends I think would be interested in seeing that happen," Quinn told reporters after a rally where thousands of people protested potential budget cuts if no more money is found.
AP…
Thousands of people squeezed into the Illinois Capitol to protest possible budget cuts and instead demand higher taxes.

They waved signs in support of programs for children, women, senior citizens, disabled people, drug addicts and more.

Authorities say Tuesday's rally attracted more than 5,000 people. At one point, police stopped letting more people into the Capitol building because of safety concerns.
*** UPDATE 8 - 1:45 pm *** Here's my intern Mike Murray's video of the rally. Very good stuff. He learned how to do this all on his own…
*** UPDATE 7 - 1:32 pm *** Facebook post by Rep. Osmond…
I am in my seat at the Capitol and the building has been closed as to those 5000+ individuals here demanding a yes vote for a tax increase. Just like others have written it is not a good day with the outside 90+ degrees. They just cleared the gallery and told all they have to go thru a security check and the visitors are not happy. There is a security meeting in the back and they have called for additional manpower
And Michael Marshall…
It's just one of those days where it is truly a blessing to have an office in the Capitol building. 5,000+ whining people, you can't walk anywhere, seems like everyone has a drum, whistle, or microphone, and because its 96 degrees outside we get a really ripe smell to top it all off
Youth chanting "if I lose my home cn I live in yours". Its chilling, how many ppl have 2 suffer before IL has a humane budget?
*** UPDATE 6 - 1:32 pm *** Another Tweet…
@ToddAF The nearly 5,000 protesters who swarmed the capitol today are slowly making their way out now. At least some of them, anyway.
*** UPDATE 5 - 12:57 pm *** From a pal…
Today got me thinking about the AFSCME budget rally in May 2004…. You called it the "largest statehouse rally in my 20 years" I believe.

One legislator addressed that rally.

He's living a ways east of here now, in a big white house.
*** UPDATE 4 - 12:53 pm *** Another important Tweet…
@capitolbureau Quinn backing a temporary income tax hike. Said he is open to lowering the proposed corporate rate [hike] of 7.2 in exchange for Republican votes. [emphasis added]
*** UPDATE 3 - 12:23 pm *** Wow. From Twitter…
@andreazelinski Upward of 5,000 people flooding the state capitol today, says Sec of State office. For safety's sake, they won't let more in the building.
…Adding… That's confirmed.
*** UPDATE 2 - 12:23 pm *** A photo from inside the Statehouse. Click on the pic for a larger image…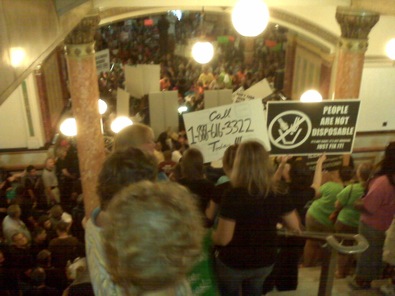 *** UPDATE - 12:18 pm *** I'll be posting on Twitter off and on today. Here are a few relevant "Tweets" that I've seen so far…
@Pov2Opportunity Update From Springfield- Thousands of people inside and outside the Capitol Building http://tiny.cc/OIHzP

@DanProft On my way to Springfield for more discussion as to how we "un-fix" Illinois

@kiyoshimartinez A traffic jam on I-55? Are you kidding me?!

@ILSenDems President Cullerton has filed a letter… scheduling a regular session day on Wednesday, June 24th at 10:00am
[ *** End of Updates *** ]
* From GateHouse…
8:30 a.m.-10:30 a.m. - Social service providers have a forum at the President Abraham Lincoln Hotel in downtown Springfield to talk with local legislators about devastation caused by possible state budget cuts.

10:30 a.m. - Advocacy groups fighting domestic violence and sexual assault and others gather at the Abraham Lincoln Statue on the east side of the Capitol, with tents, to show the impact of possible budget cuts to their services.

11 a.m. - Service providers meet at the state Capitol's Lincoln statue, then march nearby to Attorney General Lisa Madigan's office and the state Republican Party office in downtown Springfield to warn about budget cuts.

11:30 a.m. - About 5,000 providers, workers and clients rally in the state Capitol Rotunda along with Gov. Pat Quinn against budget cuts.
The session begins at 2 o'clock.
* More…
They've hit the phones, sent the e-mails and even had face-to-face meetings. On Tuesday, service providers take their message en masse to the state Capitol in hopes of getting better answers.

About 5,000 black-clad protestors plan to welcome the Legislature back to Springfield for a special session meant to hash out some of the state's problems, including human service organizations that could see their funding cut in half in the next budget year.

They promise this won't be another ordinary legislative rally.

"Every day, you can find another rally, you can find another group that is interested in their issue. What is different is this time … everyone is coming together as a whole," said Sara Moscato Howe, CEO of the Illinois Alcohol and Drug Dependence Association.
Zorn…
Experience tells us that protest rallies — a big one is scheduled for Tuesday in Springfield — aren't going to rile up average taxpayers. We've heard too many doomsday forecasts and are tired of political posturing that feels an awful lot like extortion:

Fund our programs or real people will really suffer.

My sense is that, this time, only a true crisis will generate popular support for a tax increase. And that even when the suffering is real, the public isn't going to dig deep until legislators scrap all but the most urgent infrastructure-repair projects in the budget.
They're not gonna "scrap" anything in the capital bill. Notice that neither side has pointed out the goofy projects in the bill? It's a "gentlemen's agreement" - albeit made with one female (the Senate GOP Leader) - not to stir up trouble.
154 Comments













































































































































































































































































































































































































































































Sorry, comments for this post are now closed.