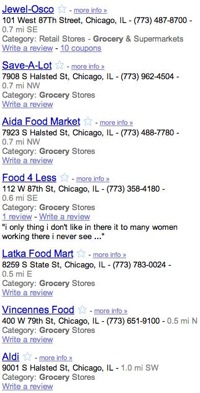 * That image at the right represents just some of the grocery stores near the proposed Wal-Mart at 83rd and Stewart in Chicago. The rest are here.
I'm not sure you can call that area a "food desert," even though it's been referred to as such time and time again.
Still, as one commenter noted here yesterday…
If the Food4Less & jewel were getting the job done, then why did walmart sell 4 days worth of produce from a typical supercenter in 3 hours?
Ald. Burke makes this point…
"They can build 14 stores here. All they have to do is make a commitment to the rights of working men and women in Chicago to organize," Burke said.
Chatham area residents deserve the jobs and fresh food the store would bring.
* The Question: Do you think Wal-Mart should be allowed to open more stores in Chicago? Explain fully, please.
70 Comments

















































































































































































































Sorry, comments for this post are now closed.