* The other day I was surfing around as usual and a couple of tweets on Mark Kirk's US Senate campaign Twitter page jumped out at me…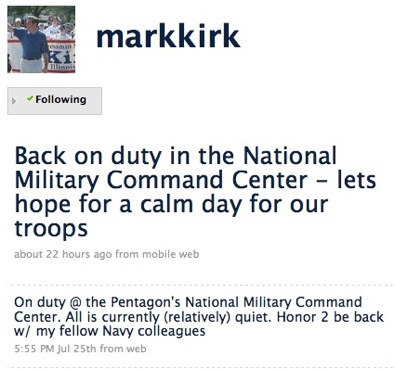 Being the son of two (now retired) Department of Defense civilian employees, I've long been aware of and sensitive to the military's campaign restrictions…
It is DoD policy that a member of the Armed Forces (hereafter referred to as "member") is encouraged to carry out the obligations of a citizen. While on AD [Active Duty], however, members are prohibited from engaging in certain political activities. Subject to the guidelines in enclosure 3, the following DoD policy shall apply:

1. General

a. A member on AD may:

(1) Register, vote, and express his or her personal opinion on political candidates and issues, but not as a representative of the Armed Forces.

(2) Make monetary contributions to a political organization-

(3) Attend partisan and nonpartisan political meetings or rallies as a spectator when not in uniform.

b. A member on AD shall not:

(1) Use his or her official authority or influence for interfering with an election; affecting the course or outcome of an election; soliciting votes for a particular candidate or issue; or requiring or soliciting political contributions from others.

(2) Be a candidate for, or hold, civil office except as authorized in subsections D.2. and D.3., below.

(3) Participate in partisan political management, campaigns, or conventions.

(4) Make campaign contributions to another r of the Armed Forces or an employee of the Federal Government.
Kirk is a Naval Reservist, and he appeared to be on duty when those posts were made, and his Twitter site is clearly a campaign site…
Be sure to check out our Senate campaign splash page at www.kirkforsenate.com
11:36 AM Jul 23rd
* So, I called the Pentagon. The first person I talked to wondered aloud whether Kirk had violated any rules by disclosing his location while on duty.
That wouldn't be a good thing.
But the other question I had was whether this violated some sort of anti-campaigning rule.
I had asked the Kirk campaign for comment around the same time, and eventually received this e-mail, which I then forwarded to the Pentagon…
"Congressman Kirk did not post while on duty. In situations when he is unable to use Twitter, (i.e. while on reserve duty) a staff member posts a preapproved tweet."
* Meanwhile, the Navy expects to issue a statement by the beginning of next week. In the interim, they offered me this…
"We're aware of the tweets by Congressman Kirk during a recent drill weekend here at the Pentagon and we're going to be looking into the matter."
Whether or not Kirk or a staffer posted those tweets, I'm still not sure he should've done it, so I'm wondering what you think.
Have at it.
*** UPDATE *** Actually, those regs posted above are a bit dated. Here is a more recent military directive…
4.3.3. Any member on active duty who is permitted to be, or otherwise not prohibited from being, a nominee or candidate for office as described in subparagraph 4.2.1. may NOT participate in any campaign activities. This includes open and active campaigning and all behind-the-scene activities. For example, such members described in this paragraph who are candidates or nominees may not:

4.3.3.1. Direct, control, manage, or otherwise participate in their campaign, including behind-the-scene activities.

4.3.3.3. Publish or allow to be published partisan political articles, literature, or documents that they have signed, written, or approved that solicit votes for or against a partisan political party, candidate, issue, or cause.

4.3.4. Those members included in subparagraph 4.3.3. who are nominees or candidates for office must:

4.3.4.1. Take affirmative, documented efforts to inform those who work for them and those whom they control that they (the nominees or candidates) may not direct, control, manage, or otherwise participate in campaign activities on their own behalf.

4.3.4.2. Take all reasonable efforts to prevent current or anticipated advertisements that they (the nominees or candidates) control from being publicly displayed or running in any media. This includes Web sites devoted to the nomination or candidacy. Web sites created before entry on active duty may not be updated or revised and may be ordered shut down as the Secretary concerned may direct.


Click here to help buy presents for LSSI foster kids!
105 Comments


























































































































































































































































































































Sorry, comments for this post are now closed.