* Y'all can keep track of the Chicago Current exit polling if you want, but their numbers are so low that I'm not gonna update them any longer. No offense to CC. It was a worthwhile endeavor. But 12 precincts in Cook County ain't much.
* I mentioned this in comments earlier, but I'm almost hoping for a little Karmic justice for the Democrats today. If some supreme Democratic goofballs unexpectedly win because of the low turnout, general disinterest and - most importantly - way too early date of this primary [and it's compressed schedule], then Karma will have been appropriately meted out because the House Democrats, in particular, refused to move this thing back to March where it belongs. As a policy, I don't wish any party ill will, which is why I wrote "almost," but this is just ridiculous.
* From Patrick Hughes' Twitter account…
Good turnout in counties favoring us over Kirk, e.g. Carroll & McHenry
Carroll County? You mean that county with a total population of under 17,000? This is the big strategy?
* I'm not sure when Langdon Neal said this, or where he's been, but I'm not getting the impression so far that there's a "growing interest" out there. He's the expert, though, so we'll see…
"There's seems to be a growing interest in the election from the voters. So, we're hoping to reverse the trend and see a larger turnout from voters than we usually have for a primary election," said Langdon Neal of the Chicago Board of Elections Commission.
Numbers are horrible in Sangamon County, but expected to improve…
Sangamon County Clerk Joe Aiello says that as of early afternoon today, the percentage of voters going to polling places in the county seems to range from about 7 to 13 percent.

He said he expects that total to top 20 percent with the coming after-work crowd.
25 percent was the statewide turnout in 2006. The Tribune has a good graph to put all this into context…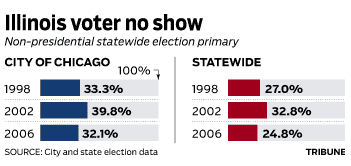 From the Post-Dispatch…
"We're looking real light, maybe 15 percent turnout," predicted St. Clair County Clerk Bob Delaney. That's on the low side of average for St. Clair. The statewide average for primaries is higher (around 25 percent for off-year primaries, says the State Board of Elections), spurred largely by Chicago. But local media up here are reporting almost in unison today how measely the turnout has been at the polling places so far.

There's likely a few things at play. It could be that a lot of people took advantage of the early voting system available this year, so it only looks like turnout is down. And the usual after-work spike in voting could still push the numbers to better than average. Also, it's a cold, overcast day in Chicago, which, like the rest of the state, is used to voting in early spring, not mid-winter.

Paul Green, political scientist at Chicago's Roosevelt University, has a simpler explanation: That despite all the breathless media declarations about the importance of these primaries, what average voters are seeing are average candidates.

"There's not an Obama or a (Chicago Mayor Richard) Daley running — no bigger-than-life figure," said Green. "None of these candidates would need a bodyguard to walk down Michigan Avenue."
Ain't that the truth.
Just got off the phone with Champaign County Clerk Mark Shelden who says that voter turnout today appears to be very low. That's what I'm hearing from others in the community.

He said we'd be lucky to get a 20 percent turnout today (the 2006 numbers) and that it could be as low as the 1986 non-presidential primary percentage of 17.5 percent.
* Mayor Daley caption contest!…
# ryancudney: Best photo yet of a politician voting http://bit.ly/bHGR1T [They changed the link, so I did, too.]
* More of my retweets…
# RutherfordDan: precinct committman in Kane County tells me his precinct is projecting only 5 to 6% turnout

# ramsincanon: I really think the shifting patterns in the Cook and inner DuPage, Lake, and Will burbs are the deciders for lots of these elections.

# ramsincanon: If @hoffman4il were to pull off an upset of @alexi4illinois, it'll be because of reflexive anti-Chicago-Dem-Machine vote in Cook Suburbs.

# BrianMcDaniel: At 3:15 PM, only 91 of 865 have voted in my precinct. Rs - 56 Ds - 35

# kiyoshimartinez: Man, even the polling places in Logan Square are kinda hipster-ish.

# kiyoshimartinez: My polling place keyed my card for a Democrat ballot. Had to take it back & say "Um, I know this is rare, but I want to vote Republican."

# kiyoshimartinez: I dunno if it's because I pulled a Republican ballot, but I was NOT offered an "I voted" sticker.

# bmeyerson: As school gets out in Schaumburg, students and parents dwarf the few voters.

# AdrianCurrent: Handed a survey, a woman says, "I don't remember who I voted for." This was a few seconds after she voted.

# BrianMcDaniel: Turnout's so low that the #ILPrimary may rest with eastern DuPage where most of the Gubernatorial candidates live.

# AdrianCurrent: A woman walks toward a polling place, asking, "Can I have some propaganda?"

# Suntimes: Conspicuously absent in this election day photo gallery? Voters. http://bit.ly/9tJCXx Light turnout today. Get on it, folks!

# Suntimes: RT @ascorzo: @Suntimes I'm working one of the polls today, we've only had 21 people vote so far.

# ilreports: With Illinois voters deciding his fate Quinn signs Funeral/Burial Funds Act/Cemetery Sales Act http://ow.ly/138rc & http://ow.ly/138rJ

# juggernautco: Field report: one Winnetka polling place has turnout at 35% at 1:30PM

# tracyswartz: which candidates were at your #cta stop? http://www.chicagonow.com/blogs/redeye/2010/02/which-candidates-were-at-your-cta-metra-stop.html

# Illinois_Stage: The low turnout so far is no surprise, especially in McLean County, officials say. http://bit.ly/c19poH

# kategardiner: I'm at Metropolis. It is a polling place. No one is voting. Cafe is jammed otherwise.

# johnfritchey: I'll be on Channel 7 news at 4p.m. answering questions about my opponents low-road, bush league campaign tactics.

# tonyperaica: Voter Turnout is Very Low, could be under 20%:Early returns: Illinois voters disgruntled http://bit.ly/8YJ3BM

# IllinoisIGPA: IGPA experts on the air election nite: Rick Winkel on WCIA and WDWS; Michael Cheney and Brian Gaines on WDWS. Kent Redfield on WUIS.

# Brooke22: Dear ADD, please go away- stop distracting me with blogs and Google searches on the Illinois primary, & let me work in peace.
* Do you have anything new to tell us about what's going on in the field? Good job so far.
89 Comments










































































































































































































































































Sorry, comments for this post are now closed.