* Finke has a very good story today about how state checks are being prioritized right now…
"Our priorities for the remainder of the fiscal year have to be debt repayment, general state aid to schools, expedited Medicaid payments and payrolls to keep government running," said [Comptroller Dan Hynes] spokeswoman Carol Knowles. "We can't afford to have our credit rating downgraded even further."

The single biggest monthly commitment facing the state is repaying short-term loans obtained earlier in the year. Just over $500 million a month is needed through the end of the budget year June 30, except for April, when the repayment jumps to $750 million.

That money is needed just to repay short-term loans the state took out this year. Another $45 million is needed each month to repay pension bonds and $79 million to repay bonds issued for capital improvements.

The second largest monthly commitment is $450 million to make Medicaid payments to doctors, hospitals and nursing homes within 30 days. Making those payments quickly qualifies Illinois to get additional federal Medicaid reimbursements. […]

The state also is trying to keep up with general state aid payments to school districts. However, reimbursements for other school expenses, such as transportation and special education, are lagging. General state aid payments cost about $418 million a month.
Of course, that means that almost nobody else is getting paid. Some of that unpaid cash was also for schools, and the delay is causing big problems out there…
Maine Township High School District 207 in Park Ridge has approved the elimination of 75 teaching and 62 nonteaching jobs.

Plainfield Community Consolidated School District 202 has discussed cutting up to 160 full-time jobs next year and eliminating the fifth-grade band program. […]

Elgin-based School District U-46, the state's second-largest district, has cut 348 jobs — mostly nonteaching — for the current school year. It also closed five swimming pools and canceled the athletic "B" teams. The district predicted a $15 million budget deficit next school year, on top of the $50 million deficit carried over from this year.

Naperville's Indian Prairie School District 204 is considering up to $13 million in cuts, including a layoff of non-tenured teachers, increasing registration fees and delaying new textbook and technology purchases.
And general state aid to schools could fall next fiscal year…
State Rep. Linda Chapa LaVia, D-Aurora, who heads a House education committee, said by the time lawmakers are done in May, schools could be looking at hundreds of dollars less per-student in state aid.

"The real price tag could be anywhere from $500 to $700 less," said Chapa LaVia.
The Republicans say cutting school money is ridiculous…
"I think this is very cynical, and ridiculous to make a show like this. As if this is the only choice. This is the Democrats' choice," [GOP Rep. Chapin Rose] said.
Rep. Rose is staunchly against a tax hike and thinks cuts in Medicaid should be looked at first. What he surely understands is the state is facing a $13 billion or so deficit, and cuts to Medicaid alone won't, um, cut it.
Some relief is coming, though…
The federal government is sending a half-billion-dollars to Illinois schools. Illinois State Board of Education spokesman Matt Vanover calls the $555-million infusion a "relief." He says the money will pay the general aid the state sends schools twice a month.
* David Vaught, the director of the governor's budget office, had some plain words for a joint Senate appropriations committee hearing last night…
"We're beyond a situation where we can do what I call 'efficiency cuts,' where we save money and eliminate waste," he said. "We're at the point now where cuts are very real. They involve a reduction of services and they involve pain in many communities."
* CoGFA director Dan Long distributed an analysis at the same hearing last night which you can view by clicking here. Let's look at a few of his charts. As always, click the pics for better views…
Personal Income Tax, Corporate Income Tax, and Sales Tax Receipts - FY '98 thru FY '10 Q2…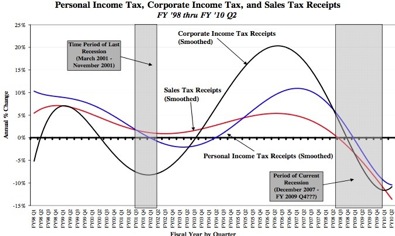 Personal, Corporate, and Sales Tax Revenues - Year-Over-Year Percent Change by Month…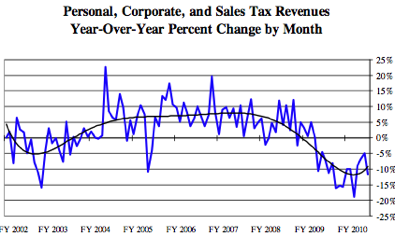 FY 2011 Budget Hole [Base]…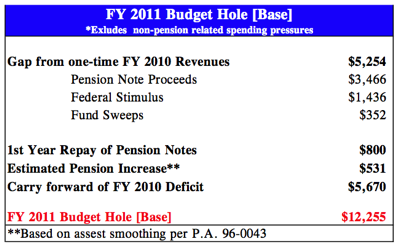 Check out that dotted red line on this chart. It's the General Funds balance after lapse spending. Oof…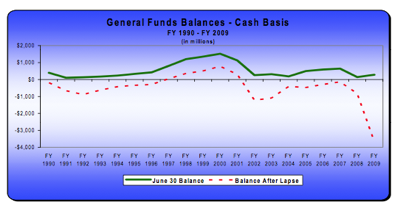 * Not surprisingly, the governor is still talking about raising taxes…
Gov. Pat Quinn says he thinks it's "necessary" the Illinois House consider a plan to raise the state income tax that passed the Illinois Senate last year.
* Related…
* Quinn warns of 'very real' budget cuts

* Illinois stuck in a 'historic, epic' budget crisis

* Illinois must reform pensions, make cuts before tax talk

* From the right, civic duty in Illinois

* Politicians can't sugarcoat Illinois' dire straits

* Senator seeks open school enrollment statewide

* Legislative scholarship perk defended: The Illinois senator put in charge of overseeing efforts to reform controversial legislative scholarships defended those scholarships Tuesday, denying they are perks and saying they should remain in lawmakers' control.

* No vote on lawmaker scholarhships

* New state law causes changes in driver's ed programs
32 Comments































































































Sorry, comments for this post are now closed.