* A new statewide poll taken by Research 2000 for Daily Kos has Pat Quinn and Alexi Giannoulias with significant leads over their GOP opponents. Full results here.
First, a big advantage for Quinn vs. Brady…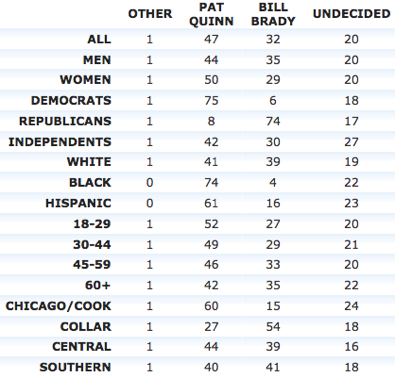 Pat Quinn's favorables…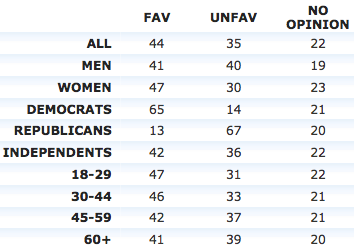 Bill Brady's favorables…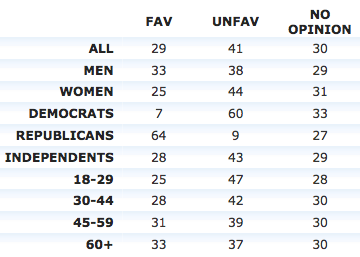 * Giannoulias vs. Kirk…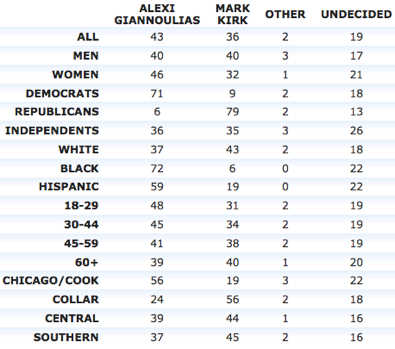 Giannoulias' most recent poll had him ahead 49-45. Research 2K's last poll in January had the race at 38-30.
The poll of 600 likely voters had a margin of error of +/- 4 percent. It was taken Feb. 22-24.
From the Hotline…
After a tougher primary race and whispers of a scandal surrounding a bank associated with Giannoulias' family, Giannoulias is actually more popular than Kirk, according to the poll. Giannoulias is viewed favorably by 49% of respondents, while 34% view him unfavorably. Kirk's fav/unfav rating stands at 42%/35%.

Despite a difficult climate for their party, Dems have been seeking to portray Kirk as the DC insider in the race. Among indies — those most likely to be disillusioned with DC — Giannoulias leads Kirk by the smallest of margins, 36-35%.

Kirk trounced challenger Patrick Hughes, who ran to his right, in the GOP primary. But his moderate creds, such as support for the Dem energy bill last spring, aren't yet paying off in the general. He is capturing just 9% of the Dem vote in the poll, while Giannoulias holds 71% of Dems.

Meanwhile, IL's most famous DC export, Pres. Obama, remains popular among the voters he once represented in the Senate. Fully 60% of '10 LVs view Obama favorably, while 36% have an unfavorable impression of him.
* I'm not the only one who can't get a call-back from Forrest Claypool…
Cook County Commissioner Forrest Claypool, who's retiring from that spot to go into private business, so far isn't returning calls about a report in Capitol Fax that the White House wants him to replace Mr. Cohen on the November ticket.

Mr. Claypool has, frankly, seemed a bit burned out on public life lately, and winning in November is no sure thing. On the other hand, the commissioner is the best of buddies with presidential counselor David Axelrod, who can be mighty persuasive.
* Our afternoon video was taken by my intern Dan Weber. Rep. Elaine Nekritz (D-Northbrook) criticized the General Assembly this afternoon during a speech on the House floor for adjourning so early on yet another "go home" day. Nekritz said she thought that the GA was "fiddling while Rome burns."
Dan followed up and here's what she had to say…
65 Comments


































































































































































































Sorry, comments for this post are now closed.