* Over 20 years ago, I walked into Bruce's Tavern at 11th & S. Grand on a Sunday night to buy a gallon of beer. Back then, you could buy gallons of draught beer in Springfield for less than $3. A gallon is about ten and a half beers, and that worked out quite well for those of us who didn't have much cashola.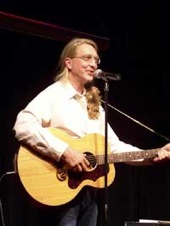 While waiting for Rich Bruce the bartender/owner to fill the jug, I couldn't help but notice that some guy was playing guitar and singing. I didn't pay much attention because I was on a beer run and he didn't have what you would call a sweet voice.
What I didn't know at the time was the guitar player was Tom Irwin. I had left Springfield for a year or so and Tom had become quite the rage with some of my friends at a different bar. They reminded me that most singer/songwriters take just a little getting used to, but that if I gave him a chance I'd see that his songs were brilliant.
So, the next Sunday I was back at Bruce's to check this guy out. His songs blew me away. A big crowd favorite back then was "Crystal Palace," with its admonitions against destroying the environment we live in…
Don't throw stones
In the crystal palace
Or you may find it all come crashing down
* Tom was our local protest songwriter. He railed against the "White Folks Mall," bemoaned being "stuck out here in Pleasant Plains," and penned one of the most ferocious songs I've ever heard about police brutality. A local African-American man was found dead in his county jail cell after he was allegedly beaten by the cops. The coroner astonishingly declared that he had died of "natural causes." Many of us were outraged at the time, and Tom poured those emotions into his ode…
From the moment I heard that song, I was Tom's fan for life. I've also been fortunate enough to be his friend over the years.
* Just about everybody who is into music in Springfield knows Tom Irwin. He's a legend. Besides his frontman duties, he's also played bass for Mr. Opporknockity and Elvis Himselvis and more bands than I can remember.
Here's another personal favorite of mine, "Haven't felt this good in a long, long time." The background noise kinda distracts from it, but it's surely worth a listen…
* Lots of folks also know Tom from his weekly music column for the Illinois Times. What most people don't know is that the two of us were almost business partners.
About 11 years ago, I was approached by a fledgling statewide radio network to do a weekly talk show. I came up with the idea of combining Tom's music with political interviews, crazy poetry and even a quiz segment. It actually turned out better than it may sound here. We put four shows in the can (Judy Baar Topinka and Dan Hynes were guests on two of them), but before we could launch the new program the network fell apart and I eventually left Springfield for Chicago.
The opening song for the show was "Hootenanny Love Train Express," which Tom wrote as a tribute to the huge crowds that eventually flocked to Bruce's on Sunday nights for the weekly happening we at first called the "Sunday Hootenanny" and then shortened to "The Hoot"…
All aboard
All aboard
Be sure to wear your Sunday best
We'd often cram 100 people into that little space. It was free to get in and the beer was cheap and it was one of the greatest times of my entire life. The "Bruce's Tavernacle Choir" - a bunch of us in the audience - would often join Tom or his other open mic night players at the microphone. We eventually got our own mic.
Another crowd favorite at Bruce's was Digging in the Dirt…
Most of the videos I've used here are from the the Capital Area Career Center TV station. I haven't talked to Tom about it, so I don't know why they posted the vids, but I've been haranguing him for years to make some videos so I could do a Friday Music Blogging post about him. So, I'm grateful.
* Bruce's eventually shut down, and Tom moved the Sunday night extravaganza to the Brewhaus. From a recent SJ-R article…
Irwin and a long list of musicians have performed almost every Sunday at the Brewhaus since it opened in October 1994. The current lineup usually features the Tom Irwin Trio (Irwin and Raoul and Chris Warren), with frequent appearances by Danny Kerwin.

"It's the steadiest job I've ever had, and I greatly appreciate the continued support of area music fans," Irwin said in an e-mail.
The Brewhaus bought the bar and back-bar used at Bruce's, so it's almost like going home.
I don't go out Sunday nights as often as I'd like because I gotta make the doughnuts on Monday mornings for y'all. But I'll stop in every now and then and talk to Tom and Raoul and the half-dozen or so friends who have been following both men from the very beginning.
As for Raoul, well, we'll save that for another day.
No Comments
Be the first to comment.
Sorry, comments for this post are now closed.