* The NRCC has thrown Republican congressional candidate Joe Walsh right under the bus…
National Republican Party fundraisers aren't putting much stock in Joe Walsh's campaign to unseat incumbent Democratic U.S. Rep. Melissa Bean in the suburban 8th District, a spokesman said Thursday.

The races for the 10th District, 11th District and 14th District seats are the most competitive in the state, National Republican Congressional Committee spokesman Tom Erickson said, and are getting the most attention from the party. […]

"We're really focused on the seats where we see the clearest paths to victory," Erickson said. "It's no secret these are the most competitive (races)." […]

"In the primary, we had really liked Dirk Beveridge or Maria Rodriguez," Erickson said, referring to two of the five candidates Walsh defeated Feb. 2. "Those are the two candidates who we thought really had the potential to make this a very competitive race."
Bean's seat is certainly a stretch for the GOP, but I thought she might be vulnerable to populist attacks that she's been way too cozy with the financial services industry. She's repeatedly back-stopped their attempts to kill off reform.
Still, I've never really seen the NRCC do that to a candidate before. It certainly looks like a not so subtle hint to get out of the race.
As you already know, the Daily Herald reported earlier this week about how Walsh's condo was foreclosed upon and his subsequent eviction. Walsh's over the top diatribe [fixed link] against the paper didn't do himself many favors, either.
Bean must be feeling pretty secure these days…
While many other Democrats are rushing to dump campaign cash given by under-fire U.S. Rep. Charlie Rangel, Melissa Bean isn't.

The Barrington Democrat says she won't donate to charity the $28,000 she received between 2005 and 2007 from the New York congressman or from committees associated with him.

The money was given before Rangel was under investigation for ethics abuses, Bean spokesman Jonathan Lipman pointed out. Plus, he says, the money has already been spent.
* Meanwhile, GOP Congressman Peter Roskam is doing Internet advertising on behalf of a "tele-town hall." The kicker is that he's using taxpayer money to buy the ads. Check out a screen cap…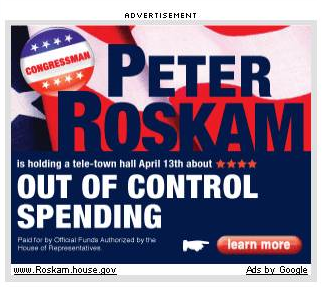 If you can't read the fine print, it says: "Paid for by Official Funds Authorized by the House of Representatives."
Strange that he would use taxpayer funds to advertise a meeting about "out of control spending."
Even stranger, the ad in question was placed by Google on Talking Points Memo, a liberal website.
* Campaign roundup…
* New Lake Co. GOP leader may reflect growing conservative movement: A member of the conservative Republican Assembly of Lake County, Cook brings a different dynamic to the leadership, observers say. RALC Chairman Raymond True said Cook will be in better touch with the conservative members of the party.

* Stroger hires campaign worker as deputy chief of staff: Carla Oglesby replaces Pamela Munizzi, who recently retired. Oglesby, who was a managing partner of CGC Communications, will be paid $116,000 a year in her new post. "I was deeply impressed by Ms. Oglesby's work on the political side in the run-up to the" Feb. 2 Democratic primary, Stroger said in a statement.

* Sneed: Sneed hears voter turnout for the recent governor's primary was the lowest in Illinois history.

* Code Red: NRCC Launches Targeted Calls Against Bill Foster

* Toftoy gets term as Kendall GOP leader: When the dust cleared, it was Kenny the Coroner — Ken Toftoy, the Kendall County coroner — who bested Sawmill Dan — Dan Nicholson, owner of Sawmill Pizza and Ristorante in downtown Yorkville — for a two-year term as chairman of the Kendall County Republican Committee.

* Former politician now brokers real estate deals: Lee Daniels, who used to negotiate the state's multibillion-dollar budget as the Republican leader in the Illinois House, now chases buyers for small commercial buildings in the suburbs.
30 Comments

























































































Sorry, comments for this post are now closed.