* As you may know by now, GOP state Sen. Dan Duffy has been pushing hard to rid the state of red light cameras. During today's meeting of the Senate Transportation Committee, Senate President John Cullerton offered up a compromise amendment on the issue which Duffy opposed.
The big news, though, was that Cullerton revealed that Sen. Duffy had been hit with a red light ticket himself [which Duffy clearly deserved, but previously claimed he didn't]. Cullerton then showed video of the violation. According to notes from my intern Dan Weber, Cullerton's staff was able to get the video online.
Oops.
And here's the video…
Duffy's car is the second one through the light. He barely slowed down.
[Video via: Animal Farm]
…Adding… This, by the way, is how a lot of legislation begins. A legislator has a bad experience and believes there oughtta be a law. I can certainly relate to Duffy's anger, even though I've not yet been hit with a red light ticket, but you'd think he'd have disclosed the ticket earlier.
…Adding more… Oops. Duffy did disclose the ticket. Trouble is, he said he stopped when the video clearly shows he rolled right through…
Duffy said he wrongly received a ticket from a red-light camera in Schaumburg. He said he stopped behind the line and inched forward before making a turn because a utility box obstructed his view. He said he wanted to fight the ticket but said it would have cost more than $1,000 to fight the $100 ticket."
Ummm… Huh? If you watch the video, not only did Duffy breeze through the light, but the utility box appears to be on his right, which wouldn't have obstructed his view of oncoming traffic from his left. And if a different utility box did obstruct his view, that was one very unsafe roll-through.
…Adding still more… President Cullerton dodge a question today about the staff shakeup at the Department of Corrections. Watch…
"Almost all scandals, I think, result not from the invention of new evils, but from the imposition of new ethical standards." – Bill James, The New Historical Baseball Abstract
Notice he said "almost." Rod Blagojevich's alleged misdeeds don't really fit. [Via.]
* The DSCC has a new Internet ad that blasts Mark Kirk for favoring the big banks. It's pretty much a preview of the fall campaign. Rate it…
* A video of Bill Brady's "unity rally" in DuPage County features this remark at the 32-second mark…
"Most of you know that I'm not a career politician."
Brady was first elected to the House in 1992 - eighteen years ago.
Watch the complete video…
Adam Andrzejewski said in his endorsement of Brady that the state hasn't created a job since 1997. Watch it.
* Today's graph from Moody's Economy.com shows how fast or slow various metro area real estate prices are expected to rebound. Click the pic for a better look. Our area isn't doing so bad in comparison to Florida and California, but it could be better…
[Via.]
* From the IEA…
We are asking all IEA members to stand in solidarity with our laid-off members on Friday, March 19th by wearing pink. We also invite administrators, parents and community members to join us, in recognition of the effect that these losses will have on the quality of education our state.

The two gubernatorial candidates, Gov. Pat Quinn and Sen. Bill Brady, will be speaking at the IEA Annual Representative Assembly (RA) on March 19 in Rosemont. We anticipate there will be extensive media coverage of the event. With our RA delegates in pink, we will show the state the IEA commitment to fair funding, and the impact that funding cuts will have on the goal to build a quality education system and economy in the state.
* This video is kinda cool, unless all the honking is right outside your back door on Lake Springfield. Your afternoon Zen…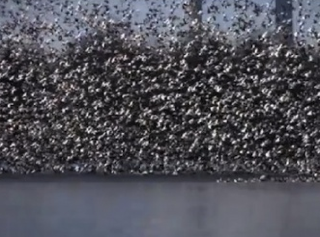 [Via.]
39 Comments




















































































































Sorry, comments for this post are now closed.