* Sometimes, bad things happen when pundits follow the mindless herd…
[President Obama is] not coming home to show his love for Alexi Giannoulias…

The Quincy visit comes less than a week after Broadway Bank closed, giving the impression that Obama is wiping the flailing Senate candidate off his shoe.

He'd better give his old friend another hug for all the viewers in Iowa, Missouri — and Illinois.
Just more silliness from people who've been reading too much into the crackpot DC tea leaves. White House reporters even demanded to know earlier yesterday whether Obama would mention Giannoulias in his speech.
The Chicago press corps was all atwitter…
Just hours earlier, Giannoulias had been facing questions in Chicago about whether Giannoulias' late invitation to the event constituted a "snub" after months of bad press about the collapse of Giannoulias' family's Broadway Bank.

"There's a lot of rumors and innuendo, but the White House is supportive of this campaign because they know we'll stand up for Wall Street reform, move this country forward," Giannoulias said.
They even mocked Giannoulias…
Reporter: "Do you need a hug from Obama today?"
* Well, as it turns out, Giannoulias did get a hug from Obama…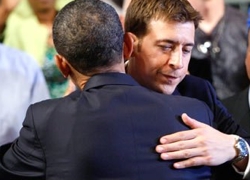 And a shout-out…
When Obama was introducing the Quincy mayor and Illinois officials, he gave a shout-out, referring to Giannoulias as the "soon to be senator." Right before the speech, Giannoulias met briefly with Axelrod, Reggie Love, Obama's body man, and Marv Nicholson, chief of advance (the latter two are part of the basketball bunch).
And then commenced a noisy round of gear-shifting…
Yet there was no mistaking the political implications for Giannoulias and his relationship with the White House as Obama closed out a two-day three-state campaign-style Midwest tour with a town hall event at the Oakley Lindsay Civic Center.

Obama mentioned Giannoulias' name during his remarks. Later, the president gave a departing good-luck hug to Giannoulias, his former basketball playing buddy. Obama has been close with Giannoulias, providing a vital endorsement in getting Giannoulias elected state treasurer four years ago.

Prior to Obama taking the stage, White House Senior Adviser David Axelrod summoned Giannoulias out of his seat in the audience for a private backstage meeting. Axelrod said it involved "catching up" with the candidate.

A White House background sheet on the day's activities, noting the elected officials from Illinois planning to attend the event, listed Giannoulias at the top, even though in ranking and seniority the state treasurer is last among the statewide offices.
Forget the man hug. Forget the announcement that Alexi Giannoulias is Illinois' "next Senator."

President Obama's greatest gift to Giannoulias during his speech in Quincy was the speech itself. Obama ripped into Wall Street, using many of same anti-investment banking tropes Giannoulias has been employing in his campaign against Mark Kirk.
The national press corps is already in place, I noticed they had a grand buffet set up for them. Nothing for local regional press.
Instead of going off the rails, the pampered Heathers should've been listening to this guy all along…
"Giannoulias and Obama are friends and he's friendly with people around him," Paul Green said. "It's a no-brainer. He will support him when it counts."
And this was a presidential understatement…
"Now, part of the problem is, is that when I travel now it kind of causes a ruckus."
Oh, and one more thing. I never wrote this…
Rich Miller of Capitol Fax points out that he called the election even earlier: nearly a year ago, when Lisa Madigan refused to run for the Senate.
What I wrote was: "I've personally had this race in the 'lean Republican' column…" That's not a prediction of a Mark Kirk win. I gotta wonder why that part of the piece wasn't quoted.
57 Comments










































































































































































Sorry, comments for this post are now closed.