* As I told subscribers this morning, the Center for Tax and Budget Accountability has a new report out analyzing next fiscal year's state budget. Here's the meat…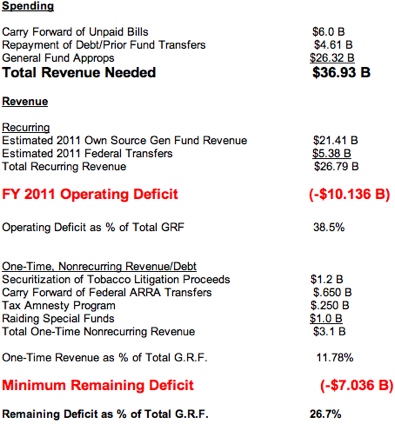 That means the state will have to come up with at least $3.1 billion again next year just to keep the deficit at $7 billion. And that doesn't include the pension payments. Oy.
More from the CTBA…
After all revenue sources, recurring and non-recurring are included, Illinois's 2011 budget deficit is 26.7% of its General Revenue Fund. Consider that over 90% of General Funds are spent on four areas: Education; Healthcare; Human Services; and Public Safety.

The General Fund is the area of the budget that elected officials have the ability to manipulate. So, if the budget is to be balanced by cutting 26.7% of spending, these four areas, all of which provide critical services to Illinoisans, will be first on the chopping block.

Under the Emergency Budget Act the Governor has been given the authority to make additional cuts in two areas: "discretionary human services" up to $ 2.2 B, and "discretionary operational and state government" up to $ 1.2 B.

In the [current] FY 2010 budget, human services (including the Departments of Aging, Children and Family Services, and Human Services) were cut by $ 2.1 B (38%) from FY 2009.
* Speaker Madigan says he's confident that Quinn can manage the budget situation…
"We overspent," Madigan said. "We took on too much and it's legitimate to say we've got to reduce thresholds. Not nickel and dime stuff, but threshold questions: Can we afford this?"

Madigan acknowledged the budget passed by the House Tuesday evening "isn't pretty" but said borrowing and giving Quinn the responsibility to allocate next year's funds was the legislature's best option facing a $13 billion budget deficit.

"There's a built-in reason why (Quinn) will do a good job managing, because if he doesn't it will reflect poorly on his performance and he's a candidate in a few months for election," Madigan said.
* The AP obtained a House GOP analysis which looks at the upcoming cuts…
State support for education would drop about $585 million, or nearly 8 percent, according to a House Republican analysis. Higher education would see a 4.5 percent cut. The agency that provides medical care for the poor would be cut 10.7 percent. The Department of Children and Family Services would see a 28.7 percent reduction.
The education cuts will likely be less, however…
Suburban school districts already strapped for cash are bracing for major state funding cuts unless lawmakers raise the cigarette tax or Gov. Pat Quinn can find money elsewhere.

An estimated $327 million would be cut from programs under a budget plan sent to Quinn this week. Special-education funding would be cut by about $246 million and transportation by about $81 million.
Quinn has vowed to use his budget cutting powers to preserve education funding, but that's a tall order. And the cigarette tax hike is going nowhere fast in the House right now…
State Rep. John Bradley, D-Marion, said he doesn't like the idea of higher cigarette taxes, but remains open to the concept. With the legislative session winding down, however, and a handful of lawmakers already leaving Springfield, a vote doesn't appear imminent.

"I don't think there's sufficient support for that," Bradley said.
* And Rep. Karen May tried to walk back an inflammatory comment about state retiree health insurance premiums…
Proposing that state retirees not yet old enough for Medicare should pay a portion of their own health-care premiums, May said, "They need to feel the pain."

"I would have, could have, should have, said, 'We must all share the pain,'" May clarified Wednesday. "If it came out differently, I apologize."
38 Comments

















































































































Sorry, comments for this post are now closed.