* Voices for Illinois Children has published a graph which shows unemployment rates for Illinois (in blue) and the US (in red) during the deep recession of the early 1980s. Click on the pic for a larger image…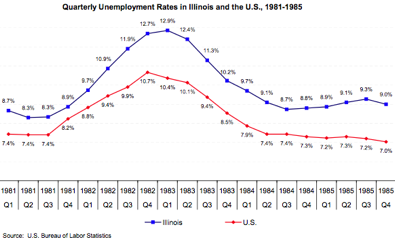 This shows two things:
1) Illinois' unemployment rate has tracked closely with, but has always hovered above the national rate for decades. Most of us who watch this stuff already know that, but too many people don't. This has always been a problem here and it's mainly because we've relied so much on manufacturing. During the 1980s, many of those jobs moved to the non-union South. In the 1990s, they went to Mexico. Now, they're going to China, although a friend of mine is losing his factory job soon because the plant is moving to Mexico.
Here's a more up-to-date graph of Illinois and US unemployment since January of 2008…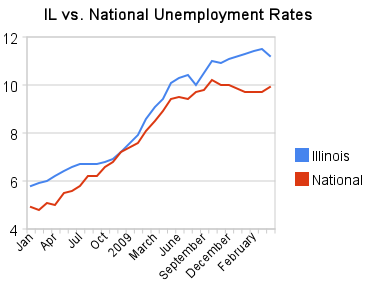 Closely tracked, but always above. This is the way it's always been here.
2) I'll let Voices for Illinois Children's Larry Joseph explain this one…
In January 1983, Illinois was in the depths of a severe recession. Unemployment in the state had reached 12.9 percent, substantially higher than the current rate of 11.5 percent.

Nonetheless, the General Assembly and the Governor instituted a temporary 18-month income tax increase to bolster state revenues. The individual income tax was raised from 2.5 percent to 3 percent and the corporate income tax from 4 percent to 4.8 percent.

During the first quarter of 1983, the state's unemployment rate was 12.9 percent, up from 8.3 percent in mid-1981. By the third quarter of 1984, after the income tax surcharge had expired, unemployment had fallen to 8.7 percent — a drop of more than 4 percentage points. Over the same period of time, nation-wide unemployment declined from 10.4 percent to 7.4 percent.

There is no indication that the tax increase had an adverse impact on the state's economy. The recovery in Illinois was shaped primarily by macroeconomic conditions, not by changes in state tax policy. [Emphasis added.]
We need to be far less concerned with our income tax rates and far more concerned with doing things that create jobs. With corporations and individuals spending money on debt reduction rather than expansion or purchasing, the government needs to step in and fill the void. [Hat tip: Progress Illinois]
* Related…
The unemployment rate in the Chicago metropolitan area continued to improve in April, falling to 10.7 percent from 11.2 percent in March, the Illinois Department of Employment Security reported today.

The rate was up from 9.8 percent in April 2009 and was above year-ago levels in all 12 metropolitan areas for the 35th straight month, but the increases have been consistently smaller in each of the four most recent months, IDES said. The rate was 11.3 percent in February.

The Chicago metropolitan area lost 84,500 jobs last month from a year earlier.

"Four consecutive months of smaller increases in (the unemployment) rate is encouraging because it offers another measure that indicates this national recession might be nearing an end," IDES Director Maureen O'Donnell said in a statement. "Knowing that unemployment rates look to the past, and knowing that Illinois has added more than 51,000 jobs so far this year, suggests that we are closer to escaping the pressure that the Great Recession has exerted on our local job markets."
66 Comments





































































































































































































Sorry, comments for this post are now closed.