* There's just something really odd about Congressman Mark Kirk.
As you already know, Kirk spent yesterday talking extensively to both the Sun-Times and Tribune editorial boards about the controversy over his years-long embellishments to his military career.
Trouble is, he appeared to embellish while he was attempting to clear the record. Here's an example from his Sun-Times interview (Warning: bad language alert within this link)…
Around the 10:55 mark of the video, one of the women asks, "How big is Intelligence Officer of the Year?"

Kirk responds, "According to the Navy Awards Manual both awards are prestigious."
The video…
If you click here, you will see links to both the Navy and Marine Corps Awards Manual and the Manual of Military Decorations and Awards. Neither of those manuals mention "Intelligence Officer of the Year," which Kirk claimed to have received for the past decade. And neither mention the Rufus Taylor award, which Kirk actually received. The Rufus Taylor award is nominated by Navy brass, but presented by a private organization that appears to have close ties to military contractors.
*** UPDATE 3 *** The Kirk campaign just sent over a link to a document entitled Navy Intelligence Reserve Command Awards and Recognition Program. Within that document is a reference to a Navy Intelligence Foundation "Navy Reserve Intelligence Analyst of the Year" award. The Foundation was founded by the Naval Intelligence Professionals…
Founded in 1985, NIP is a nonprofit organization incorporated to enhance awareness of the mission and vital functions of the Naval Intelligence community, as well as to foster camaraderie among Naval Intelligence Professionals.
Info on the Foundation…
Founded by NIP in 1988, NIF is a tax exempt, charitable and educational organization created for the sole purpose of soliciting, receiving, and administering funds and property in order to advance knowledge in the art of Naval and Maritime Intelligence, and to recognize and reward academic excellence and professional achievement in the field of Intelligence. NIF does not have a membership per se, but draws its support from the NIP membership and from other individual and corporate sponsors and supporters of Naval Intelligence. NIF sponsors and presents awards and scholarships as noted in "Naval Intelligence Foundation Programs" below.
[ *** End of Update 3 *** ]
Kirk, an intelligence officer, told the Sun-Times he was never fired on as he flew over Iraq or Kosovo. He never said he was fired on, he said in reply to a question from the Sun-Times. "No, no. There's no contradiction. I remember being illuminated by air defense."

Contrary to his claim to the Sun-Times, Kirk did talk about being shot at, on Oct. 1, 2003, from the House floor. Kirk spoke so imprecisely as to be misleading. "I just returned from Iraq and the trend is for the better," Kirk said, with his comments captured on C-SPAN. He goes on to say, "the last time I was in Iraq I was in uniform, flying at 20,000 feet and the Iraqi Air Defense network was shooting at us. That force is now gone."
I guess you could say that Kirk was using some sort of "Royal Us" when he said on the House floor that the Iraqi's were "shooting at us." But I doubt that it was understood that way. As a refresher, here's that video…
* If Kirk was hoping to bury this story by scheduling the editorial board appearances during the first day of the Blagojevich trial, he failed. The Tribune and the Sun-Times both put him on the front page…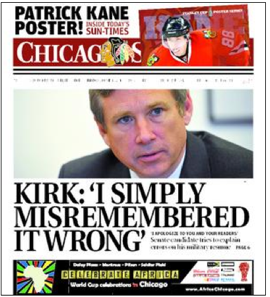 "I simply misremembered it wrong" is destined for the history books. It just makes no sense.
* The story also got some pretty big play on the teevee. WGN's report was particularly hard-hitting. Make sure to watch the whole thing…
The rumors started because he got a divorce? Huh?
* And I fully agree with Kass today, which is not something you've ever seen me write…
Kirk reacted to it all by saying it was his responsibility, and that it shouldn't have happened. But he wouldn't admit to embellishing his record for his political benefit. He apologized for not speaking with "utter precision."

"I am sorry," he said at the end of the tortured hour.

I'm sure he is sorry indeed. He just let Alexi Giannoulias sail right back into the campaign.
Exactly correct.
*** UPDATE 1 *** I meant to post this one and forgot. It's an editorial from the Milwaukee Journal Sentinel…
This is major-league umpire Jim Joyce on Wednesday after he booted a call at first base, robbing Detroit Tigers pitcher Armando Galarraga of a perfect game:

"I took a perfect game away from the kid over there who worked his ass off all night. . . . It was probably the most important call of my career and . . . I missed it."

Compare and contrast.

"Upon a recent review of my records, I found that an award listed in my official biography was misidentified as 'Intelligence Officer of the Year.' In fact . . . I was the recipient of the Rufus Taylor Intelligence Unit of the Year award for outstanding support provided during Operation Allied Force."

That was Mark Kirk, Illinois congressman and GOP U.S. Senate candidate.
*** UPDATE 2 *** Another one…
The list of untruths goes back to his Senate campaign's first ad of his head-to-head race against Illinois Treasurer Alexi Giannoulias.

In that ad, Kirk claims he served "in" Iraq - something he corrected during an interview about his military record with WJBC this week.

"I have deployed as a reservist twice to Afghanistan, I've been to Afghanistan other times as a member of Congress," he said.

"And I have never served in Iraq as a military man, I have been to Iraq as a congressman, and then as part of operation Northern Watch, I deployed to Incirlik Air Base, Turkey, where we supported the no-fly zones, so we were flying over Iraq. But we didn't set boots in Iraq."
Here's the Kirk TV ad that has now been disavowed…
140 Comments



































































































































































































































































































































































































































Sorry, comments for this post are now closed.