* Through the looking glass, straight into the Twilight Zone.
As the New York Times reports today, Congressman Mark Kirk has long talked about his experience as a teacher…
In a speech on the House floor on Sept. 19, 2006, as he talked about school safety, Mr. Kirk spoke about "the kids who were the brightest lights of our country's future, and I also remember those who bore scrutiny as people who might bring a gun to class."
Kirk's campaign told the NYT that the congressman's school safety floor speech referred to his one semester working at a nursery school at Forest Home Chapel in Ithaca, N.Y.
Forest Home Chapel is not exactly in a crime-ridden ghetto where nursery school kids regularly tote AK-47s…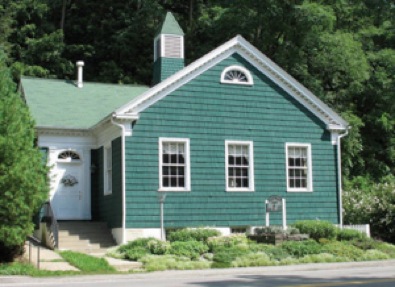 Ithaca's crime rate is pretty darned low, in fact.
Perhaps even worse, nobody from Kirk's staff could provide documentation that he actually worked at the nursery…
The campaign did not provide verification, and it could not be independently confirmed. A longtime member of the church who had a son in the nursery around the same time said she did not recall any male teachers.
The conservatives are gonna love this one. The chapel appears to be a very liberal house of worship. From its "Who we are" page…
We joyfully receive for ourselves and others the blessings of community, sexuality, marriage and the family.

We commit ourselves to the rights of men, women, children, youth, young adults, the aging, and people with disabilities; the improvement of the quality of life; and the rights and dignity of racial, ethnic and religious minorities.

We believe in the right and duty of persons to work for the glory of God and the good of themselves and others, and in the protection of their welfare in so doing; the rights to property as a trust from God; collective bargaining and responsible consumption; and the elimination of economic and social distress.
In a House Budget Committee hearing five years earlier, shortly after Mr. Kirk arrived in Congress, he talked about his time as "a teacher, both nursery and middle school." He added, "I did leave the teaching profession, but if we had addressed some of the teacher development issues, which I want to raise with you, I might have stayed."

Mr. Kirk left Milestone College in 1983 and began working on the staff of an Illinois congressman, John Porter, the following year and did not return to teaching.
Milestone College, a prep school, was in London, England. Not in the United States. He worked there a year after he finished his master's degree.
* We are now in some very bizarre, dark territory in this US Senate campaign.
Mark Kirk is an accomplished, decorated Naval veteran who blew that reputation out of the water with unfathomable exaggerations about his military record. He's an intellectual graduate of the London School of Economics who lied about his experience with liberal nursery school students carrying guns.
These accusations against Mark Kirk are no longer about mere "embellishments" or "exaggerations." This campaign is now about whether anything he says is true, and why.
* By the way, the NYT article was perfectly timed. The Illinois Education Association is holding endorsement meetings with both Kirk and Alexi Giannoulias this week. The IEA endorsed Kirk in the primary, but not Giannoulias. If this latest NYT story kills the IEA nod for Kirk, it'll be yet another headache for that embattled campaign.
…Adding… From a morning press release…
After one month of waiting for Alexi Giannoulias to file his Personal Financial Disclosure with the Senate Ethics Committee, the Kirk for Senate campaign today called on Alexi Giannoulias to tell voters the truth about what happened to Broadway Bank and end his "Blagojevich-style" concealment tactics with regard to his personal finances.

In a statement to the Chicago Tribune yesterday explaining why Mr. Giannoulias failed to file his ethics disclosure on May 17th, the Giannoulias campaign said the candidate wants to have a "more accurate picture of his personal finances, which have changed considerably since the sale of Broadway Bank."
*** UPDATE 1 *** From an Illinois GOP press release…
The New York Times rebutted accusations by Alexi Giannoulias' campaign that Congressman Mark Kirk had not been a teacher. The Times' London Bureau confirmed reports that Mark Kirk did serve as a full-time teacher at the Milestone School in London for the academic year 1982-1983. In addition, Kirk worked as a nursery school teacher in Ithaca, New York as part of his senior-year work-study program at Cornell University.

"While Mark Kirk has worked as a teacher and backed education reforms in Congress, Alexi Giannoulias wiped out $70 million in Bright Start college savings," Kirk campaign spokesperson Kirsten Kukowski said. "When it comes to education, Illinois voters have an easy choice in this election."
This release is nonsensical. The Giannoulias campaign didn't say that Kirk had not been a teacher. But notice that they still have not provided any confirmation about that nursery school gig.
*** UPDATE 2 *** This is what passes for "analysis" at NBC5's blog…
In his effort to catch Kirk in another lie, Giannoulias overreached and exposed a piece of Kirk's biography that adds to the breadth of his experience. Teaching — especially nursery school — is not a pursuit normally associated with conservatives. It also shows a side of Kirk quite opposed to the he-man Naval officer he's been trying to portray himself as.
Yeah. That's the "real" take-away here. Kirk was a nursery school teacher.
The only reason I even mention that goofy piece is because the Kirk campaign sent it over a few minutes ago.
144 Comments















































































































































































































































































































































































































































Sorry, comments for this post are now closed.