* This is a prime example of seriously lazy journalism…
The Democratic candidate for the 10th Congressional District seat has been called out for using an old endorsement.

Dan Seals was misleading voters by including a portion of a Daily Herald endorsement as part of a rotating gallery of information on his campaign home page, according to a blogger who follows the action in the 10th.

The endorsement came during the Democratic primary, as Seals dueled two other candidates. He edged state Rep. Julie Hamos for the nomination to face Republican Bob Dold in the November general election. The seat is currently held by Republican Mark Kirk, who is running for U.S. Senate.

"It doesn't apply today," said Larry Falbe, a Mettawa trustee and creator of Team America's 10th District blog.

"This isn't buried somewhere on an endorsement list. It's front and center," added Falbe, a Kirk supporter and volunteer for Dold who has been critical of Seals in the past.
Here's the image in question, which has since been removed from Seals' site and which Team America published on Wednesday…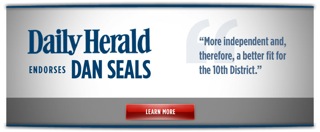 Props to Larry for pushing that story into the mainstream, but the Daily Herald reporter and Larry should've both looked at Republican Bob Dold's website before they launched into their attack on Dan Seals. If they had, they would've seen this…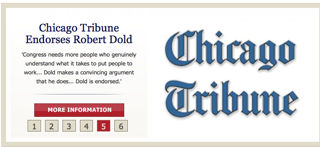 In case you're a little slow this morning, that would be the exact same "problem" as Seals' website had. Dold is prominently displaying a Tribune endorsement from the primary.
Oops.
Rob thinks this is an example of media bias. If the reporter knew about the Dold site and didn't include it in the story, then, yes, it's bias. But we don't know yet whether the reporter knew, so that's why I've just labeled this as journalistic laziness. If it's worse, I'll get back to you.
33 Comments


































































































Sorry, comments for this post are now closed.