* You gotta be kidding me…
A new satellite office located at 420 E. Main St.in Collinsville will serve Southwestern Illinois in providing information, education and outreach services the state treasurer's office offers.

"This area is expanding and becoming increasingly diverse and there is a real need for residents to have consistent access to programs and services from the treasurer's office," said Chief of Staff Robin Kelly.
Both Robin Kelly and Alexi Giannoulias are running for statewide office. Metro East Democratic turnout will be hugely important this fall. It doesn't take a genius to see that this move has political ramifications.
Giannoulias and Kelly have had three and a half years to open that office, and they chose to do it right before an election and, more telling, during a huge state budget crisis. What a stupid move.
*** UPDATE 1 *** From the treasurer's office…
We've opened satellite offices gradually around the state each year of this administration. All of the locations are rent free, so taxpayers do not pay for the space.

In fact, the purpose of the satellite offices was to save money. They cut down on travel expenses and give employees more time in the office to work and interact with constituents.

Since the first satellite office opened in 2007, we've saved nearly $30,000 in travel/operating costs. We are constantly looking for ways to do more with less.

Also, we've introduced more accountability to our staff, as no employees are now allowed to work out of their homes, a practice allowed under the previous administration.
*** UPDATE 2 *** Speaking of botched politics. Daily Kos fired the Research 2000 polling firm after their numbers in a round of elections didn't match up to reality. And now, DKos is about to sue the firm after research showed it may have made up its numbers…
DailyKos has published a report by "three statistics wizards showing, quite convincingly, that the weekly Research 2000 State of the Nation poll we ran the past year and a half was likely bunk."

"While the investigation didn't look at all of Research 2000 polling conducted for us, fact is I no longer have any confidence in any of it, and neither should anyone else. I ask that all poll tracking sites remove any Research 2000 polls commissioned by us from their databases. I hereby renounce any post we've written based exclusively on Research 2000 polling."
One item the researches discovered was an odd even/odd correlation in the numbers. First, they showed some poll results…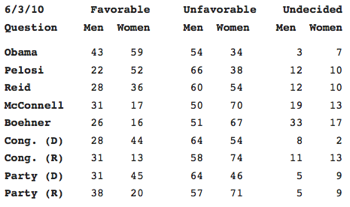 And then offered up this analysis…
A combination of random sampling error and systematic difference should make the M results differ a bit from the F results, and in almost every case they do differ. In one respect, however, the numbers for M and F do not differ: if one is even, so is the other, and likewise for odd. Given that the M and F results usually differ, knowing that say 43% of M were favorable (Fav) to Obama gives essentially no clue as to whether say 59% or say 60% of F would be. Thus knowing whether M Fav is even or odd tells us essentially nothing about whether F Fav would be even or odd.

Thus the even-odd property should match about half the time, just like the odds of getting both heads or both tails if you tossed a penny and nickel. If you were to toss the penny and the nickel 18 times (like the 18 entries in the first two columns of the table) you would expect them to show about the same number of heads, but would rightly be shocked if they each showed exactly the same random-looking pattern of heads and tails.
Oy.
* Other stuff…
* Illinois: No fees for veteran plates

* Rockford spelling champ honored by governor

* Suit money goes to low-income maternal health care

* University of Chicago hospital pays $7M to settle suit over NICU crowding

* Analysis: What's behind the Attorney General's investigation of Lollapalooza?: Whatever the scope of and motivations behind the investigation, it is clear that all of these questions will hover over the Chicago music scene until Madigan finally says exactly why her office has set its sights on Lollapalooza–or if she takes one of several possible actions ranging from a lawsuit filed on behalf of Chicago residents, to crafting a consent decree whereby Lollapalooza agrees to change the way it does business, to giving the concert a clean bill of health and ultimately doing nothing at all–which sources say is the least likely outcome of all.

* Illinois Takes a Hard Look at Google
36 Comments











































































































Sorry, comments for this post are now closed.