* Rasmussen has it tied at 40 each, and Public Policy Polling has the US Senate race essentially dead even. From the PPP pollster…
In a race pitting two of the weakest Senate candidates in the country Alexi Giannoulias continues to hold a small lead over Mark Kirk, 37-35, with Green Party candidate LeAlan Jones pulling 9%. Voters in the heavily Democratic state it seems would narrowly prefer a Democratic candidate they don't like to a Republican candidate they don't like.

Kirk does have a big lead with independents, 36-20. But you can't win as a Republican in Illinois without winning over a fair number of Democratic voters and Kirk just isn't doing that right now. He's getting only 5%. Kirk's getting 74% of the Republican vote while Giannoulias is getting 72% of the Democratic vote and it's going to be very hard for Kirk to win unless the party unity gap ends up being bigger than that.
Full results and crosstabs are here. Since so many Republicans now identify as independents, it's probably more important to look at where the moderate vote is going…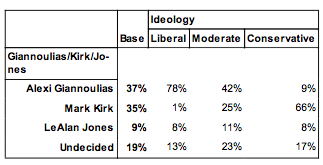 Big lead for Giannoulias there.
* Back to the pollster…
Both candidates continue to be very unpopular. Giannoulias' favorability is 26/42 and Kirk's is 26/34. Independents have a negative opinion of both of them, and each of them is viewed more unfavorably by voters of the opposite party than they are favorably by their own party base. Only 51% of Democrats have a favorable opinion of Giannoulias and just 49% of Republicans have a favorable opinion of Kirk so neither contender is doing much to fire up even their partisans.
* And here's a scary topline for Democrats…
* Who did you vote for President in 2008?
42% John McCain
51% Barack Obama.
8% Someone else/Don't remember
13% Not sure
Obama actually won Illinois 62-37. Back to the pollster…
These polls results are premised on an extremely depressed Democratic electorate. Those surveyed report having voted for Barack Obama by only 9 points, in contrast to his actual 26 point victory in the state in 2008. That's a dropoff even worse than what Democrats saw in Virginia last year and the fact that Kirk is behind even when that's the case does not bode well if Democratic interest in this election gets any better over the next three months. And it's not as if Illinois voters just don't know Giannoulias yet- they know him and they know they don't like him and they still give him a small lead.
* More toplines with party crosstabs…
* Do you think that Mark Kirk is an ethical or
unethical person?
28% Ethical
25% Unethical
46% Not sure

* Do you think that Alexi Giannoulias is an
ethical or unethical person?
30% Ethical
35% Unethical
35% Not sure
Kirk's negative message appears to be working significantly better with the GOP base than Giannoulias' message is working with the Democratic base.
* The pollster's conclusion…
In Kirk Republicans got the candidate they wanted in this race. But it looks more and more like they might have wanted the wrong candidate. There's no way with everything that's happened to Giannoulias since the last couple weeks before the primary that he should be ahead in this race. But he's hanging on.
It is odd that Kirk hasn't been able to put Giannoulias away. Theories?
38 Comments

















































































































Sorry, comments for this post are now closed.