* Rasmussen has a new US Senate poll out that doesn't give us a lot of new news in the head to heads. Results in brackets are from previous Ras polls…
Kirk: 40 [40%, 41%, 39%, 42% 46%, 41%, 41%, 46%]

Giannoulias: 42 [40%, 43%, 40%, 39% 38%, 37%, 44%, 40%]

Other: 6 [8%, 6%, 9%, 7% 5%, 8%, 5%, 4%]

Unsure: 12 [12%, 10%, 12%, 12% 12%. 13%, 10%, 10%]
"Leaners" tie this up at 45-45, with 3 percent for "other" and 8 unsure. We really need to get those other candidates included in these polls. I called Rasmussen yesterday, so we'll see what they do next time.
* This topline is interesting, if not terribly surprising…
* In terms of how you will vote in the next national election, are you primarily interested in National Security issues such as the War with Iraq and the War on Terror, Economic issues such as jobs and economic growth, Domestic Issues like Social Security and Health Care, Cultural issues such as same-sex marriage and abortion, or Fiscal issues such as taxes and government spending?

10% National Security Issues
55% Economic Issues
13% Domestic Issues
3% Cultural Issues
13% Fiscal Issues
7% Not sure
Crosstabs show that 58 percent of moderates, 50 percent of independents, 67 percent of Democrats and 63 percent of Giannoulias supporters put economic issues at the top of their list. That number is less for Republicans (41), Kirk supporters (43) and conservatives (45) because "fiscal issues" rate higher than average.
Kirk has only recently begun talking about the economy, and now you can clearly see why. This whole "mob banker" thing is a lot of fun, but it isn't helping him move upwards.
* More unsurprising toplines…
* Do you know anyone who is out of work and looking for a job?
87% Yes
9% No
4% Not sure

* Is the job market better than it was a year ago, worse than it was a year ago or about the same?
15% Better
43% Worse
40% About the same
3% Not sure
* TPM PollTracker…
* Also, if you're gonna quote polls, you probably should at least glance at the relevant crosstabs…
Alexi Giannoulias is loath to admit it, but LeAlan Jones could become his gnarliest nightmare.

Two recent polls show Giannoulias is locked in a suffocatingly tight race with U.S. Rep. Mark Kirk. Along comes the youthful and energetic Jones, a 31-year-old journalist, high school coach and youth mentor. He's not only fresh, he's "Green." Jones is running with the insurgent Green Party, which is trying to make inroads in the Nov. 2 election.

Jones has no political or governmental record, paltry cash and scarce name recognition — plus a monstrous helping of chutzpah. He owns one unmistakable asset — he is African American. Jones may be a Green, but the color of the moment is black.
From PPP's latest xtabs…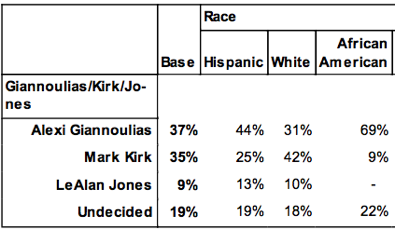 Yes, Jones could make a slight move if he becomes known. Yes, it is a concern for Giannoulias. Yes, there's a long time to go. But Jones is not even showing up on the radar screen yet. Rasmussen's xtabs have 5 percent of African-American voters leaning towards "other." There are indeed plenty of undecideds, but without cash and a strategy, it's gonna be tough to eat into Giannoulias' numbers, particularly with Obama on his side.
* Other campaign stories…
* Birkett eyes DuPage County judgeship

* Kirk Hopes Ride a Red Wave to Senate

* The Battle For Illinois' Supreme Court

* 8th District rivals see different causes, solutions to budget deficit

* Robert Dold Radio Show WLS 890

* Walker to host series of community meetings in constituents' homes

* Illinois Turnaround Tour - Schaumburg Video Blog
33 Comments


































































































Sorry, comments for this post are now closed.