* We Ask America polled Chicago last night and found Rahm Emanuel leading the pack, with Sheriff Tom Dart and Congressmen Jesse Jackson, Jr. and Luis Guitierrez bunched up in the race for second place. Click the pic for a larger image…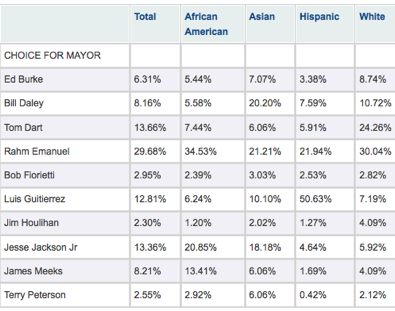 Now for the caveats. I used this robo-poll firm a couple of years ago and had some concerns about response rates among African-Americans and Latinos. They have been trying harder since then, but Latinos are underrepresented in this poll by more than half.
Some names are obviously missing, but this is still an interesting mix. We're looking at name recognition here. That will change if other lesser known candidates can raise the bucks.
Also, if you want to see how poorly the Daley name is faring these days, just look at Bill Daley's numbers. Not great.
2,365 participants

Ethnic breakdown:
African American: 37.69%
Asian: 4.95%
Hispanic: 11.86%
White: 35.49%
Other/Refused: 10.01%
How the names were chosen…
As we pull the trigger on this poll, we've found 40+ possible candidates mentioned in published reports, with more queuing up for consideration. We wanted to narrow it down to ten (because there's only ten digits on a phone for an automated poll), so we added up the articles and chose the ten who were mentioned in the most clippings–not exactly as precise our usual polls…but what the heck. This is for fun.
* Daley roundup…
* With Daley's news, eyes also on city's police chief

* Weis knows his days as superintendent numbered

* Roeder: Daley exit tough for biz: Unable to write checks toward another Daley victory, business executives will take their time and survey the field. Many will sit out a probably contentious election, or get involved only if the field is narrowed to two for an April runoff. "There is no up side to jumping in this early," said Guy Chipparoni, president of the public relations firm Res Publica Group, which counsels clients on business and public policy.

* McQueary: Daley's farewell: A rebirth for the third airport?

* Daley era ends: What is the fate of future Wal-Marts?

* Daley era ends: How will plans for O'Hare, Midway define his legacy?

* Daley Business-Like at City Council Meeting; Aldermen Honor Mayor

* Possible Windfall for Daley After Surprising Announcement

* Reardon: Mayor's leaving us high and dry: I'm sorry, Mayor Richard Daley. You may be tired. You may want to spend more time with your wife. I'm sure you know a lot more than I do about how bruising a re-election race could be next year and about what federal investigators may have found in their prying into your City Hall. But walking away from your fifth floor office right now, saying, "It's time," is just wrong. You're abandoning the people of Chicago to the reality of democracy — but without the skills of democracy.

* Sun-Times: Aldermen must get to work, cut spending

* City Council Budget Hearing Could be More Hectic this Year

* Did Daley's hits outweigh his misses?

* City Council approves $1B bonds for O'Hare

* City OKs $1 billion for O'Hare mega-project

* City Council Approves O'Hare Bond

* Kadner: This 2-hour election a bunch of CUDD

* Suburbs also will feel Daley's absence

* Daily Herald: Daley's successor and the suburbs
29 Comments






















































































Sorry, comments for this post are now closed.