* 29 states have increased taxes and fees this year alone. Click the pic for a larger image..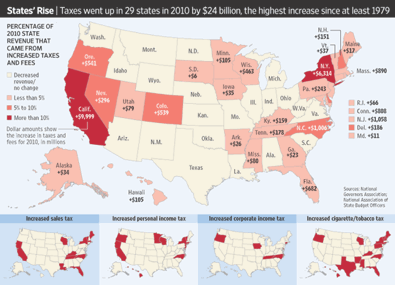 * Meanwhile, Illinois continues to drown in red ink. From the Tribune…
All the providers want is what the state owes them, but as Illinois faces a $4.6 billion backlog in bills and no money to pay them, most often what they get is just enough to survive. Enough to meet the next payroll, keep the doors open for one more month and make payments on loans keeping them afloat as they wait for the state to make good.

"Every day is a triage situation," said comptroller spokeswoman Carol Knowles. "There is a limited pot of money."

And the situation isn't getting any better. Knowles said the state has bills dating as far back as seven months and the backlog is likely to "worsen during the next several months." Gov. Pat Quinn's budget director, David Vaught, has acknowledged the state will end the year where it started — owing nearly $6 billion in unpaid bills.
And it's having a ripple effect on employment…
The Chicago-based nonprofit [A Safe Haven] has had to cut services and lay off workers
* Rep. David Miller, the Democrats' comptroller nominee, outlined his proposal to deal with the problem if he's elected…
Miller, a dentist from Lynwood, told the Tribune editorial board he would examine the backlog and move those owed money up in the line if they were about to go out of business and provide a unique service in the region, such as the only health clinic in a Chicago neighborhood or downstate Illinois county.
But Judy Baar Topinka didn't approve of the plan…
"You can't just group them into little sections of the state. That is social engineering, and that is unfair," said Topinka, who lost a bid for governor against Democrat Rod Blagojevich in 2006.
Her idea…
Topinka said she would aim to provide more consistency in how the bills are paid so providers could count on them, even if they are months late. She said she would target human service providers to be up first after the state's payroll and loan repayments are made under state law.

"You start with getting at those who are dealing with our most vulnerable citizens and try and give them something — if nothing else — predictability," Topinka said.
Frankly, I think Miller's idea is superior. And not just because he's my cousin.
* More carnage…
More than 100,000 Illinoisans hoping for Monetary Award Program grants to help pay for college have been denied since funds ran out April 19. […]

Of the applicants denied a MAP grant, more than 70 percent indicated a community college as their school of choice.
Newly released U.S. Census Bureau figures show the percentage of Illinois children with health insurance grew between 2008 and 2009. But about 5 percent of Illinois children were still uninsured last year.
The national average is 9 percent. But if the Republicans win control and make good on their promise to severely roll back Medicaid coverage, we could see that number creep up.
Thoughts?
51 Comments
























































































































































Sorry, comments for this post are now closed.