* We've talked before about Republican congressional candidate Bob Dold's problems with Internet tomfoolery and appearing to hide his perhaps "true" conservative side from 10th District voters. Yesterday, this briefly appeared on Dold's Facebook site…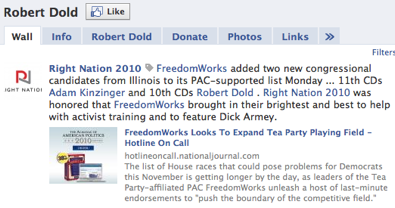 I noticed it yesterday before the Dold campaign deleted the post. It originally linked to this Hotline story…
The list of House races that could pose problems for Democrats this November is getting longer by the day, as leaders of the Tea Party-affiliated PAC FreedomWorks unleash a host of last-minute endorsements to "push the boundary of the competitive field." […]

On Monday, FreedomWorks announced its support of Republicans Jeff Perry in the "lean Democrat" MA 10; Adam Kinzinger (IL 11), Andy Harris (MD 01), Brad Zaun (IA 03) and Todd Young (IN 09) in "Democratic toss-up" districts; and Robert Dold in the IL 10 "Republican toss-up" district.
Like I said, it's gone now, but you can still see it at Right Nation 2010's Facebook site. FreedomWorks is run by Dick Armey, a longtime Republican congressman/lobbyist who now touts himself as "the unofficial leader of the anti-Washington Tea Party movement."
* The Sun-Times looked at some of the history of Dold's game of hide the ball today…
First came the Illinois Federation for the Right to Life and Phyllis Schlafly's Eagle Forum rescinding their testimonials for Dold after the primary election when Dold clarified that he is "pro-choice" on abortion.

Then Conservative Magazine of Illinois reported in a voter guide that Dold's "campaign asks that he not be rated highly by our voter guide [indicating that he wishes to be viewed as moderate.]"

Dold denied he or his campaign begged off a high rating from the magazine.

"I'm pro-choice," Dold said. "I believe Roe v. Wade should not be overturned. I said that in the primary."

Dold isn't sure how he initially got the good reviews from the anti-abortion groups, except that perhaps they agreed with his stands against taxpayer funding of abortion; against partial-birth abortions and in favor of notifying parents when their minor daughters get abortions.
Yep. Stuff just always happens to him. For whatever reasons apparently unknown to Bob Dold, the Right just loves him. Poor guy.
* Meanwhile, the Sun-Times also looked at Dold's curious residency claims, which have now resulted in at least a cursory look by the Cook County State's Attorney…
What was congressional candidate Bob Dold's "primary residence" from 2004 to 2006?

He received about $4,000 in tax breaks during those years for claiming a homeowner's exemption on his house in Chicago's Roscoe Village neighborhood, according to the Cook County Assessor's office.

But he voted in every primary and general election in Winnetka, according to the Cook County Clerk's office. That's in the North Shore 10th Congressional District where Dold, the Republican nominee, boasts he is a "life-long resident."

When this apparent discrepancy was called to Cook County Clerk David Orr's attention Tuesday, his office called the Cook County State's Attorney's office to turn over the information.

"When things like this are brought to our attention, we take it very seriously and we forward it to States Attorney's office for review," said Orr spokeswoman Courtney Greve.
* Dold repeatedly claims that he is a "lifelong resident" of the 10th District. But partisan blogger Ellen Beth Gill begs to differ. Gill dug up the info on Dold's Chicago residence, and her further research indicates that Dold hasn't lived very long in the district since he reached adulthood…
It's probably a safe bet he didn't commute from IL-10 to Washington, DC while he worked for Bush I and Quayle (per his own Linkedin page 1991-1993) or when he worked for the House Government Reform and Oversight Committee (again per his own Linkedin page from 1997-1999). I found an address for Dold in DC at 5306 Nevada Ave. in the Chevy Chase neighborhood. There are other possible addresses in Alexandria and Arlington, VA.

Dold didn't attend college or law school in the vicinity of IL-10. He was in the DC area for about 4 years keeping him away through 1999. In 2000-2007, he appears to be in Chicago working in Oak Brook at Exodus Communications from 2000-2003 per Linkedin, and we can absolutely verify those 2 years in which he obtained the homeowner's exemption 2005 and 2006–which of course does not preclude it in other years. Prior years are not on the Internet.

While it's likely Dold didn't live in the district from college to 2007, at the very least, Bob Dold did not live in IL-10 for the years he claimed a homeowners exemption for the Roscoe Village property.
Thoughts?
30 Comments

























































































Sorry, comments for this post are now closed.