* Two publicly released polls in two days showing a single digit governor's race. Something's up. Subscribers know one theory. From Public Policy Polling…
Bill Brady continues to lead the Illinois Governor's race but Pat Quinn's pulling a little closer, trailing 42-35 in PPP's newest survey of the race. Independent Scott Lee Cohen gets 6%, Green Party candidate Rich Whitney is at 4%, and Libertarian Lex Green is at 2%.

Quinn's doing better than he was in an August PPP poll, when he trailed by 9, largely because of an improved standing with independents. He continues to trail Brady 39-27 with them, but that's a significant improvement from his 25 point deficit in the last poll. Quinn is incredibly unpopular with independent voters, at an 18/67 approval spread. But those voters don't like Brady either, viewing him negatively 32/38.

It's amazing that Quinn's still in this given his continuing incredible unpopularity. 60% of voters in the state now disapprove of the job he's doing to only 24% who are happy with it. In addition to those dreadful numbers with independents only 6% of Republicans think he's doing a good job and even with Democrats he's at just a 42/38 spread. But he's fortunate that GOP voters nominated a very weak candidate themselves. Only 36% of folks in Illinois see Brady in a favorable light while 44% have a negative opinion of him.

The two biggest things to watch in this race over the final five weeks are the undecideds and the 10% of voters currently leaning either toward Cohen or Whitney.

The undecideds are an overwhelmingly Democratic bunch. 67% voted for Barack Obama while only 20% supported John McCain. They're planning to vote Democratic for Congress by a 44-17 margin this fall. They're supporting Alexi Giannoulias by a 21 point margin over Mark Kirk. But they don't like Pat Quinn- only 14% of them approve of him with 42% disapproving. Whether their Democratic loyalties outweigh their dislike of Quinn in the end may determine whether he can still pull out this race despite his very poor personal numbers.

The folks supporting Cohen or Whitney right now are also a Democratic leaning bunch. 52% voted for Obama to only 32% who supported McCain. They're planning to vote Democratic for Congress by a 43-28 margin. But they really hate Quinn- 4% approve of him and 83% disapprove of him.

If you allocate all of the undecideds who voted for Obama to Quinn and the ones who voted for McCain to Brady, the Brady lead shrinks to 44-43. My guess is that most of the undecideds will indeed end up in the Quinn camp and make this a much closer race. Quinn's path with the Whitney and Cohen voters is tougher though and he needs to hope those folks' dislike of him isn't so strong that they'll go so far as to vote for Brady to get him out.

This is a pretty fascinating race.
Yes, it is. That undecided info is also quite interesting. The question is whether the Democrats can keep them moving their way and then turn those people out. From the company's president…
"Things are starting to look a little more encouraging for Pat Quinn than they did earlier in the summer," said Dean Debnam, President of Public Policy Polling. "He remains personally unpopular but the minor candidates are starting to pick up some of the anti-Quinn instead of it all going to Brady."
That can happen in a multi-candidate race. You slam the other guy, but those voters don't automatically go to you if they have other options. It's the biggest reason why Rich Whitney scored 10 percent four years ago.
* Methodology…
PPP surveyed 470 likely Illinois voters from September 23 to 26. The survey's margin of error is +/-4.5%.
* Meanwhile, the pollster also had some very good news for Republicans Judy Baar Topinka and Dan Rutherford…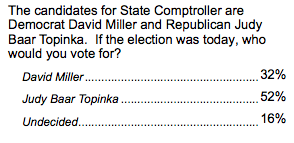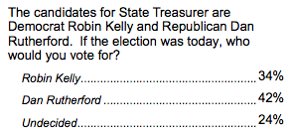 Notice, however, that they didn't poll the two third-party candidates. Not good.
36 Comments











































































































Sorry, comments for this post are now closed.