* OK, now they've really gone too far. Check out the cover of the latest Democratic mailer that's attempting to skim hard-right votes away from Mark Kirk. Click the pic if you need a larger image, but notice the rally sign: "Terrorists won't kill us… Cap & Trade will!" Sheesh…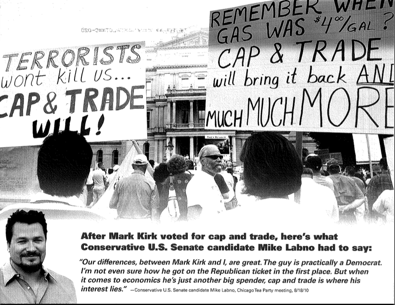 It's also repeated on the back…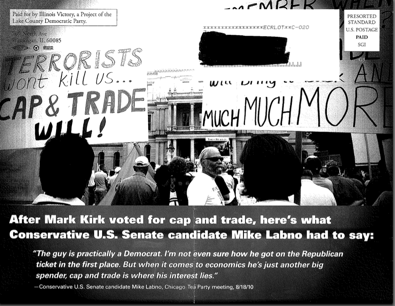 Let's zoom in…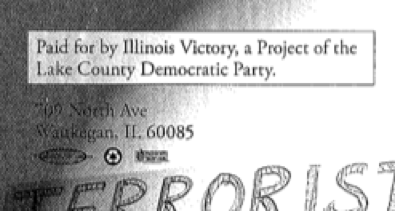 Here's the Kirk hit…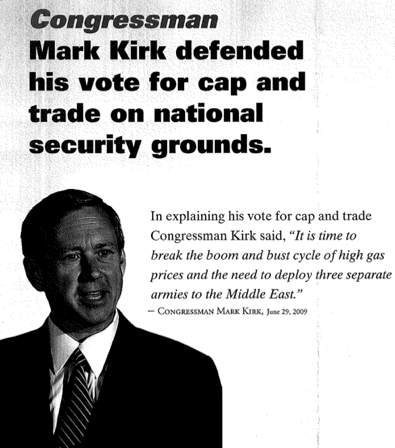 And then to make it all legit, here's Giannoulias saying the two boys are not playing well with each other…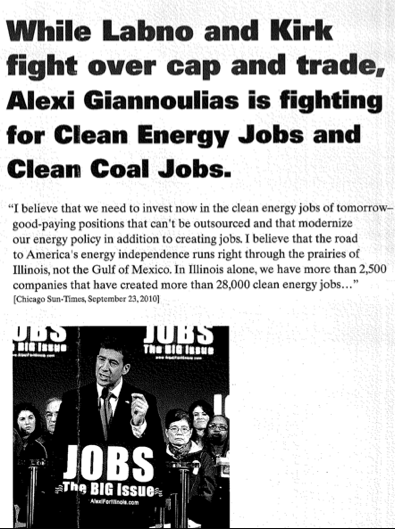 Oh, for crying out loud.
* Meanwhile, things are deteriorating fast all over. Remember that interruption of a debate by Republican Joe Walsh supporters who "demanded" to recite the Pledge of Allegiance? Well…
The incident has inflamed the conservative blogosphere. Professional lightning rod Glenn Beck assailed Tate-Bradish and the League of Women Voters on his Fox News show earlier this week.

Tate-Bradish, a retired teacher, notified police after taking dozens of phone calls and e-mails at home and viewing "scary" comments in online forums, she said.

"They believe that I, personally, Kathy Tate-Bradish, mother of three, am planning to bring this country down," she said.

Jan Czarnik, executive director of the Illinois League of Women Voters, said she reported to the FBI that death threats had been posted online against her and Tate-Bradish.
Incumbent Democrat Deanna Demuzio and Republican challenger Sam McCann were in studio for WLDS' "What's On Your Mind" program.

During the interview, McCann likened those attacking him to terrorists.

"There's a lot of folks out there that want to run for office," says McCann. "You know why they don't? They give me the same answer everytime. I say, 'Why don't you run?' They say, 'I don't want to go through what they're putting you through.'

"Instead of being public servants, it's like they're being terrorists."
Let's all chill out a bit, eh?
* Maybe we should all just have a cold beer or other adult beverage and listen to our old buddy Dave Dring on WBEZ's Best Game in Town…
We meet up at Gene & Georgetti for a conversation about the final stages of the campaigns for governor, senate and the Illinois house. We also break down the latest on the race for Chicago mayor, after this week's announcement that Cook County Sheriff Tom Dart will not seek the office.

Panelists:

Victoria M. DeFrancesco Professor, Northwestern University

Dave Lundy: Political strategist

David Dring: Political strategist and republican lobbyist
40 Comments























































































































Sorry, comments for this post are now closed.