* Everybody wants to know what turnout is gonna be. Here are some predictions…
In 2006, the last election in which both a governor and a U.S. senator were being elected, turnout was 48.6 percent. In 2002, turnout statewide was 51.8 percent.

Experts are predicting a lower number.

"I'd be surprised if it clears 50 percent," said political scientist Brian Gaines of the University of Illinois Institute for Government and Public Affairs. "I think we're talking more like 47 or 48 percent." […]

The 23 percent turnout in February broke the previous record low of 25 percent in 1978 and 2006 Illinois State Board of Elections officials are predicting turnout levels to be similar to recent gubernatorial election years.

"Voter turnout in the last six contests for governor has been stable," Executive Director Dan White said.
* A flier was handed out at Catholic churches all over Illinois today with the issue positions of the gubernatorial candidates. Click here for the full view, and here are Bill Brady's responses…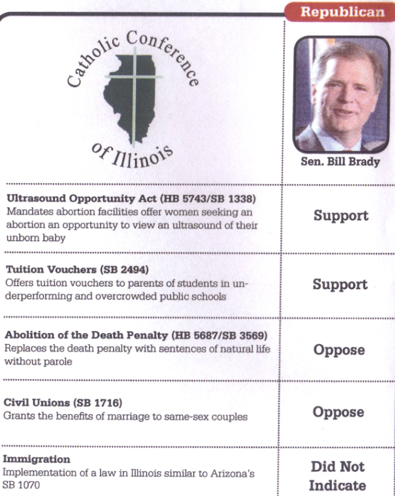 * Gov. Pat Quinn didn't respond at all…

That can either be good or bad, depending. If Quinn had filled it out, he'd be on the opposite side of the Catholic Conference on three huge issues - abortion, vouchers and civil unions - and everyone would know it. By not filling it out, though, he disses the largest, most powerful religious organization in the state.

* Crain's Chicago Business whacks JUSTPAC but good…
The business community can't sit by while an organization purporting to represent its interests perpetrates a smear campaign against an Illinois Supreme Court Justice.

The Illinois Civil Justice League is working to oust Justice Thomas Kilbride because he voted to strike down a recently enacted state law limiting damage awards in medical malpractice cases. The organization waged a long fight for malpractice caps, a goal shared by many in the state's business community.

But the Civil Justice League's attack ads don't talk about Justice Kilbride's vote against caps. Apparently the group doesn't think the issue will motivate folks to come out and vote against him.

Instead, the organization slurs him with the baseless charge that he's soft on crime, an allegation much more likely to rile voters. Television commercials paid for by its political action committee falsely cast Justice Kilbride as a protector of criminals.
* But the Illinois Republican Party took Kilbride to task…
Kilbride's latest campaign piece includes the image of an elephant (the GOP logo) and the words, "Election Alert for Republicans." He then goes on to reference "we" multiple times, as if to suggest he is a Republican.

"Kilbride is as much of a Republican as Barack Obama," said [state GOP chairman Pat Brady], noting that Kilbride joined the other Democrats on the high court in 2001 in upholding the legislative remap drawn by Democrats. "This may be Halloween weekend, but the mask has to come off."

Brady said he and other Republican officials are considering filing a complaint with the Illinois Supreme Court in response to Kilbride's violation of Supreme Court rule 67, Canon 7, which says all judges and candidates shall not, "knowingly misrepresent the identity, qualifications, present position or other fact concerning the candidate or an opponent."
* And, now, some videos. A CNN reporter says "senior advisers" to President Obama are "very nervous" about Illinois' US Senate race. Watch it…
* Scott Lee Cohen fires up Rev. Meeks' congregation…
* The audio isn't great on these next two, but here is Gov. Pat Quinn's speech last night to the Obamarama GOTV event…
* Alexi Giannoulias' Obamarama speech…
* Or, if you prefer, you can listen to just the audio clips by clicking on the images…
Download Link Gov. Pat Quinn & President Obama

Download Link Alexi Giannoulias
* ABC7's Sunday evening report…
* Is Gov. Quinn's election night party really starting an hour before the polls close? Yep…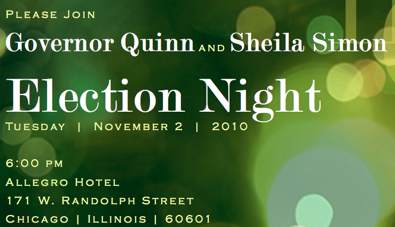 At 6 o'clock, you'd think they'd want as many people as possible out at L stops and polling places, and making phone calls and knocking on doors.
Bill Brady's party won't open the doors to his attendees until 7:30 Tuesday night, according to a press release.
No Comments
Be the first to comment.
Sorry, comments for this post are now closed.