* Cook County Commissioner Tony Peraica was arrested last night for allegedly vandalizing yard signs of his Democratic opponent, McCook Mayor Jeff Tobolski. The coppers' story…
[McCook Police Chief Frank Wolfe] said that an officer about 11:15 p.m. Saturday spotted a white van leaving the home of an 83-year-old woman, who doesn't drive, on the 8400 block of Joliet Road. When it failed to use a turn signal, it was stopped, he said.

The officer noticed a Tobolski sign at the woman's home had been destroyed, and Peraica was a passenger in the vehicle, Wolfe said. While the officer talked to Peraica, the owner of a building about a block away said someone had similarly vandalized a sign on his property, the site of a restaurant, the chief said.

One of the building owner's tenants then told police he saw Peraica get out of the van and vandalize the sign at the restaurant, Wolfe said. Peraica was arrested, charged with criminal damage to property and released early Sunday morning pending a Nov. 22 court date.
Cook County Commissioner Tony Peraica (R-16th) charged Sunday that he was arrested in McCook on charges concocted for political retribution. […]

Peraica said the episode was directed by Tobolski and that the mayor made calls to the police station while Peraica was being held. Peraica said some officers were apologetic about the arrest.

"They were incredulous that they were being told what to do. Clearly the mayor was directing the whole show," he said.

Peraica said he was riding in a volunteer's van and that a McCook squad car began following it almost as soon as it entered the town. He said the volunteer posted some signs on public property but that police pulled over the van after a few minutes.
Tobolski's press release statement…
After being pulled over in Stickney for tearing down opponent Jeff Tobolski's campaign signs a call went out to local police for suspicious behavior of a white chevy mini van. McCook police caught Tony Peraica red handed on an elderly woman's private property with a broken Jeff Tobolski campaign sign.

"I was shocked when I heard the news late last night. This clearly is the erratic behavior of a desperate man. This just goes to show you the length that Tony Peraica will go to steal an election. The voters of the 16th District have to see that he is unfit to serve in any public office."
If the Stickney cops back up the McCook police chief, Peraica is in big trouble, man.
*** UPDATE 1 *** I just got off the phone with McCook Police Chief Frank Wolfe.
Wolfe says that a Stickney officer on patrol last night heard a person yell something like "Hey, cut it out! What're you doing?" and observed a white Chevy van and a person entering the van with a pole in his hand.
The Stickney officer, according to the McCook chief (who has since spoken with Stickney police), gave the man a verbal warning and then apparently put the event on the radio.
Chief Wolfe said his officers heard the warning and shortly thereafter saw a white Chevy van backing out of a private residence. When the van failed to use its signal, the McCook police stopped the van. The occupants claimed they were posting Peraica signs, but there were no such signs in the area, according to the chief.
One of the officers then noticed that a Tobolski sign had been vandalized at the house where the van had been parked. According to the chief, the yard sign was strongly reinforced. That's where the pole comes in. Apparently, they were using the pole to knock down the signs.
The owner of a business a block or so away then approached the police, Chief Wolfe said, and claimed that somebody destroyed two signs on his property and said that his tenant was a witness. The tenant was quickly brought to the scene and, according to Chief Wolfe, the tenant identified Peraica, who was then arrested.
Oops.
*** UPDATE 2 *** Ray Hanania has the mugshot…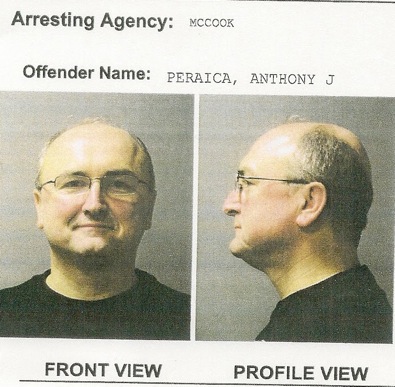 *** UPDATE 3 *** The Stickney Police Department has issued a press release which appears to back up the McCook story…
On October 30, 2010 at 22:43 hours a Stickney Police unit, while on patrol observed a subject walking with a long pole towards a political sign in the area of 6500 block of Pershing Road on the north side of the street, in Berwyn. When the subject noticed the officer he turned and walked back to his white minivan. The officer stopped the subject. The male subject, identified as Mario Mrcela of Chicago Ridge. The officers on scene did not observe the subject damaging any signs. The minivan was occupied by an unknown male subject. The subject was released without charges.

Released under the authority of:

Deputy Chief of Police
Frank Figueroa
Stickney Police Department
I called Deputy Chief Figueroa and he gave me a few more details. Figueroa said the officer heard someone yell something along the lines of "Hey! What're you doing? You're going to break that!"
This all seems to fit. Peraica is claiming he wasn't doing anything wrong and was set up by the McCook coppers, but it surely doesn't look good for him right now.
*** UPDATE 4 *** From ABC7…
*** UPDATE 5 *** Peraica's press release…
When passing through McCook at about 11 PM, on our way to Willow Springs, a marked McCook police car almost immediately began to follow us as we were going south on Joliet Road. We were followed for about half mile, pulled over without reason given and harassed. Police searched the vehicle, found nothing, and were about to let us continue.

Then, a police sergeant came to the scene followed by another, third police car, with a male wearing only jeans who pointed to me and alleged that I caused criminal damage to his property –a cardboard sign. This apparently inebriated male, who was barefoot and without any clothes above waist, proceeded to say that he saw me damage his cardboard sign. None of this is remotely true. I never even got out of the van.

The arresting officer was apologetic but was ordered to do this and had to follow orders.

This is a blatant abuse of police authority by a desperate candidate who is using his police department to engage in political retribution just because he can. This kind of behavior has no place in our democracy.

If elected officials abuse their authority like this to trump up phony charges against other elected officials, and get away with it, what will they do to an average citizen who does not have the ability to respond or fight back.

I have been fighting corruption and illegal behavior for many years in Cook County and this is just another example of such behavior.
No Comments
Be the first to comment.
Sorry, comments for this post are now closed.