*** UPDATE *** These are very good bellwethers…
Just about every strategist I've spoken with says that Chicagoans, particularly African-Americans, have to turn out [at least 50 percent] for Democrats Alexi Giannoulias and, particularly, Gov. Pat Quinn to have a shot against Republicans Mark Kirk and Bill Brady in the U.S. Senate and governor races, respectively.

A 50% turnout would be about 660,000 voters. The Chicago Board of Elections traditionally gives turnout projections during the day, so look to see what they report. And, of course, they'll be putting totals on the board's website. […]

The [58th House District has] a Democratic incumbent, Karen May. The [17th House District] is an open seat now held by Republican Beth Coulson, who gave up her job to stage an unsuccessful race for Congress.

If Republicans are serious about knocking out House Speaker Michael Madigan, they almost certainly have to hang onto the 17th while taking a dozen other seats. And if they snag the 58th, a Republican rout likely is under way.

The Cook County Clerk's Office should provide the best up-to-the-minute vote totals in the 17th, with Cook and the Lake County Clerk's Office covering the 58th.
If the HGOPs take out May, this thing is over. If they take out Biss, it's gonna be close.
…Adding… I posted this in comments…
Chicago turnout four years ago was 49.25 percent. The state as a whole averaged 41.4 percent.

The city's turnout in 2002 was 53.1 percent. Statewide average was 40.2 percent.
[ *** End Of Update *** ]
* This AP story tells us nothing…
A spokesman for the Chicago Board of Elections said there appears to be a stronger interest in Tuesday's elections than in the spring primaries.
That's a pretty darned low bar, considering how miserable the turnout was in the primary.
* This tells us almost nothing…
[Mark Kirk] said he had spoken with officials in New Trier who said turnout "was extremely heavy," and had heard that turnout in parts of Chicago wasn't as strong.
Careful what you believe on election day.
* This tells us a wee bit more…
Willard Helander, the Lake County Clerk, told PI this morning that the polls in her county were "not crazy, but busy." She said it was "extremely probable" that turnout would be "higher than 52 percent." One of the reasons: voter referendums, such as the historic effort to recall Buffalo Grove Trustee Lisa Stone. Over in Kane County, Clerk John Cunningham said he expected roughly 90,000 and 100,000 of the 213,000 eligible voters in his county to cast a ballot by day's end.
* An absentee ballot report…
Chicago and Cook County election officials said they are continuing to receive a flood of absentee ballots, some delivered by mail this morning.

"We still have thousands of them coming in," said Courtney Greve, a spokeswoman for Cook County Clerk David Orr. "We received 4,500 (Monday)."

Greve did not have an estimate for how many total absentee ballots would be cast in suburban Cook County. Through Monday, the number stood at 14,000. […]

In Chicago, about 20,000 absentee ballots had been cast so far, said Langdon Neal, executive director of the board, who said hundreds more arrived by mail this morning. Absentee ballots had to be postmarked by Monday to be tallied in the election.
A lot more absentee ballots are still out there. Here are the IMA numbers for absentee requests for the city and the county…
Chicago – 28,984
Suburban Cook – 33,351
* Latest headline from the Washington Post…
In Illinois, all eyes on Obama's former Senate seat
All eyes? If you ask the city's editors, all eyes are on Mayor Daley's job.
* Speaking of the city, Rahm sends out an e-mail and Politico covers it…
Former White House chief of staff Rahm Emanuel used a new list of supporters from his recently launched Chicago mayoral campaign to help Democratic Senate nominee Alexi Giannoulias get out the vote Tuesday.

Emanuel, once the head of the Democratic Congressional Campaign Committee, wrote in an e-mail blast that Chicago voters need to show up at the polls to ensure Republicans "don't derail the president's agenda.
* Speaking of headlines…
Confident Gov. Quinn votes, says he has no regrets
Some of us do.
* The Southern Illinoisan sold an unusual ad to Bill Brady's campaign yesterday. The entire front page of the newspaper's website was wrapped with a Brady campaign message. Click the pic for a larger image…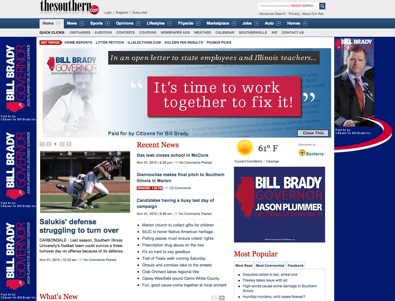 My brother asked…
What if a local news channel had a campaign graphic surrounding the newscast the night before elections?
Don't give 'em any ideas, man.
* One 47th Ward denizen used his/her yard sign collection to frighten the kids but good on Halloween…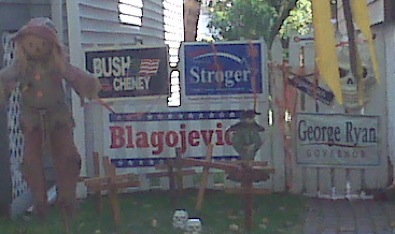 * Make sure to tell us what's going on in your precinct.
62 Comments

























































































































































































Sorry, comments for this post are now closed.