* The Chicago Cubs owners have not had a great week. Their universally panned rollout of their taxpayer-financed stadium remodeling has been a massive failure so far. And they've now even managed to embarrass themselves during what ought to be a wildly favorable publicity stunt.
As you may know by now, Wrigley Field will play host to this weekend's Illinois vs. Northwestern football game. The Ricketts family has ordered their park's famous marquee painted "Wildcat Purple." The outside of the stadium has been "swathed with Northwestern football pictures." Everybody is just so excited.
Well, maybe not everybody. Because the field of play is so small, the teams will be able to use only one end-zone tomorrow…
The east end zone is feet away from the right-field wall, and although there is padding, there was still concerns that injuries could take place. Northwestern coach Pat Fitzgerald had said he would have different game plans for the different end zones to avoid the possibility of injury.

When a team is on offense Saturday, it will be positioned to head to the west end zone.
From the Big Ten…
* All offensive plays will head toward the west end zone, including all extra points and all overtime possessions.

* All kickoffs will be kicked toward the east end zone.

* After every change of possession, the ball will be repositioned for the offense to head toward the west end zone.

* As a result of a coin toss held by the conference office Friday morning, Illinois will occupy the west team bench in the first half and Northwestern will occupy the west team bench in the second half and for all overtime periods.
Oy.
*** UPDATE *** With a hat tip to a commenter, the endzone FAIL in question…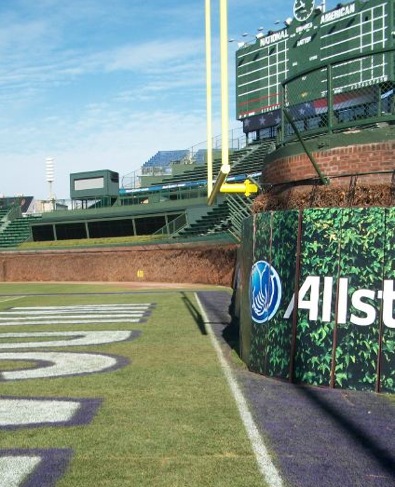 Oof.
[ *** End Of Update *** ]
* Speaking of failures, remember William Kelly? He ran for state comptroller and failed. He was hired by an independent US Senate candidate to gather petitions and failed. He even failed when he tried to move a sign posted by the Freedom From Religion Foundation in the Statehouse rotunda.
Michael Sneed's lede this morning…
Conservative radio ranter William Kelly and veteran TV reporter Jay Levine will get their day in court today following a Columbus Day quarrel when the two vied to interview mayoral candidate Rahm Emanuel.

• Backshot: Kelly — who owns airtime on WIND-AM (560) radio and who unsuccessfully attempted to rattle Emanuel with a barrage of frenetic questions — filed a misdemeanor assault complaint against WBBM-Channel 2 chief correspondent Levine, who tried to end Kelly's obnoxious rant by threatening to ''deck'' him. (The videotaped ruckus can be seen on YouTube.)

• The upshot: The case will be heard in Cook County court at Belmont and Western.
You can relive the hilarity by clicking here.
* Alas, another fail. From Kelly's Facebook page…
Disregarding a textbook case of assault, a Chicago judge granted Levine a "not guilty" verdict. I was hoping for justice today…but justice was not to be found. The fight continues!
Maybe next he'll follow through with his claims of "assault" against a young woman who works for Rahm Emanuel.
Sheesh.
* And our failure quote of the day comes from failed Green Party gubernatorial nominee Rich Whitney on this month's election results…
The recent results across the board were "a pretty bitter pill," Whitney says. "It was certainly disappointing, but in the Green Party we tend not to get too discouraged for too long."
The Greens need to start learning from their failures rather than just being hopelessly optimistic. This advice from Dan Proft to the Illinois Republicans could just as easily apply to them…
After losing three gubernatorial elections in a row to the corrupt and the incompetent, it is tempting for Illinois Republicans to say, "What the heck is wrong with the voters of Illinois?" when they should be asking, "What the heck is wrong with the Illinois Republican Party?"
63 Comments




























































































































































































Sorry, comments for this post are now closed.