* As you're probably aware by now, the House has left town without acting on the proposed tax hike…
"The votes aren't here in the House yet," said Rep. Frank Mautino, D-Spring Valley, a House budget expert. "There's not 60 votes."

House Speaker Michael Madigan has not commented on the proposal yet, but was expected to meet with Gov. Pat Quinn behind closed doors today to fine-tune the plan.

The governor also has been asking individual lawmakers into his office to lobby them for support. […]

Rep. Susana Mendoza, D-Chicago, said she doesn't support the plan as it stands because it would not provide any additional money for cities, even though the state has recently forced local municipalities to pay more into their pension retirement systems. Mendoza is running for Chicago city clerk in the Feb. 22 election.
* Meanwhile, the Taxpayers Federation of Illinois sent over this handy little chart. Click the pic for a larger image…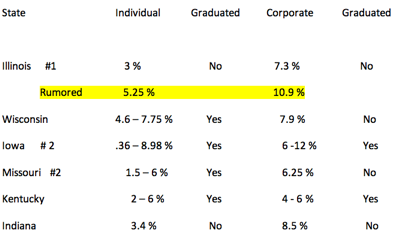 Note that corporate tax rate. Pretty much all the media coverage has claimed the rate would rise to 8.4 percent. Not true. Corporations also pay a Personal Property Replacement Tax of 2.5 percent of income. That means the total corporate rate will rise to 10.9 percent. More from the Taxpayers Federation…
# 1. Includes both regular and personal property replacement tax rate. Taxpayers' only compare total rates. It is not important to them that the state split the proceeds.

# 2. Both Iowa and Missouri, unlike most states allow a deduction for federal income taxes paid therefore the effective rates are about 20% lower than the stated rate.
That federal deduction means our effective tax rate will be higher than Iowa's. And that means we will have the highest effective corporate tax rate in the nation if this bill passes.
Discuss.
*** UPDATE *** From the Tax Foundation…
Under the plan, Illinois's one-rate individual income tax will rise from 3% to 5.25%, a 75 percent increase. The corporate income tax will rise from 7.3%[3] to 10.9%, a 49 percent increase and becoming the highest state corporate income tax in the United States and the highest combined national-local corporate income tax in the industrialized world. [Emphasis added]
Yikes.
61 Comments






















































































































































































Sorry, comments for this post are now closed.