* The Tribune has a new poll on the mayor's race…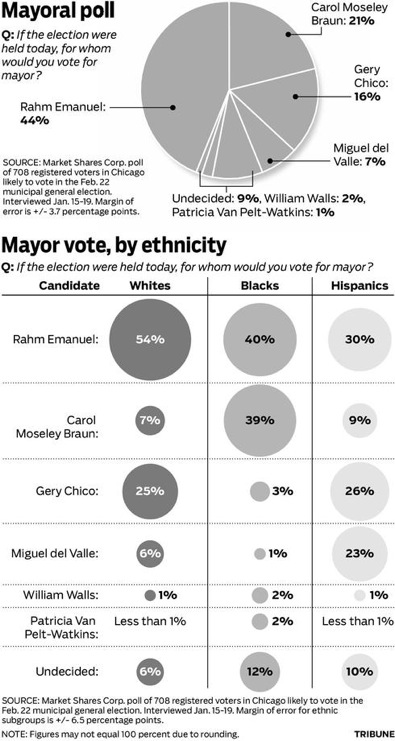 Those numbers match up pretty well with the January 4-6 Anzalone Liszt Research poll taken for the Teamsters…
42 Emanuel
26 Moseley Braun
10 Chico
7 Del Valle
Both polls show gaining strength for Emanuel over previous surveys.
* From the Trib…
Braun polled at 6 percent last month but made major inroads among African-American voters. Emanuel was at 32 percent in the previous poll, but he, too, gained black voters. Chico was at 9 percent in the December survey and has picked up white and Latino support since then. […]

Braun, meanwhile, is viewed unfavorably by 30 percent of the city's electorate — the highest negative score for any mayoral candidate. But Braun also is viewed favorably by 39 percent and continues to enjoy strong support in the black community, where 55 percent viewed her favorably and only 11 percent unfavorably. Emanuel's scores are similar in that community. […]

As the only major female candidate in the race, Braun also may be counting on the support of women. But Emanuel was doubling up Braun among female voters, 47 percent to 23 percent. And 61 percent of women viewed Emanuel favorably, compared with 37 percent for Braun.

Chico, who is Daley's former chief of staff, scored a 10 percent gain among white voters since the last Tribune poll.
* As we saw yesterday, Emanuel raised $10.6 million last year, plus another $1.1 million transferred from his congressional account for a total of $11.7 million. There were some big names on his contributor list…
Emanuel received $2.6 million in $100,000 chunks, the bulk of which - $1.2 million - came from Chicago private equity investment houses including Citadel Investment Group, Aragon Global Management, Grovesnor Capital Management, and others.

Emanuel also collected $100,000 checks from some Hollywood heavyweights like producer David Geffen, Fox Family Network CEO Haim Saban and William Morris Endeavor agent John Fogelman. Ari Emanuel, the candidate's brother, is the CEO of William Morris, one of Hollywood's largest talent agencies.
* More…
The Chicago Mercantile Exchange gave Emanuel $200,000, records released Thursday show. He also took in $100,000 apiece from wealthy Chicago businessmen James Crown and Fred Eychaner, plus another $100,000 from Hollywood mogul David Geffen, $75,000 from film director Steven Spielberg and $50,000 from Apple CEO Steve Jobs. […]

Emanuel spent nearly $3.5 million, including $2.2 million to AKPD Message and Media LLC, a publicity firm once run by David Axelrod, now an Obama senior adviser. That left Emanuel with more than $8.3 million to spend on the mayor's race as of the start of this year.

Though he's been criticized by his opponents for raising big bucks from outside Chicago, Emanuel's campaign said 74 percent of his 2,494 contributors live in Cook County and more than half gave him $250 or less.
* And he's spending it…
Demonstrating his expected money advantage over his competitors, mayoral candidate Rahm Emanuel is shelling out big bucks to run a campaign ad during Sunday's Chicago Bears-Green Bay Packers NFC Championship game.

The cost of Emanuel's ad is $5,000 a second, or $150,000 for the 30-second commercial, according to an industry source familiar with political TV advertising who was not authorized to speak publicly about ad buys. No other mayoral candidate has purchased time during the game so far.
* Carol Moseley Braun filed her campaign finance report at 9:25 this morning. The deadline was midnight. Her report is here. She raised just $446K and had just $164K on hand at the end of December.
* To give you an idea of how lousy this report is, Braun raised far less and had just a fraction on-hand when compared to an almost completely unknown African-American female candidate…
Patricia Van Pelt-Watkins, a community activist, raised $500,367 as of Dec 31. More than half of that money, $296,754, came from Joseph Stanford, pastor of Ambassadors for Christ Ministries.

Watkins spent $138,868, leaving her with $361,499 to spend as of Jan. 1.
* At least Braun filed. As of 9:32 this morning, Miguel del Valle had not filed his required disclosure report.
* We've known Gery Chico's numbers for a while now…
Gery Chico raised $2.3 million through Dec. 31, according to reports filed today. He has since reported another $98,000 in contributions over $1,000 – for a total of $2.39 million raised. He had $2 million on hand to start the year.

Among Chico's largest contributors were Bo Zhang, the chairman of American Electronic Products, who gave the candidate $30,000 and Patrick Ryan, the former chairman of Aon, who wrote Chico a $25,000 check.

Chico also received $25,000 from Symon Garber, the president and CEO of Chicago Carriage Cab Co. But the candidate gave the money back to Garber, who is facing millions of dollars in city fines for illegally putting salvaged cars on the street as cabs.
* Related…
* Emanuel pitches Red Line extension, renovations

* Chico rolls out environmental agenda

* Members Absent from Rahm's Donor List

* Can Emanuel avoid runoff election?
21 Comments






























































Sorry, comments for this post are now closed.