* Justice Burke had some sharp words for those who say she should recuse herself from the Rahm Emanuel residency case because her powerful husband is backing Gery Chico…
Illinois Supreme Court Justice Anne Burke today rejected the notion that she should recuse herself from deciding on the residency case involving mayoral candidate Rahm Emanuel.

"Aren't we beyond that? Women have minds of their own. We have spouses in every kind of business. Are we returning to the days of Myra Bradwell?" she said, referring to the Illinois suffragette who was initially denied the right to practice law because she was a woman. She went on to become the state's first female lawyer. […]

As for Mr. Burke, she notes that she also worked for former Gov. Jim Edgar — a Republican stalwart. Her Democrat husband "didn't like that much either," she said.
* Meanwhile, a new poll from We Ask America has Emanuel above 50 percent for the first time, and shows that over 70 percent want him to stay on the ballot…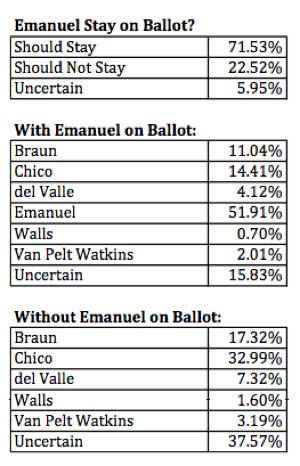 * John Kass, however, thinks the only people who want Emanuel to win are our corporate overlords and does his best today to undermine whatever decision is made by the Illinois Supreme Court…
Rahm has all that big money behind him, that Chicago corporate and business muscle, and more money from the coasts. They want Rahm, and it seems as if they'll kick the law right in the behind to make him mayor. […]

Now the Illinois Supreme Court has ordered Rahm back on the ballot, pending its ruling. Cudgeling the court to get the political result you want is supremely practical. But it does come with some cost.

It reinforces in the mind of the people that in Chicago, election laws apply only to those without clout. And when you hope to bend the law to suit your politics, even if the politics are the right politics, there's another cost.

You're not talking about the rule of law anymore. You're talking about feudalism. And that's what Chicago politics is about.
Whatever. If the Supremes side with Emanuel the score would be 4-1 to keep him on the ballot (hearing officer, board of elections, trial court judge and Supremes vs. a bitterly divided appellate panel).
* The Tribune editorial board gets it…
To arrive at their ruling, those two judges — Thomas Hoffman and Shelvin Louise Marie Hall — advanced a groundbreaking residency standard far more restrictive than the one courts have applied for more than a century. That's right, a new rule, starting with Rahm Emanuel.

In doing so they disregarded several appellate cases that support Emanuel's position, including one case in which Hoffman concurred. They also ignored a guiding principle of elections law interpretation: It is supposed to be construed with an eye toward allowing ballot access, not limiting it.

Having just tossed the front-runner off the ballot in the biggest city election in decades, they then refused to certify the case as worthy of expedited Supreme Court review. Fortunately, the high court recognized the emergency. The appeal is now fast-tracked.
* As does Mark Brown…
But now we're to believe that because he rented out his Chicago home he forfeited his residency — a distinction by the way that is never spelled out in the appellate court's opinion.

The justices say Emanuel was indeed a legal Chicago resident for voting purposes, but they say he did not "reside in" the city for purposes of being a candidate.

It doesn't add up to me, and that's why I'm glad the Illinois Supreme Court agreed Tuesday to hear Emanuel's appeal and to leave him on the ballot until they make a ruling.

Emanuel's eligibility to be on the ballot is a question of law to be decided by the courts, not something to be put to a popular vote. But the long history here is that the courts have liberally interpreted what it means to be a resident.
* In other news, Gery Chico has a new TV ad. Rate it…
Script…
Woman: "My son Anthony was riding his bike home…when somebody took his life. He was a wonderful boy."

Chico: "If we don't fight back for moms and dads of kids who have lost kids to gang violence, we're not going to be a great city anymore."

Woman: "We need to work together to stop this."

Chico: "These murderers, these punks are stealing our children and they're stealing our communities. We're going to add thousands of police to the force, we're going to rebuild community policing, we're going to take our neighborhoods back and we're going to be a city that protects its own."
So far, that's the most forceful ad by anyone this season and it stands in sharp contrast to Emanuel's boring, predictable spots. Like Pat Quinn eventually did, Emanuel might want to take a look at his young, bright Internet video guy for a bit of inspiration. This piece was made by Chris Ramirez, who's just 20 years old, but has a great eye…
Our old friend Simon Edelman, by the way, is now Resolute Consulting's creative director. Congrats to him.
* Related…
* Press Release: Planned Parenthood, Personal PAC endorse Braun

* Mayoral Candidates Respond to BGA Questionnaire

* Parents rate charter schools higher than public schools, but see improvement

* Chicago election official: Might want to hold off on early voting

* Marin: Getting on ballot has never been easy

* Zorn: Absurd `Arnold's Law' needs to be terminated

* Daily Show: Chicago Snubs
61 Comments






















































































































































































Sorry, comments for this post are now closed.