* As you might expect, this is very bad news for Illinois' credit rating, at least with Moody's…
Moody's Investors Service has begun to recalculate the states' debt burdens in a way that includes unfunded pensions, something states and others have ardently resisted until now.

States do not now show their pension obligations — funded or not — on their audited financial statements. The board that issues accounting rules does not require them to. And while it has been working on possible changes to the pension accounting rules, investors have grown increasingly nervous about municipal bonds.

Moody's new approach may now turn the tide in favor of more disclosure. The ratings agency said that in the future, it will add states' unfunded pension obligations together with the value of their bonds, and consider the totals when rating their credit. The new approach will be more comparable to how the agency rates corporate debt and sovereign debt. Moody's did not indicate whether states' credit ratings may rise or fall. […]

In the past, Moody's looked at a state's level of bonded debt alone when assessing its creditworthiness. Pensions were considered "soft debt" and were considered separately from the bonds, using a different method.

"A more standard analysis would view both of these as liabilities that need to be paid and put stress on your operating budgets," said Robert Kurtter, managing director for public finance at Moody's.
* From the accompanying graphic…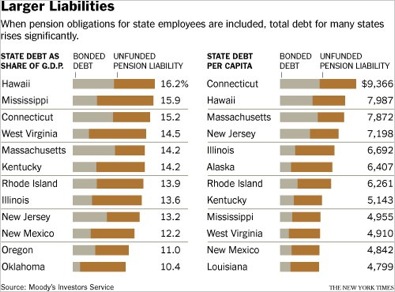 * From Moody's…
Moody's presentation of combined debt and pension figures as part of a more integrated view of states' total obligations follows a period of rapid growth in unfunded pension liabilities.

"Pension underfunding has been driven by weaker-than-expected investment results, previous benefit enhancements, and, in some states, failure to pay the annual required contribution to the pension fund," says Hampton. "Demographic factors — including the retirement of Baby Boom-generation state employees and beneficiaries' increasing life expectancy — are also adding to liabilities."

Moody's says that the evaluation of current and projected pension liabilities is an important area of focus in its rating reviews. For some states, such as Illinois, which is rated A1 and has a negative outlook, large and growing debt and pension burdens have already contributed to rating changes.
As I've said before, when New York says "Jump!" Illinois, with its huge bonded indebtedness, has no choice but to ask "How high?" If I had to bet, it would say we'll see more pension reform stuff soon, including forcing government employees to pay lots more into the system.
74 Comments





























































































































































































































Sorry, comments for this post are now closed.