* David Hoffman had almost a cult following among reformers during his primary race against Alexi Giannoulias. So, I'm assuming the heads of many of those same reform-minded types are exploding right about now…
David Hoffman, who often infuriated retiring Mayor Richard M. Daley as City Hall's inspector general, said Thursday that he endorsed Rahm Emanuel to succeed Daley. […]

"He has the potential to be quite independent of the political power structure, perhaps more so than some of the other candidates," Hoffman told the Chicago News Cooperative on Thursday. "He is very smart. I think he has great potential."
* Speaking of heads exploding, N'Digo's publisher has endorsed Rahm Emanuel and blasted Carol Moseley Braun in the process…
She is the black candidate, but she is not the best candidate.

Her campaign has not gotten off the ground. There simply is no buzz. Black women have come together to provide voice and reason to her candidacy, but she has failed to promote a positive message, or present her solutions to the city's problems
Oof.
* As well all know by now, Emanuel has taken a lot of heat for his service tax proposal. He's attempting to turn the issue to his favor with a new mailer…
The campaign flyer features a Photoshopped image of rival Gery Chico in front of a limousine. The mailer takes Chico to task for criticizing Emanuel's sales tax plan.

"Gery Chico wants you to pay more and let the rich to pay nothing," the flyer being mailed out to Chicago voters says.
Chico hasn't proposed hiking any taxes, but he does oppose Emanuel's plan which would lower the overall sales tax rate by a quarter point by imposing a new service tax on "luxury" items for the "rich." So, by Emanuel's logic, Chico favors the wealthy and is against the hard-working middle class. Mailers can be so fun, can't they?
* All six mayoral candidates debated for the first time yesterday. I didn't watch it because I was otherwise occupied. Apparently, there wasn't much substance because the focus of most of the stories was over the fantasy issue of slave reparations…
With less than two weeks to go before Election Day, the candidates for Chicago mayor veered Wednesday from debating city issues to talking about whether they support reparations for descendants of slaves.

They all supported the notion of reparations but had different ideas about what reparations were, gave no details about who would pay them or where the money might come from at the forum sponsored by the Chicago Defender, the city's historic black newspaper.
They might as well have discussed whether unicorns existed. This, apparently, was not a major topic of debate…
The City of Chicago and related local governments like the Chicago Park District collectively under-funded their worker pension plans by $5.1 billion in the past decade, according to a new report by the Civic Federation.

As a result, the retirement plans now have as little as 36.5% of the assets needed to pay promised benefits, the taxpayer watchdog group says.
Oy.
* And the Tribune has a new poll out which shows Chicagoans thought the city's response to last week's blizzard was OK by them…
Nearly three-quarters of the Chicagoans surveyed — 73 percent — gave the city an overall passing grade for how it handled the storm.

In fact, when it came to the storm's most conspicuous consequence — the hundreds of vehicles snowbound along Lake Shore Drive — respondents were more likely to blame the stranded drivers than the city.

Overall, Chicagoans said they were satisfied with how the city removed snow from their neighborhoods, with 59 percent saying it was cleared as well as could be expected, compared to 38 percent saying it wasn't up to par. North Siders believed the city did a better job clearing their neighborhood streets than did South Siders.

African-American residents were the most critical of snow removal in their neighborhoods, with those in areas that had a majority of black residents saying snow removal was not as good as they expected.
* From the poll…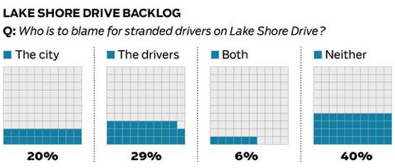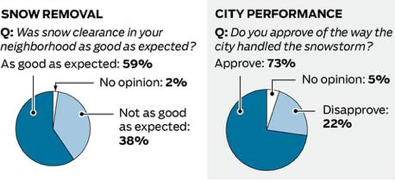 Thoughts?
* Related…
* All 6 mayoral candidates meet

* All six mayoral candidates spar for first time

* Mayoral debate gets heated when slave reparations come up

* New police superintendent, more cops on street at top of new Chicago mayor's crime list - All 4 top contenders say they won't renew Jody Weis' contract

* New report details scope of public pension shortfalls - Deficit now equal to more than $11,000 per Chicago resident

* 50th Ward last, not least in drama

* City Council Postpones Sweet Home Chicago
42 Comments





























































































































Sorry, comments for this post are now closed.