*** UPDATE *** Rockford was briefly used as a hideout by those fleeing Wisconsin Democratic legislators, so now the city's convention and tourism bureau is trying to turn the notoriety to their advantage with a new PR campaign. "Hide-Away in Rockford" has its own Facebook site and a new promo video featuring Cheap Trick's Rick Nielsen, as well as other local types. Watch…
Heh.
[ *** End Of Update *** ]
* At first glance I thought this was a funny little "inside" joke, but now I'm not so sure…
Illinois young republicans today called for Governor Pat Quinn to take action against the 14 Democratic State Senators who are hiding out in Illinois. The demand came in the form of a video released by the Illinois Federation of Young Republicans. […]

The ad, showing the 14 Wisconsin Senators as fugitives on the run, asserts that the individuals are avoiding making tough decisions and evading their responsibilities as lawmakers. The ad goes on to state that, "These democratic legislators must be returned to their home state to face their voters and force them to do the job that they were elected to do and the job that they were paid to do." The ad ends with an appeal to call Illinois Governor Pat Quinn to tell him to return the Senators to Wisconsin.

Illinois Young Republican Chairman Dennis Cook said, "Governor Quinn should not allow Illinois to become a safe haven for legislators on the run. They were elected by the people of Wisconsin to do a job and they should own up to their responsibility. If our legislators fled to their state, we would want them to do the same thing."
What's Quinn supposed to do, send out the coppers to arrest the fleeing lawmakers for crossing state lines without a visa? I don't get it. But, I've made plenty of jokes about rounding up the intruders and deporting them back to their inferior home states, so I kinda chuckled.
* I still thought it was a joke even after I watched their very scary web ad…
"Tell [Quinn] to return the fugitives to Wisconsin, where they belong."
Ha!
…Adding… I put this in comments, but I figured I'd share it on the front page…
Maybe the CIA can do a "rendition."

Can you imagine? Black helicopters descend predawn on a sleepy McHenry County town. The fugitives are immediately hooded and shackled and flown to Madison, where they are all promptly waterboarded and then forced to watch Barney episodes for days on end until they agree to vote "Yes" on Walker's entire legislative agenda.

Perfection.
Also, those are some pretty slick production values for the Federation of Illinois Young Republicans. The Republican Governors Association has become involved with the Wisconsin protests, so money is flowing.
* But then I went to their website, Illinois Fugitive Watch, which has a "fugitive" page complete with mug shots…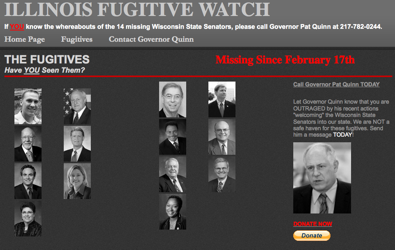 And this message…
Let Governor Quinn know that you are OUTRAGED by his recent actions "welcoming" the Wisconsin State Senators into our state. We are NOT a safe haven for these fugitives. Send him a message TODAY!
Strange.
75 Comments
































































































































































































































Sorry, comments for this post are now closed.