* The Tribune editorial page posted a graphic the other day which purports to show that it takes two to five years to fire a bad Chicago Public Schools teacher…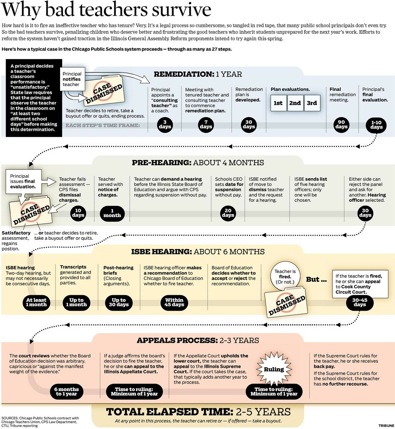 * Karen Lewis, the president of the Chicago Teachers Union, fired back in an op-ed…
Tribune: Fire teachers faster.

Union: The Tribune claims that it can take two to five years for a teacher to be dismissed. Actually, the average is about one year. What the editorial board failed to mention is that once the teacher completes but still fails supervised remediation, that teacher is no longer in the classroom. Also unacknowledged is that CPS always appeals dismissal cases that are overturned by the Illinois State Board of Education, prolonging the process. That gets expensive when you factor in back pay for the years teachers are kept out of the classroom.
* She also included this surprising stat…
Not many know this, but 50 percent of teachers leave CPS within five years. In my 23 years of teaching, nine times out of 10 when I ask a teacher why she or he is leaving the answer is, "It's not the kids. It's the system."
* From an e-mail exchange with the IFT…
The new teacher evaluation system that is being developed will make a larger impact on teacher quality than any changes to the dismissal hearing process. This new system will force administrators to do a better job evaluating teachers and the student growth model (test scores are a part of this) will provide a much more solid case for why someone is or isn't doing the job at a level that is satisfactory. We have always said that when a district has a good case, a teacher usually resigns.

More importantly, that new evaluation system will also help teachers identify ways they can do the job even better. At the Ed. reform hearings, even the business guys said the number one purpose for evaluations is to help your employees improve.
* Meanwhile, Catalyst reports that limiting teacher tenure and all but abolishing their right to strike is dead at the Statehouse. Instead, Senate negotiators are working with all sides to come up with other reforms…
The goal, sources say, is for "performance" – as measured by students' test scores and other types of assessments – to count more in a dismissal or assignment decision than mere years of experience as a teacher. Tenure will still count, but in a subordinate way.

From such general concepts the negotiators plow into the details, which can become a bit sticky.
* But Progress Illinois isn't convinced that the tenure/strike bill is dead…
Still, the all-of-a-sudden powerful group, Stand for Children raised big bucks, contributed heavily to influential lawmakers, and hired major lobbyists. Oh, and Chicago Mayor-elect Rahm Emanuel supports the proposal as well. This bill isn't dead; it's just sleeping.
Unions will never forget how Speaker Madigan rammed through a hostile pension reform bill when the unions thought they had a deal going with Senate President Cullerton to save the same amount of money. They're not letting their guards down.
* Related…
* Study: Single-school districts expensive - Cost per student is up to $2,000 more than in multi-school districts

* State targets number of superintendents, salaries

* Interim CPS chief plans for the long haul but hasn't talked to Rahm Emanuel - CPS chief Terry Mazany doesn't expect to be in charge long, but he's reversing predecessor Ron Huberman and leaving Rahm Emanuel a new education plan

* Cepeda: New school reform empowers parents, but so does 'No Child'

* Staunton plans to start drug, alcohol testing: Students at Staunton High School could be tested for drugs and alcohol under reasonable suspicion, starting with the 2011-2012 school year, Staunton High School Principal Ed Fletcher said.
20 Comments



























































Sorry, comments for this post are now closed.