* Miracle upon miracles, the Tribune editorial page actually praised Senate President Cullerton today…
John Cullerton, president of the Illinois Senate, committed a dreadful sin Monday. During a speech that could have been titled "State Finance 101," the Chicago Democrat briefly mentioned that if Illinois taxed retirement income, Springfield would collect some $1.6 billion a year.

Can you believe that? A politician dared to mention taxing a powerful voting bloc! The lecture Cullerton wasn't delivering Monday, "Politics 101," dictates that talk of taxing seniors is verboten.
The accompanying photo wasn't exactly flattering…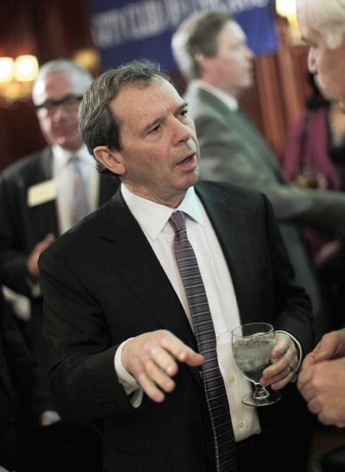 Oof. He looks like an unsober fop in that pic. Let's avoid captions, please. Wouldn't be fair. And I don't have time to police them.
* Regardless of that photo, it's hard to disagree with their conclusion…
Sen. Cullerton, you have a good point. Illinois needs a talk about revising tax policies and rethinking exemptions. Not to grab more from taxpayers, but to broaden the tax base as a matter of fairness. Why should the working family making $50,000 a year pay a tax that the retiree getting $100,000 a year avoids? Credit Cullerton for thinking creatively — and out loud.
I was just on the phone with former Gov. Jim Thompson talking about all the big bills that have been passed during the past few months. Subscribers will see more, but one of the things Thompson emphasized is that we need to broaden the tax base. He was mostly talking about the sales tax. The problem with a narrow, outdated taxing base, he said, is that rates have to be raised on an ever-smaller pot of available money. It makes no sense. Expand the base and then significantly lower overall rates is the better way to go. I'd prefer, however, (and I believe Thompson does as well) that they stick to expanding the base on sales taxes and not mess with the income tax, but it's the same basic point. Expand the base and lower rates.
The problem with this particular Cullerton idea is that expanding the base will not lower rates if it's just confined to seniors making over $100K a year. That only brings in $70 million a year. It's best just to drop it.
* The Sun-Times makes many of the same points today…
But the noise should not drown out an important conversation about tax reform. Illinois desperately needs to update its tax system so it is based on ability to pay and targets taxes where the economy is expanding — among the wealthiest, not the poorest. Illinois' current tax system, anchored by a flat income tax and a narrow sales tax base, disproportionately hits our poorest residents.

Gov. Quinn wants to create a commission to look at ways to update the tax system. We're all for it, though several good proposals are already well-known. These include changing the state Constitution to allow for a graduated income tax, expanding the sales tax base to reflect our modern service economy (an idea Chicago Mayor-elect Rahm Emanuel supports) and, potentially, taxing some retirement income.
Quinn should've appointed that commission a year ago. He's a bit late now, after raising income tax rates by two points.
The other thing Thompson and I discussed is my belief that it'll be at least a generation before the citizenry stops being infuriated at this latest tax hike. He agreed. In my own opinion, it was done the wrong way, in every way. The money is needed, to be sure, but this thing is a political disaster.
Discuss.
…Adding… Related…
* Hines: Cullerton not all wrong in pension tax proposal
34 Comments





































































































Sorry, comments for this post are now closed.