* A lot of folks just don't want to hear it, but House Majority Leader Barbara Flynn Currie made some good points on this video about why legislative district maps aren't perfectly rectangular in Illinois. Have a look…
* The federal and state Voting Rights Acts, geographical and political boundaries, etc. all make it difficult to draw square maps. For example, take a look at the Mexican-American Legal and Defense Fund's proposed House district maps for the South Side which I told subscribers about in much detail this morning…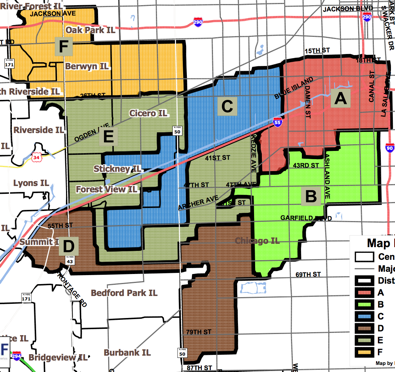 As subscribers know, there was some heavy-duty personalized/politicized gerrymandering involved in at least one of those above districts. The Illinois Supreme Court has allowed maps drawn with incumbent homes in mind, however. And various federal and state laws/rulings require squiggly lines to achieve racial/ethnic representation. Congressman Gutierrez's 20-year-old map has never been struck down, for instance, despite running all over the place…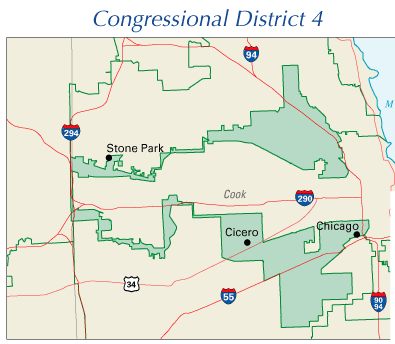 * Some folks don't like this, particularly white people who say we shouldn't have maps based on race. The problem with that is, the people in power tend to be white, and they tend to draw maps which favor their own tribes. It's no accident that the 1981 legislative map had to be partially redrawn via court order because white Democrats refused to draw districts to help elect Latinos beyond one "safe" machine candidate (Joe Berrios).
So, that's the way it is, your reading of the Constitution's "compact and contiguous" language notwithstanding. Courts interpret the Constitution, and they've done so in a way that allows these things. Even the crazy, purely political map drawn for Lane Evans has held up for ten years…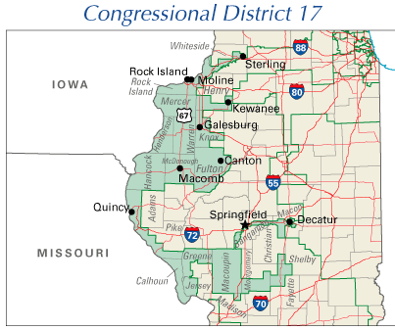 The Republicans, by the way, drew Gutierrez's map and a lot more Latino legislative districts in concert with MALDEF. Why? Because they didn't want to risk their map being tossed out by a court. It's the way it goes.
* There are those who say we should have districts which look like Iowa's, nicely squared boundaries. But racial requirements and our own state's rather odd shape and population patters both work against that. That's not to say that mapmakers shouldn't try to make legislative districts a bit less bizarre, but they'll usually do whatever they believe they can get away with.
* Remap roundup…
* Greg Hinz: Latinos ask for more — lots more — in state remap

* Mark Brown: Latino groups offer legislative map

* Latinos want to double their numbers in Illinois legislature

* Will Co. officials keeping eye on Rep. Jesse Jackson Jr.'s district

* Minority groups: Districts shouldn't break up communities

* House redistricting efforts wrap up

* No guarantees of hearings on state maps

* Local officials argue for more unified state legislative boundaries

* Residents Say Communities Hurt by Split in Political Representation

* Sen. Noland checks in about redistricting

* Senator Sandack pessimistic about future of district maps

* VIDEO: Rep Barbara Flynn Currie on redistricting

* VIDEO: Rep Chapin Rose on redistricting
[Video clip taken from an IL Statehouse News interview.]
25 Comments










































































Sorry, comments for this post are now closed.