* From John Jackson's paper "The 2010 Elections: Illinois Still Blue Despite the Red Wave that Swept the Nation"…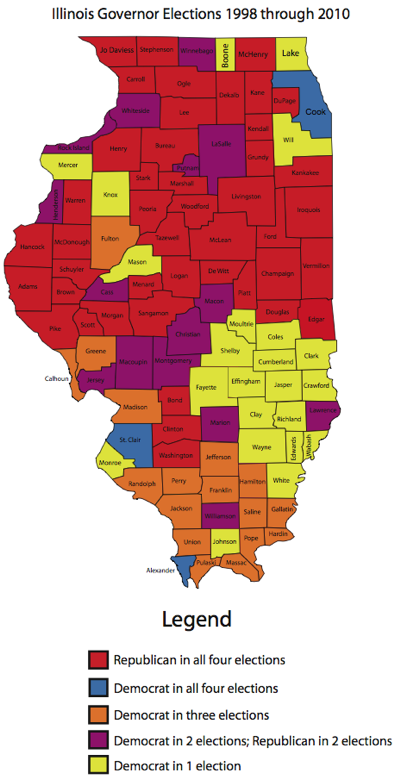 * More from Jackson's paper…
There are some counties which changed sides between 2006 and 2010 although all of them, except Jackson County, changed from the Democratic to the Republican columns. If you track the vote for a longer period of time, especially if all four of the statewide governor's races reviewed here are included, you can identify a lot more variation and the record of change across many of these counties is quite evident. Those are counties where the candidates and their supporters must focus particular attention and commit special resources. Those are the counties where a strategic infusion of staff time and campaign resources, particularly media and money, can make a crucial difference. They are the marginal counties which will be the battleground counties in races of the future.
* Illinois Issues did a recent story on Jackson's latest work…
(T)here have been indications for years that the southern half of Illinois is fundamentally shifting away from its Democratic roots. To one scholar, it's a state-level echo of the shift that the southern half of America has already undergone, as the economic appeal of Democrats' pro-labor policies has been displaced by what the Republicans are selling: God, guns, anti-abortion activism and other cultural issues.

"I think it's part of a larger trend. It has to do with southern politics nationally. We are catching up with the South,'' says John Jackson, a political scientist at Southern Illinois University Carbondale.

In a recent paper, Jackson used electoral data to show that "Illinois clearly suffers from an intense regionalism … especially polarized along the geographical fault lines dividing the rural and small town areas from the cities and the suburban areas.'' The ongoing Republicanization of southern Illinois, he wrote, is one of the starker indications of that fissure.
Discuss.
37 Comments














































































































Sorry, comments for this post are now closed.