* Federal Judge Stephen Limbaugh has ruled that the Army Corps of Engineers can blow the Misssouri fuseplug levee and relieve flooding pressure on Cairo…
Limbaugh wrote that he found that the Corps is committed to implementing the plan only as essential to provide protection to all citizens. He wrote "this Court finds that no aspect of the Corps' response to these historic floods suggests arbitrary or capricious decision-making is occurring."

The Corps plans to decide this weekend whether to blow up the Birds Point levee, depending on the level of the water on the river. It will detonate explosives in the levee if the Cairo river reaches 61 feet. At 8 a.m. CDT (1300 GMT) on Friday, it was at 59 feet and forecast to rise to 60.5 feet, according to the National Weather Service.
Attorney General Lisa Madigan's office just told me they are prepared in case Missouri decides to appeal Judge Limbaugh's ruling.
While good news, the situation is really precarious all over that region. I'll have more in a while.
*** UPDATE 1 - 12:30 pm *** The morons are appealing…
NOTICE OF APPEAL

Notice is hereby given that Plaintiffs State of Missouri ex rel. Chris Koster, the Missouri Department of Natural Resources, and the Missouri State Emergency Management Agency, appeal to the United States Court of Appeals for the Eighth Circuit from the judgment entered in this action denying a temporary restraining order and preliminary injunction on the 29th day of April, 2011.
From the Illinois AG's office…
We will be ready to respond very quickly to oppose Missouri's attempt to overturn the District Court's decision.
From Gov. Pat Quinn's office…
"My hope is that this decision will be upheld as it proceeds through the judicial process."
*** UPDATE 2 - 12:36 pm *** I'm hearing reports of sand boils in several locations starting late last night. A huge one was in Cairo. These are not good things. Wikipedia…
Sand boils or Sand Volcanoes occur when water under pressure wells up through a bed of sand. The water looks like it is "boiling" up from the bed of sand, hence the name.

Sand boils can be a mechanism contributing to levee failure during floods. This effect is caused by a difference in pressure on two sides of a levee or dike, most likely during a flood. This process can result in piping, whereby the removal of soil particles results in a pipe through the embankment. The creation of the pipe will quickly pick up pace and will eventually result in failure of the embankment.

A sand boil is difficult to stop. The most effective method is by creating a body of water above the boil to create enough pressure to slow the flow of water. A slower flow will not be able to move soil particles. The body of water is often created with sandbags forming a ring around the boil.
*** UPDATE 3 - 12:39 pm*** I'm told by several people on the ground that the Department of Natural Resources is doing an outstanding job. "DNR has saved a lot of towns down here," said one area pol, who added that DNR's crews are working their tails off.
The Department of Corrections is being praised for sending out their inmate crews. The State Police are also being praised.
There's a real problem, however, with the regional director of the Illinois Emergency Management Agency. The regional guy is from Chicago and I'm told by three different people down there that he can't even pronounce many of the town names in his area, much less know where they are or what to do. Also, IEMA pulled out of Olive Branch last night in order to head to higher ground. DNR stayed put and fought.
*** UPDATE 4 - 12:45 pm*** Lt. Gov. Sheila Simon is heading to Cairo with Sen. Dick Durbin as I write this. From a press release…
Lt. Governor Sheila Simon will join with U.S. Senator Dick Durbin in Cairo today to tour the most vulnerable areas of the town. After a brief driving tour, they will arrive at the intersection of 15th Street and Cedar Street, where they will take a walking tour and meet with local officials. A media availability will then be held at 12th Street and Commercial Avenue. Following the media availability, Lt. Governor Simon will join with Alexander County Sheriff Timothy Brown to help sandbag along the river.
*** UPDATE 5 - 1:05 pm*** I'm getting some photos taken from Sen. Durbin's helicopter. I'll be posting them over the next several minutes. Here is Grand Tower…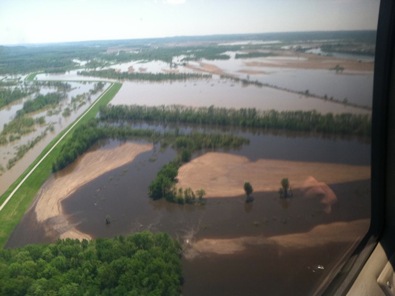 * 8 miles north of Cape Girardeau, MO…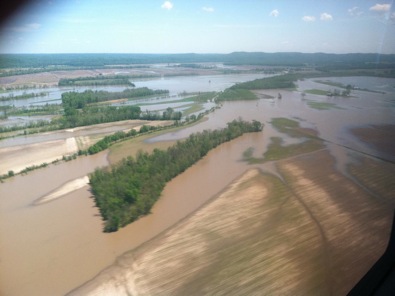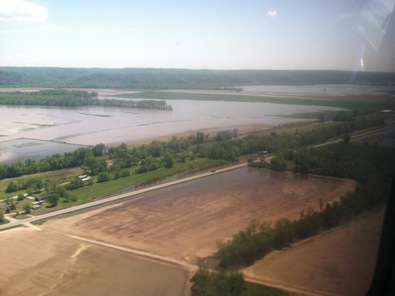 * Route 3 in Alexander County, IL…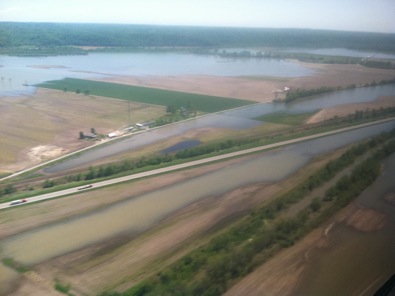 * More Alexander County…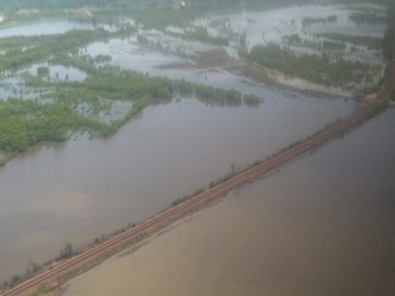 * Ohio River…
* And here come the Cairo photos…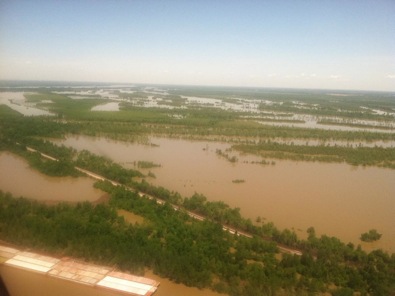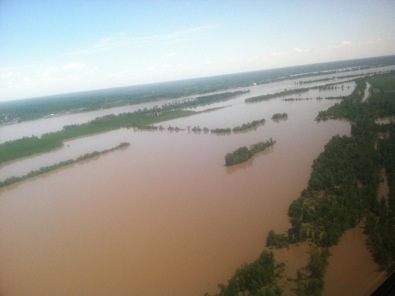 * This is right next to Cairo…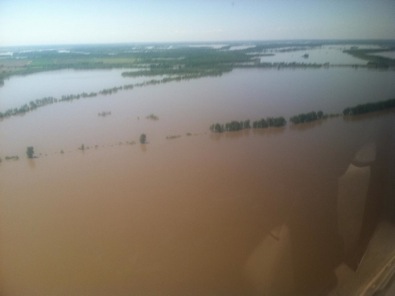 * Interstate 57 right outside Cairo…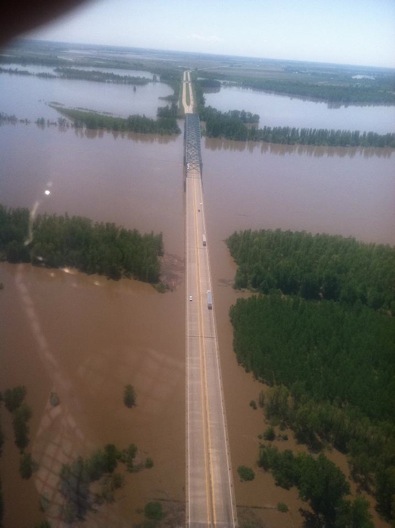 * 1:37 pm - They just landed, so ground-level pics will be coming soon, I hope.
* Here are a couple of Cairo sinkholes…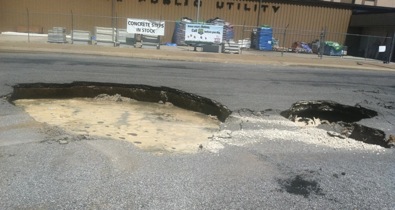 * A sinkhole closeup…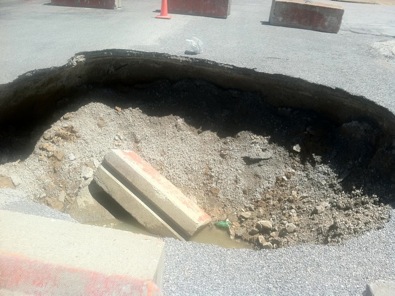 * Another angle…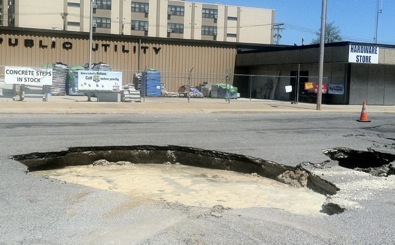 * I'm told there are between 6 and 7 of these sandboils downtown.
*** UPDATE 6 - 2:05 pm*** Jim Pogue, spokesman for the Memphis District of the U.S. Army Corps of Engineers was on AgriTalk today and had some dire things to say about the levee system. Listen…
"We don't want things to happen in an uncontrolled fashion," Pogue said. "If we had an uncontrolled levee failure, potentially much worse damage could occur."
If a particular levee north of the Missouri floodway were to breach, the river could flow over "literally millions of acres." Several communities are in that area. A large section of the boot heel of Missouri and northeastern Arkansas could flood as well, he warned.
*** UPDATE 7 - 2:40 pm *** I had heard earlier today that the Illinois Retail Merchants Association had really stepped forward to help with the flood-fighting efforts, so I called Dave Vite, who runs IRMA.
Vite said his member retailers have sent "truckloads" of supplies to the region in the past three days. Kroger and WalMart have supplied bottled water, for instance. Sears and Home Depot have sent other supplies, like gloves, life vests and lots more. "They ask, we try to find something to fill a need," Vite said.
Vite said he wasn't one to brag about his association all that much, but did say "When the chips are down our industry always steps up and comes up with the things that people really need."
*** UPDATE 8 - 2:45 pm *** This is a cellphone video, so the quality isn't very good, but here is Sen. Durbin talking to the media about Missouri's decision to appeal Judge Limbaugh's ruling. "If this is going to turn out to be a battle of the lawyers on both sides of the river, a lot of innocent people could be harmed," Durbin said. Watch…
*** UPDATE 9 - 2:50 pm *** Here's another video of Lt. Gov. Sheila Simon, Sen. Gary Forby and Rep. Brandon Phelps. Rep. Phelps said he hoped Missouri would "back off" the appeal and said "every hour is critical." Watch…
*** UPDATE 10 - 3:18 pm *** IEMA responds…
Rich – I saw the item on the blog regarding IEMA's response to the flooding in Alexander County. I wanted to let you know what the actual situation is down there.

There are actually 10 emergency management personnel on the ground in Alexander County (two IEMA personnel and eight personnel from local emergency management agencies outside the affected region working with us on the response). They continue to work closely with the other state agencies on the scene, local emergency management and local officials, the Army Corps of Engineers and the American Red Cross on response efforts. The only thing that was relocated was our mobile command vehicle, which was moved to higher ground early this morning because the water was rising and the equipment could be threatened. That equipment is still being used for the response in Alexander County.
* This Cairo levee photo was taken two days ago…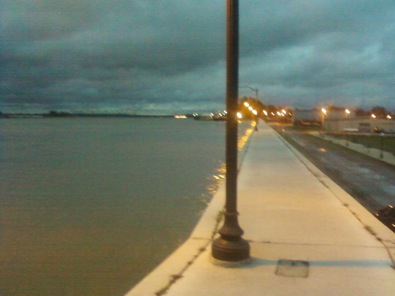 From the photog…
Facing south from the top of the levee at 8th Street. Ohio River is almost to the top. Top=64 feet… so about 58 feet.
43 Comments
































































































































Sorry, comments for this post are now closed.