* The House tweaked the congressional map yesterday…
In an amendment filed Monday afternoon and voted on roughly two hours later, [Republican Congressman John Shimkus'] home was moved from the proposed 13th Congressional District — which includes most of Springfield, all of Decatur and most of Champaign-Urbana — into the 15th Congressional District, which takes in southern Illinois.

The home of U.S. Rep. Tim Johnson, R-Urbana, is now in the 13th Congressional District.

The move is a break for Shimkus because it gives him back most of the territory that is in his current district. Johnson will now face an electorate that is more Democratic-leaning.
Johnson will now have to decide whether to run against Shimkus or face a strong push by Democrats next year. He says he'll run in the 13th…
Johnson spokesman Phil Bloomer said the congressman expects to run in the reconfigured 13th district in the 2012 election. But, he decried the process that led to the new boundaries.

"It's not only unfortunate, it's crazy, that they didn't include any members of the delegation on the Republican side when they created the map. That's not only a disservice to the congressman, but a disservice to the people he represents," Bloomer said.
Thoughts?
* You can find the newly revised maps by clicking here. And here are the voting age population breakdowns by district…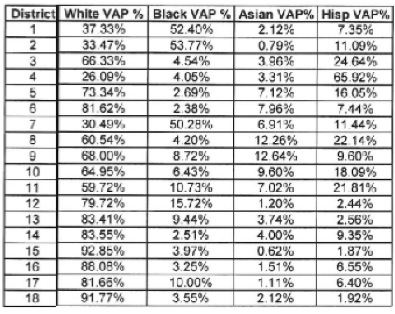 Notice that African-American congressmen had to give up super-majority black districts in order to maintain the current level of representation.
* Related…
* Illinois House give OK to congressional redistricting map

* Sunday Remapalooza: Republicans and Democrats begin to cannibalize

* Saturday Remapalooza: An intensely partisan work of art

* Latino division over legislative maps
42 Comments





























































































































Sorry, comments for this post are now closed.