* 8:56 am - Click here for access to the new maps. More in a bit.
* You're going to need Google Earth to access the detailed version. Click here to get it.
* The Google Earth file is here. You can also download pdf files…
* Cook and collar county districts

* The big rumor yesterday was that Senate Republican Leader Christine Radogno was put into the same Senate district as Republican Sen. Ron Sandack. That does, indeed, appear to be the case. They appear to both be mapped into the 41st Senate District.
* Republican Sens. Tim Bivins and Christine Johnson also appear to be in the same district, the 45th.
* The Democrats wanted to create a map that ran from the predominantly black East Side of Springfield to Decatur. They did. The 50th and the 48th.
* Rockford Republican Dave Syverson was stripped of much of his turf and put into the 35th Senate District. His Democratic opponent from last year, Marla Wilson, has lots of Rockford territory and is in a different district, the 34th.
* As expected, Speaker Madigan is in the same Senate district as Sen. Martin Sandoval, the 11th.
* Freshman Sen. Sam McCann (R-Carllinville) has been moved into the 48th District, which stretches from the East Side of Springfield to Decatur. Not looking good for him.
* Republican Sens. Kyle McCarter and Dave Luechtefeld are in the same district, the 54th.
* Sen. Toi Hutchinson (D-Olympia Fields) has one of the odder shaped districts, which is in blue…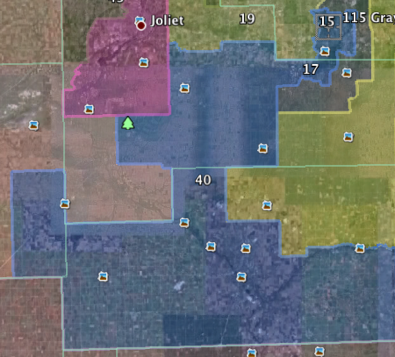 Her southern boundary is the Kankakee County line.
* Sun-Times…
Cullerton's office announced hearings on the map at noon Saturday at the Michael A. Bilandic Building in Chicago and at 9 a.m. Tuesday at the Capitol in Springfield.

Phelon could not immediately say whether there was an increase or decrease in majority-minority districts to reflect large population gains among Latinos nor indicate whether any of the 24 Republican senators had been drawn into the same districts. […]

There was no immediate announcement on when House Democrats would make their district boundaries known. A spokesman for House Speaker Michael Madigan (D-Chicago) could not be reached early Thursday.
* Sen. Larry Bomke's (R-Springfield) district, the 50th, heads straight west through Jacksonville all the way to the Mississippi River and then way, way down south to Grafton. Lots of very new turf for him.
* Check out Sen. Donne Trotter's (D-Chicago) new district. The turf (the long yellow one on the right side) runs from 73rd St. all the way down to Momence, which is east of Kankakee…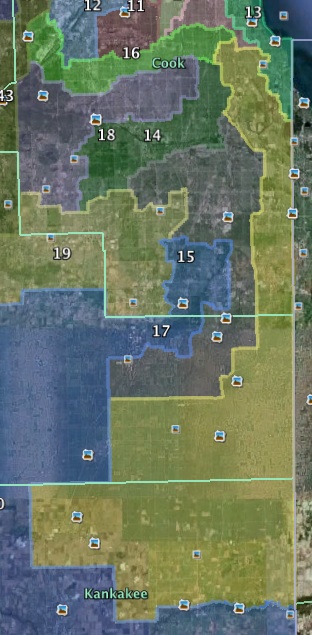 The new map would move Illinois State Senate President John Cullerton (D-6) district further south and east, while bringing current State Senator Heather Steans' (D-7) district further west to the river. [A Google Earth file of the new districts can be found here.]

Pres. Cullerton lives in Ravenswood Manor. Sen. Steans lives in Andersonville's Lakewood Balmoral neighborhood. Both districts have been drawn so they are not overlapping any other sitting state senators' homes.
* SJ-R…
Sen. Larry Bomke, R-Springfield, will face thousands of new voters and Sen. Sam McCann, R-Carlinville, will be in hostile political territory if they run for re-election from their current residences next year under a proposed legislative map released by Senate Democrats on Thursday. […]

Bomke's house is in the proposed 50th Senate District, which stretches from Springfield's west and southwest sides to seven southwest Illinois counties all the way to the Mississippi River. Bomke's current district is centered in Springfield and Sangamon County and encompasses parts of Logan and Menard counties.

The home of McCann, who is in his first Senate term, is in the proposed 44th Senate District, which includes downtown Springfield, Springfield's east side, Decatur, Christian County, Montgomery County, much of Macoupin County. The district stretches south and includes a chunk of northeast Madison County in the Metro East.

Overall, Sangamon County will have three senators if the map becomes law. The north end of Springfield is in the 44th Senate District, where veteran state Sen. Bill Brady, R-Bloomington, lives.
On the state map, the Chicago area resembles bicycle spokes with districts snaking from the city's Democratic boundaries into the suburbs. Due to population losses in Chicago, most districts shifted south and west, or north and northwest. Some districts were nearly eliminated.

State Rep. Kevin McCarthy (D-Orland Park) loses much of his southwest suburban base under the new map. So does Democrat Lisa Dugan (D-Bradley) who is pushed into Central Illinois.

Other districts, however, strengthen or maintain re-election prospects for incumbents. Democratic House Speaker Michael Madigan's district stays mostly intact under the new map with Midway Airport as an anchor. His Southwest Side neighbor, state Rep. Dan Burke (D-Chicago), loses suburban precincts in Berwyn but picks up more swaths of the city.

"It's significantly different, but the demographics are not changing,"Burke said.
* Daily Herald…
"I think that DuPage County will continue to have excellent representation and we continue to be a force and Senator (Don) Harmon from Oak Park has always had a little bit of DuPage," said Hinsdale Republican Sen. Kirk Dillard. "It looks like that may continue in the far northeast part of the county."
The proposed new district keeps Rock Island County intact. But it carves off the southern part of the district, in Mercer County, trading it for more of Whiteside County to the east.

The new lines also pare a part of Carroll County from the district.

In an interview today, Jacobs said the maps aren't final.

"We've still got a long way to go," he said. "This is the first blush."
* Greg Hinz…
Because the African-American population of Chicago has dropped so much — down 200,000 in the past decade –there will be only four districts that are at least 50% black, down from five now, according to Mr. Cullerton's office. But the Hispanic population has grown, so the number of majority-Latino districts would rise from seven to eight.

The most striking thing about the map is how city-anchored districts have been stretched miles out into the suburbs, sort of like fingers pointing out from a hand.

As a result, districts occupied by Chicago incumbents including John Mulroe (10th), Kimberly Lightford (4th) and Emil Jones III (14th) — plus Bridgeview's Steven Landek (11th) — would be much longer than they were, in some cases stretching almost to the Cook County line.
Landek's district currently goes right up to the county line.
*** UPDATE *** The above info about minority Senate districts is being disputed by the SDems. There are actually 8 Senate districts now with majority black population. There will be 7 districts with majority black voting age population (which is what counts in these things) and 1 district with just under 50 percent VAP.
[ *** End Of Update *** ]
Illinois Democrats released their proposed State Senate districts today, the first look at how Illinois' legislative boundaries might be re-shaped. The map would appear to create and new district in the Aurora area.

The surge in population in State Sens. A.J. Wilhemli, Chris Lauzen and Linda Holmes was expected to add one new district with about 200,000 residents.

Rough views of the map appear to show Wilhelmi in the 43rd District and Lauzen barely in the 25th District. Linda Holmes, an Aurora Democrat, will be in either the 42nd or 49th District. Depending on where the line is drawn in relation to her house, the remaining district will be a new, open seat. […]

Lauzen said he was not worried about the new lines. He believes the map released Thursday morning is a diversion.

"They'll rush out this weekend, have some meetings and then they'll bring out the real map," he said.
121 Comments










































































































































































































































































































































































Sorry, comments for this post are now closed.