* House Republican Leader Tom Cross unveiled his pension reform proposal yesterday…
The plan, endorsed by the top Democrat and the top Republican in the Illinois House, would require many state employees to pay about 13.8 percent of their salaries into the pension system to keep their current benefits. Or they could keep more of their money but receive lower benefits at retirement. A third option would be a new 401(k)-style investment plan.

Officials said the savings will depend on which options employees choose. But the amount will be billions of dollars over the years to come, with employees contributing hundreds of millions of dollars more, said Sara Wojcicki, spokeswoman for House Minority Leader Tom Cross, an Oswego Republican.

The American Federation of State, County and Municipal Employees complained that the plan would "slash" the pensions of employees or cut deep into their paychecks.

The union said the average pension is just $32,000 a year, which could be their sole retirement income because many public employees do not get Social Security. AFSCME argues that government employees always contribute their share to retirement systems, while state officials have often failed to meet their obligations.
* Click here for Leader Cross' fact sheet. Click here to read the proposal itself. These are the current employee contribution levels, proposed Tier 1 increases and final proposed contribution rates. Click the pic for a larger image and alternative system contribution rates…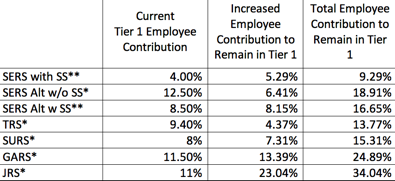 * Proposed Chicago and Cook County rates…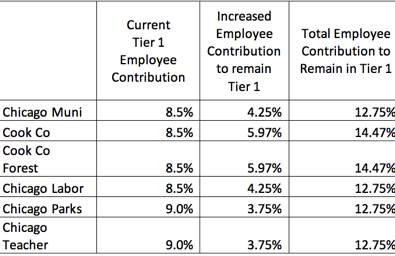 * The media has completely ignored this aspect of the plan, and it's buried way down in the SJ-R story today…
The Tier 1 contribution rates are subject to revision after the first three years and every three years thereafter. If the contributions become too burdensome, an employee can move down to Tier 2 or Tier 3 but never back up.
In other words, those numbers you see above aren't final by any means. The contributions will automatically be recalculated every three years, and those contributions could very well be recalculated upwards as people leave the system. That scenario is a huge political nightmare for many, many legislators.
* Subscribers know more about this little twist…
Cross plans to put the state's judges, who initially were excluded from the latest pension bill, back in this morning via an amendment. Under new contribution levels for public employees who started work before Jan. 1, judges would have to pay 34 percent of their salaries, instead of the current 11 percent, to keep their current benefits.

"Some of our members felt strongly that all of the state systems should be included in the bill," said Cross spokeswoman Sara Wojcicki when asked why the judges are to be included.
* Also from the SJ-R story…
The bill also appears to revise a 1995 law that was designed to bring the pension systems to 90 percent funded by 2045.
From Leader Cross' analysis…
Each year the state will contribute an amount equal to 6% of the total pensionable salary for
employees. Further, the state will contribute a level percentage of the "big 3 revenues" (sales tax, personal income tax, and corporate income tax) to reach a level of 90% funded by 2045. For FY13-15, there will be a "step up" period to ensure a level percentage of revenue from FY16 until FY45. State revenue is assumed to grow at 2.3% per year, and in no case shall the state contribute less than 100% of the prior year's contribution.
The language appears to smooth out the ramp-up…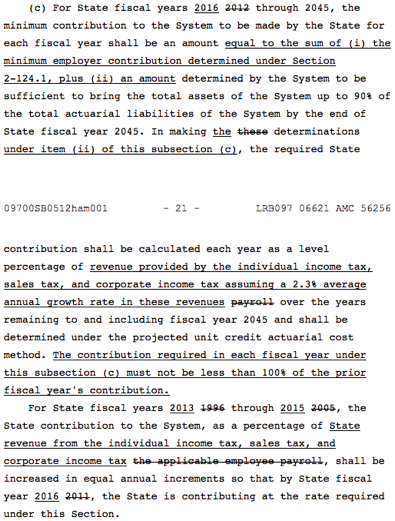 * Tribune…
If the changes are made, Schmitz predicted, the game plan for getting the state's pension systems funded at a 90 percent level would be achieved by 2045. Further, he said, the state's pension payment in 2045 would drop from a projected $20 billion to $12 billion if the steps are taken.
87 Comments




































































































































































































































































Sorry, comments for this post are now closed.