* The Tribune used sources for its story last night on the congressional remap…
*Freshman Republican Rep. Bob Dold of the North Shore 10th Congressional District would find his home mapped into the district of Democratic Rep. Jan Schakowsky, a veteran lawmaker who represents the north lakefront 9th District.

*Freshman Republican Rep. Joe Walsh of the northwest suburban 8th District would be matched with GOP Rep. Donald Manzullo, a veteran lawmaker who represents the 16th District.

*As a result, a new district would open up in the northwest suburbs for Democrats to try to win. Even before the map was unveiled, Raja Krishnamoorthi, a former state deputy treasurer who narrowly lost a bid for the Democratic nomination for state comptroller last year, announced an exploratory bid for Congress. […]

*Downstate, second-term Republican Rep. Aaron Schock of Peoria will give up some ground but will still have a GOP-leaning district as will 11-year Rep. Tim Johnson in west central and southern Illinois. But Republican Rep. John Shimkus would find more Democrats and could face a challenge in his newly drawn southeastern Illinois district.
Tammy Duckworth is also interested in that new northwest suburban district.
* As subscribers know, the Senate Democrats posted the congressional remap data online early this morning. Click here to access the Senate Democrats' page containing the new congressional map.
*** UPDATE 1 *** For the second time in a week, the Democrats have unknowingly released their own map before they intended to do so. Last Friday, you will recall, the House accidentally posted its map in the morning just long enough for us to grab it. The same thing happened again in the wee hours of this morning. They got everything ready and queued up the page, but didn't notice that a link to the congressional data was appearing on other, readily available internal pages…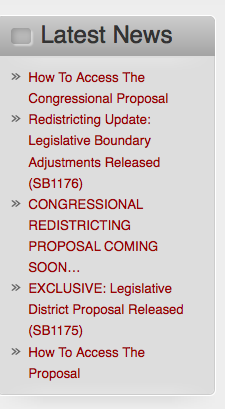 These things happen. I sure hope nobody gets into too much trouble.
Anyway, they took down the page, so click here for the cache I made of their page last night.
*** UPDATE 2 *** Their page is back up and live again. Everything's fine now.
*** UPDATE 3 *** Archpundit's quick take…
It's a good map for Dems. I think there are 12 likely Dem seats. Bobby Schilling is gone with this map and Adam Kinzinger has to primary either Manzullo, Schock or Shimkus. If he had to primary anyone he wanted Tim Johnson, but he has no real ties to the Johnson areas.
Pretty sure Kinzinger will go after Manzullo if he decides to run.
*** UPDATE 4 *** The House is now debating the state redistricting bill.
*** UPDATE 5 *** SJ-R…
The map splits Springfield into two congressional districts. The city is currently represented by three represenatives in the U.S. House.

The new 13th District, which includes U.S. Rep. John Shimkus' house in Collinsville, takes in virtually all of Springfield from Chatham Road east to Interstate 55.

The new 18th District includes Springfield west of Chatham Road as well as U.S. Rep. Aaron Shock's house in Peoria.
*** UPDATE 6 *** I really don't like the idea of using Obama numbers alone to test these new congressional districts, but Dave Wasserman, US House editor of the Cook Political Report, has taken a quick look at the new map. His initial findings…
Initial calculations: new IL08, IL10 and IL11 are both easily over 62% Obama, new IL13 is 55%, new IL17 is 60%. Wow.

The new IL17 is 3 pts more Democratic than the current "rabbit on a skateboard" and doesn't even look that egregious!

Mystery to me: why didn't Dems put city of DeKalb in IL14 and give Manzullo parts of McHenry? Hultgren safer than I would've thought

By my count, only fairly safe GOP members in new IL map are Schock, Shimkus, Manzullo, Roskam, and possibly Hultgren
Central Illinois is less carved up than it was in the previous remap. All of Macon County is part of what would be a new 13th congressional district along with all or parts of DeWitt, McLean, Piatt, Champaign, Christian, Montgomery, Bond, Madison, Calhoun, Jersey and Greene counties. The area appears to be represented by U.S. Rep. John Shimkus, R-Collinsville.

Logan County is part of a new 18th District, which would be represented by U.S. Rep. Aaron Schock, R-Peoria.

Douglas, Moultrie, Coles, Fayette and Effingham counties are part of a new 15th District that would eat up most of the southeast quarter of the state. That area would be represented by U.S. Rep. Tim Johnson, R-Urbana.
* Tribune…
The vote on the map came only hours after its public release—a plan that featured some variations from a map Democrats released a week ago, prompting complaints by Republicans.

"I think the public has been left on the short end of this process by not being able to comment on the changes," said Rep. Mike Fortner of West Chicago, the ranking Republican on the House Redistricting Committee. Fortner would be lumped into a district with fellow Republican Rep. Tim Schmitz of Batavia.

But Barbara Flynn Currie, the House majority leader and top deputy of Democratic House Speaker Michael Madigan, said, "I think this has been the most transparent, the most accountable, the most open redistricting process in the history of the state of Illinois."

Rep. Roger Eddy, R-Hutsonville, responded, "This is not open and transparent. The final version of this map has had zero public hearings."
*** UPDATE 7 *** From US Sen. Mark Kirk…
"The draft map is the unfortunate result of cynical partisans who want to override the decision of Illinois voters who elected fiscal conservatives to Congress. Its main purpose is to force Nancy Pelosi back into power.

"The map senselessly divides dozens of Illinois communities and denies our growing Hispanic community their rightful opportunity to be fully enfranchised with a second Congressman.

"This map was gerrymandered to ensure suburban voters will have little voice in Congress."
*** UPDATE 8 *** From Republican Will County Board Chairman Jim Moustis…
"The proposed congressional map fails to keep Will County together with communities of interest and, more than likely, will result in unfair representation for our residents. Essentially, Chicago politicians will now serve areas in stark contrast to where they live and call home. No surprise this map was drawn by a partisan committee, behind closed doors, and without consideration for the 677,560 citizens living in this county. Those drawing this map should start over and take a cue from the way Will County has gone about the reapportionment process- openly, transparently and by a bipartisan committee."
*** UPDATE 9 *** Congressman Bob Dold…
"Behind closed doors the Democrats in Springfield proposed a new Congressional map that was drawn without any input from Republicans or any consideration for the hours of testimony offered at public hearings this spring. This map was gerrymandered to ensure suburban voters will have little voice in Congress. This proposal appears to be little more than an attempt to undo the results of the election held just six months ago. My Republican colleagues and I will take whatever steps necessary to achieve a map that more fairly represents the people of Illinois – they deserve nothing less. The people of my district sent me to Washington to solve our nation's serious challenges. In my first five months in office, we have put forward solutions to address those challenges but more work remains. I intend to continue to work tirelessly for my constituents and to be a Member of Congress until that work is done."
*** UPDATE 10 *** Letter from the entire Republican congressional delegation…
"Under the cover of darkness, the Democrats in Springfield proposed a new Congressional map that was drawn without any input from Republicans or any consideration for the hours of testimony offered at public hearings this spring. We are very concerned that this proposal does not fairly represent the significant growth that has occurred in the Hispanic community. The proposed map carves up towns and communities with little regard to the values and beliefs of the people who live there.

"This proposal appears to be little more than an attempt to undo the results of the elections held just six months ago and we will take whatever steps necessary to achieve a map that more fairly represents the people of Illinois – they deserve nothing less."
*** UPDATE 11 *** Daily Herald…
Jim Oberweis, Republican state central committeeman for the 14th District, said that as of Friday morning he was still trying to unerstand the Democratic strategy behind the map.

"At first glance it almost seems a bit less (gerrymandered) than in past years. …I'm assuming this is better."

The new boundaries, Oberweis said, don't "change anything from my viewpoint. We want to do the best we can to elect suburban Republicans."
*** UPDATE 12 *** Sen. Durbin on the map…
*** UPDATE 13 *** Joliet Herald News…
Will County would be split into six different congressional districts, instead of the current three, if a proposed redistricting map is approved this weekend by the General Assembly.
[ *** End Of Updates *** ]
More info…
Have at it.
* Late yesterday, the Illinois House and Senate updated their new maps…
* Senate President John Cullerton talked to reporters about the maps during the last half of this video…
* Tribune coverage…
The new version of the map shows five Senate districts with majority Latino voting-age populations. But the percentage of voting-age Latinos in the least-majority district was increased in one district from barely 50 percent to 58 percent. Latino groups had been seeking districts with 60 percent to 65 percent voting-age populations.

The new version also shows 10 House Districts with at least a 50 percent majority of voting age Latinos — down one district from the proposal of last week. But the plan would create five districts with a Latino-age voting majority of 60 percent compared to only four with Latino voting-age concentrations that high.

The new version of the Senate map also would create eight districts with a majority black voting-age population instead of the seven they previously proposed. It would bring up one district from a 48.6 percent African American voting age population to 50.45 percent. The number of House districts with a black voting-age majority was unchanged at 16.

It was unclear whether the changes to the legislative map would satisfy Latino voting rights groups who had sought districts with larger voting-age populations or risk the prospect of a federal Voting Rights Act suit.
* And there were objections to the Republican map…
Republicans say their map complies with the Federal Voting Rights Act while trying to follow county and municipal borders wherever possible. "The maps … demonstrate that you cannot concern yourself with where incumbents live and not concern yourself with what Republican/Democrat numbers are … and draw a map that is constitutional."

However, Dr. Leon Finney, co-chairman of the legislative redistricting committee for the African American Leadership Roundtable, said the Republican map "creates an illusion of fairness." He said while the number of minority/majority districts is important, so is the way they are drawn. He said the plan reminds him of a proposal from the 1991 remap that "packed" districts with African-Americans and diluted their political voice. "Having gone through this in 1991, I am very painfully aware of the need to unpack those districts."
* Remap roundup…
* Democrats roll out changes to their remap proposal

* New legislative maps unifies Chinatown, but splits others

* New Illinois congressional map still not unveiled

* Illinois Republicans propose new legislative districts

* Editorial: Remap game an ugly one

* Editorial: Brazen partisan power on display
107 Comments
































































































































































































































































































































Sorry, comments for this post are now closed.