* Democrats close to Rahm Emanuel's operation have leaked a few poll results from the survey we discussed a bit last week. The poll, conducted for Emanuel August 17-22, is of 600 likely voters. Let's start with job approvals…
Job approval - 79 percent
Job disapproval - 16 percent
Racial breakdown of the job approval numbers…
Whites
83
14

African-Americans
78
15

Latinos
78
16
Not much to say other than those are pretty darned solid numbers all the way around. Yes, it's still very early in his term, but engaging Emanuel in a political war would hardly be well-advised at the moment.
* Click the pic for a larger version of the character traits test…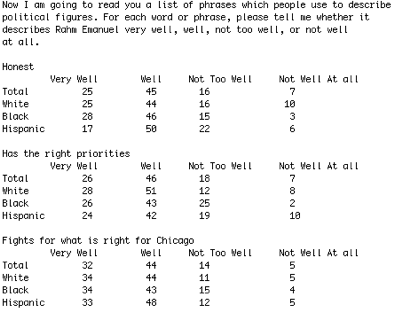 Again, not somebody who can be easily messed with.
* This matches up pretty well with an Anzalone Liszt Research poll taken for the Teamsters Union June 7-12, which gave us a snapshot of his first month in office. From the pollster…
Rahm's numbers have only strengthened and are now 77% favorable and 13% unfavorable. The biggest movement has been with white voters who have moved from 68% favorable to 79% favorable and whose unfavorable rating of him have dropped from 21% to 12%. I would think that both the 650 new cops on the street and the auterity measures with the budget have moved white voters, although all subgroups made gains.
Anzalone Liszt had Emanuel at 71 percent favorable and 15 unfavorable after the election in late April.
* The history of Gov. Pat Qunn's approval rating is here.
14 Comments









































Sorry, comments for this post are now closed.