* A small suburban company is moving to Texas, and the CEO is quite angry at Illinois…
Directors of an Illinois company that develops and manufactures wound-care dressings plan to relocate the company to Fort Worth from Illinois, citing their pursuit of a more business-friendly home.

Ferris Manufacturing Corp. is negotiating a potential lease on 40,000- to 50,000-square-foot building in the Alliance area of north Fort Worth, company officials said. The privately held company plans to move next spring or summer.

"The taxes are oppressive (in Illinois). The business climate is terrible. Every time you turn around, they've got some new regulation or some way to make you uncomfortable," said Dr. Roger Sessions, Ferris chairman and CEO.
Harsh.
Sessions is the nephew of the company's founder and was once a football coach at the Texas College of Osteopathic Medicine. I am not making that up. Sessions lives in Texas.
* But Illinois did gain a bunch of new jobs today. From a press release…
Governor Pat Quinn today announced the opening of a new FedEx facility in Grayslake that would result in the creation of more than 450 new jobs, including managers, clerical staff, maintenance workers, drivers and more. Local officials, FedEx representatives and Assistant Director of Illinois Department of Commerce and Economic Opportunity Dan Seals gathered today to officially open the facility, which was supported by the state with an estimated $500,000 business investment package to strengthen the company's $38 million private investment. […]

The new 206,000 square-foot highly-automated distribution center is expected to process about 63,000 packages per day between the Midwest and the rest of the country. DCEO is administering the state's $500,000 business investment package, which consists of Economic Development for a Growing Economy (EDGE) tax credits based on job creation and Employer Training Investment Program job training funds that will help enhance the skills of the company's workforce.

"We are pleased that FedEx Ground has chosen Illinois as the location of their newest distribution center," DCEO Assistant Director Dan Seals said. "With investments like this, we are continuing to fuel the state's economic growth, creating jobs and supporting Illinois businesses."
* In a related story, Republican Congressmen Joe Walsh, Don Manzullo, Bobby Schilling and John Shimkus have sent a letter to Gov. Pat Quinn about our tax situation…
As Members of Congress overseeing a vast federal budget that itself is in the red, we certainly understand the difficulty in trying to solve budgetary issues. However, raising individual income taxes by 66 percent will only exacerbate our wider problem and take more Illinois residents off the tax roll when they leave our state. Middle class families are already stretched thin. A family of four earning $60,000 a year right now has an additional $1,040 to pay in taxes each year. We understand this might not seem like much but for the families in our districts this is money that they cannot afford to lose.

The largest employers in the state of Illinois are struggling too. Illinois has the third highest corporate tax rate in the country and this takes away from their competitive edge and ability to create new jobs. Many of our large employers based in Illinois could leave as a result of the new 9 percent corporate tax rate that was raised from 6.8 percent in January. These are critical jobs that must be protected. We are willing to work with you on this issue as similar measures are considered right now in Congress.
That first paragraph almost reads as if the state hadn't yet passed the tax hike. Kinda weird. Also, our "largest employers" will probably end up getting state aid to stick around.
Ward Room wasn't amused with the letter…
We elect congressmen to run the country. We elected Pat Quinn to run the state. He doesn't give advice to Congress, and he doesn't need advice from congressmen, either.
Quinn routinely offers his advice to anybody and everybody, whether they listen or not.
The governor's office passed on a chance to comment.
* And speaking of Congress and the state, I mentioned in passing yesterday that Congressman Bob Dold was criticized for railing against the stimulus bill and then showing up for an unveiling of a $4.9 million renovation of a Metra station paid for with those stimulus funds. Greg Hinz says Dold just handed his foes some ammunition…
Congressman Robert Dold, R-Winnetka, has just given a little gift of sorts to whoever will be his Democratic foe next year. […]

"Jobs are created by small businesses growing and adding employees, not through handouts of taxpayer dollars," one Dold press release [during the 2010 campaign] stated. The stimulus "handouts" merely "add to the growing federal debt," another 2010 press release from Mr. Dold read.

Asked how he can celebrate spending from a program he slammed, Mr. Dold's spokeswoman replies that he "was pleased to accept the invitation from Metra to attend this event in the 10th District. The office regularly works with Metra."
But it goes farther than that. Dold showed a real enmity toward capital projects in his last campaign. For instance, here's a press release from his Republican primary race against former state Rep. Beth Coulson…
Coulson is a Springfield-Insider who has sponsored tax and spending increases:

Sponsored HB656, the RTA sales tax increase in 2008 that raised sales tax in several Illinois counties by $500 million per year to fund a bailout of the CTA (Chicago Transit Authority). The sales tax increased helped Chicago become the highest taxed city in the nation. […]

Voted for the spending portion of the 2009 Capital Bill which included taxpayer monies for special works projects in her district, but voted against initiatives to fund those projects (HB255 & HB312) piling more debt onto Illinois taxpayers. […]

Voted for a $750 million pork spending bill that would have funded projects started by imprisoned former Governor George Ryan. Former Governor Rod Blagojevich vetoed $550 million of the pork spending bill, but Coulson voted to override most of Blagojevich's line-item vetoes (SB1239, 2003).

As Congressman of the 10th District, Dold will bring small business common sense to Washington by cutting taxes for families and small businesses, ending Congressional leaders' irresponsible borrowing and spending, and advocating a realistic and balanced federal budget.
The RTA praised that quarter-point press release at the time…
"The new funding and reforms will allow us to bring our system up to a state of good repair and ensure that we are operating efficiently," said Steve Schlickman, RTA Executive Director.
And, of course, the capital bill mentioned above also included transit funding.
So, bash the stimulus, bash the RTA sales tax, bash state capital spending, but, by gosh, don't miss a chance to cut a ribbon at a subsidized train station with one of those over-sized scissors…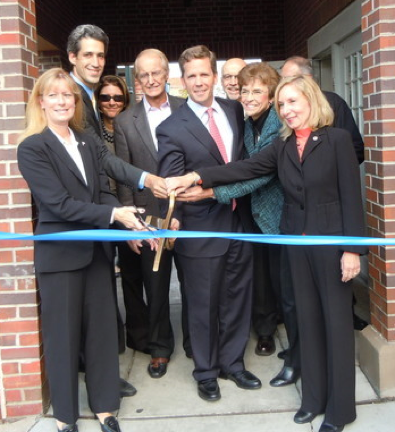 Also, Dold has campaigned often at Metra stops. It's a requirement for suburban politicians. But I'm wondering if he told those commuters how he felt about funding their rides?
* Related…
* ADDED: Congressman: Don't tax the rich: Cutting taxes and eliminating restrictions on corporations are the two main pillars of Schilling's plan to spur the economy… "It wasn't the millionaires and billionaires that created Obamacare, cap and trade, the over-regulation by EPA and OSHA – it was the administration and the people that he appointed in," Schilling said.

* Former Belleville mayor Roger Cook will try to unseat Costello

* Emanuel calls summit meeting with top airline execs

* CBOE Stock Exchange plans expansion with New Jersey purchase

* Caterpillar inks deal to develop mobile generators

* Bank of America to charge $5 debit card fee
33 Comments


































































































Sorry, comments for this post are now closed.