* Uh-Oh…
With an eye on drawing more attendees closer to the 2012 election, Right Nation, a conservative conference that drew roughly 6,000 to Hoffman Estates last year, is postponing a second conference originally scheduled for Nov. 3-5.

Hoffman Estates Mayor William McLeod said he learned of the news a few days ago, but had "no idea why" the conference organizers backed out of those dates.

The United Republican Fund, which was organizing the event, declined to comment Wednesday.

But Joe Morris, a board member with the American Conservatives Union, which had been working with the organizers of the Right Nation conference, said he was "informed of the decision rather than participating in the making of it."
That Morris quote seems kinda ominous.
* If you go to the Right Nation 2011 website, there's no indication yet that the conference has been postponed…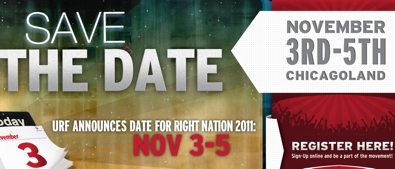 * The Illinois Review is listed as a "participating organization," but the self-described "crossroads of the conservative community" doesn't have anything on its website about the "postponement" either. The United Republican Fund, which runs the show, has nothing on its Facebook page. And Right Nation's news page hasn't been updated since June 15th.
* The URF spent thousands of dollars on consulting contracts for Right Nation 2010, including to Illinois Review's top person, Fran Eaton. The group was over $40,000 in debt at the end of June and had just $428.87 in the bank. It has filed no disclosure reports for large contributions in the third quarter, which ends this week.
Considering those meager resources, I'm not sure how they're gonna pay the cancellation fee…
Sears Centre General Manager Ben Gibbs noted that the arena will still generate revenue because of a cancellation provision in Right Nation's contract.
…Adding… I'm told that the URF has formed a 501c4 organization and has money built up in that account, which isn't public. They also claim that the event will happen eventually.
* One of the problems with the Right Nation conference may have been this weekend's TeaCon event in Schaumburg, featuring Glenn Beck, Andrew Breitbart, Dana Loesch and Herman Cain…
Fresh off his convincing win in last week's Florida straw poll and his resulting dramatic rise in a major national poll, Republican presidential candidate Herman Cain will be appearing at TeaCon 2011 in Schaumburg on Saturday.

According to Chicago Tea Party Coordinator Steve Stevlic, Cain will appear as part of a presidential candidate forum on Saturday afternoon from 1:00 - 4:00 that will also feature a recorded video message from Governor Rick Perry. The group is currently working on setting up a live address via Skype from Rep. Michele Bachmann as well.

The Tea Party will conduct its own straw poll following the forum, learning from the experience of the Iowa straw poll. In Iowa, voters were allowed to cast ballots before the candidates had even addressed the attendees. After hearing the speeches, many voters asked for their ballots back so they could change their votes to vote for Cain according to Stevlic, who said, "We're not going to make that same mistake."
Right Nation's list of "participants" was decidedly less glittery.
* In related news, Carol Marin's most recent column is about Jack Roeser, who was tea party almost before the original tea party…
Roeser, who operates his aerospace engineering company and nonprofit Family Taxpayers Foundation out of offices in Carpentersville, has never gotten along with the moderate members of the GOP. Or they with him.

"I've been called some of the most interesting names," he said. "Like a cockroach in the caviar . . . or a member of the lunatic fringe."

Roeser views the ascendance of the Tea Party as vindication.

Then again, Roeser has long fired away at fellow Republicans with invective: U.S. Sen. Mark Kirk ("The Tea Party hates him."); former Gov. James Thompson ("He's the progenitor of the whole mess."); or former House Speaker J. Dennis Hastert ("Elements like Hastert are slugs.").
16 Comments















































Sorry, comments for this post are now closed.