* I like and respect Chuck Sweeny, and I don't mean to single him out, but this sort of opinion appears to be rampant these days…
The Legislature returns to Springfield this week for three days of nothing much as far as I've been able to determine. The lawmakers will get their per diem payments and return home, not to come back until January.

And 2012 being an election year, there isn't much hope that controversial work will get done then. Can Illinois wait until 2013 before problems of epic proportions created by a generation of lawmakers and governors are addressed? […]

I am talking, rather, about real problems like the state's $14 billion debt, the worst-in-the-nation $85 billion unfunded pension liability and the billions owed to businesses and nonprofits that have performed services and provided goods to the state but must wait months to get paid.
I'm not sure where that "$14 billion debt" figure comes from, but whatever.
Chuck's column was titled "Lawmakers know what to do; I doubt they do it." It didn't really contain much in the way of solutions to our immediate problems, and it showed a lack of understanding for where we've been. So…
* Let's take a walk down memory lane, using actual facts and real figures. Everything I'm posting here is from a Commission on Governmental Forecasting and Accountability report.
For instance, here are base state revenues (blue) vs. base spending (red) from FY 1995 through FY 2010…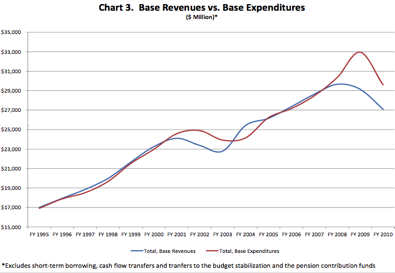 Almost the entire backlog of overdue state bills was generated during that last bizarrely unprecedented spike. Illinois has been dragging those unpaid bills behind it ever since.
Look at the history and disregard the propaganda. Revenues and spending mostly went hand in hand until after the 2006 election, when Rod Blagojevich declared all-out war on Speaker Madigan and Madigan responded in kind. We had huge spending increases while revenues tanked with the international economy. I've always believed that Madigan deliberately tried to bring the government to its knees during this period. It almost worked. Trouble was, Rod got arrested and was then impeached, so Madigan, et al had to dig their way out of the hole they created in the wake of what was by all definitions a political civil war (a war which I supported, by the way, but also repeatedly warned of its consequences).
* The ferocity of the international collapse obviously took Madigan and others by surprise. By the time they looked up from their war, the budget had gone to heck and the piper had to be paid. Here's revenue growth ending FY 2010…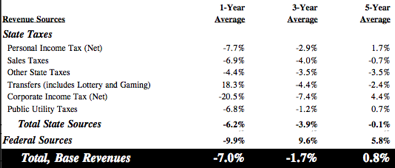 Spending growth ending FY 2010…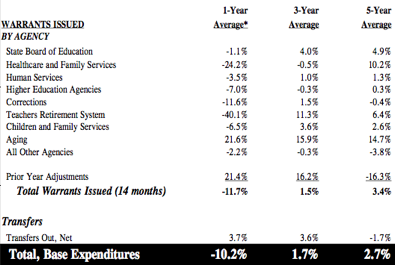 Bill Brady was calling for a ten percent spending cut last year, but that was already being enforced by collapsing revenues.
* And it ain't over. The reduction in federal help to the states will take a big chunk out of this year's budget…
Couple the lower [federally reimbursable state spending] with a return to a lower [federal] match rate on what spending does take place, and federal sources are expected to fall $1.036 billion from last year's levels.
Discuss.
15 Comments












































Sorry, comments for this post are now closed.