* Champaign News-Gazette political columnist Tom Kacich (not online, so no link) reported today that James Liautaud, the CEO of the Jimmy John's chain, is running as a Mitt Romney convention delegate, in Champaign.
Sure enough, he's listed on the State Board of Elections' website…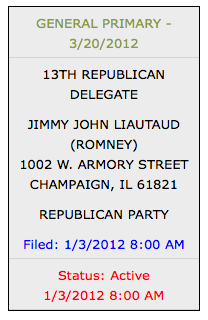 * But, wait, I thought Liautaud said he was moving to Florida and had already enrolled his children in school there to avoid Illinois' higher income taxes? From this past January…
Jimmy John Liautaud told The News-Gazette on Tuesday that he is angry about the moves, which boosted the individual income tax from 3 percent to 5 percent and the corporate income tax from 7.3 percent to 9.5 percent.

"All they do is stick it to us," he said, adding that the Legislature and governor showed "a clear lack of understanding."

"I could absorb this and adapt, but it doesn't feel good in my soul to make it happen," Liautaud said. […]

As for himself, "my family and I are out of here," he said.

Liautaud said he has rented a house in south Florida and his children started school there last week. He said he has applied for Florida residency and plans to commute to Champaign.
So, he doesn't want to live and pay taxes here, but he wants to run as a convention delegate here? Bizarre.
43 Comments
































































































































Sorry, comments for this post are now closed.