* This story has not been getting the attention it deserves, mainly because the Civic Federation released its study late Sunday night…
Illinois' unpaid bills may more than triple to $34.8 billion by 2017 unless lawmakers and Democratic Governor Pat Quinn immediately bring Medicaid and pension spending under control, said a research group.

The "potentially paralyzing" backlog, projected to reach $9.2 billion when this fiscal year ends June 30, would be fueled by an "unsustainable" increase in Medicaid spending, according to the Civic Federation, which calls itself a nonpartisan government research organization.

"Failure to address unsustainable trends in the state's pension and Medicaid systems will only result in financial disaster for the state of Illinois," Laurence Msall, president of the Civic Federation in Chicago, said in a press release today.
* More…
The report points to rising pension costs and medical bills for the poor and uninsured as the primary culprits of increased state spending. Among the Civic Federation's suggestions for reining in state finances are reducing automatic 3 percent increases built-in to retirement pay for government workers and increasing the cigarette tax.

"It's a very frightening situation," Msall said. "It's one that calls for not half measures, not politically massaged answers. It calls for significant, drastic action by the state of Illinois."
You're darned right this is frightening. That report freaked me out when I read it last night. Right to the bone.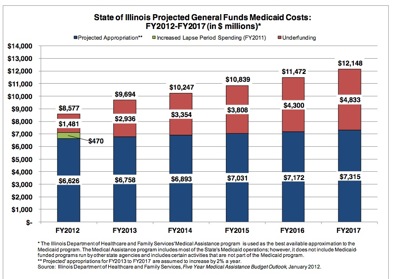 * The bad news in words…
General Funds Medicaid costs are projected to increase by 41.7% from $8.6 billion in FY2012 to $12.1 billion in FY2017, according to a recent analysis by HFS.49 General Funds costs of the program are projected to increase 13.0% between FY2012 to FY2013 due to an anticipated decline in resources from Other State Funds. Between FY2014 and FY2017, program costs are expected to increase at an average annual rate of 5.8%. […]

Unpaid bills increase in FY2012 because the program is underfunded by approximately $1.5 billion. As a result, the backlog of unpaid Medicaid bills is expected to grow to roughly $1.8 billion by the end of FY2012 from approximately $300 million at the end of FY2011, meaning that it will take longer for healthcare providers to be paid. If the increase in Medicaid appropriations were limited to 2% a year going forward, unpaid Medicaid bills would grow to $21.0 billion by the end of FY2017. […]

Annual Medicaid costs can exceed appropriations because State law allows Medicaid expenses, unlike most other State expenses, to be paid from future years' appropriations.52 This provision of Section 25 of the State Finance Act has repeatedly been used to budget an insufficient amount of Medicaid appropriations to cover costs for a given fiscal year, knowing that the bills will be paid from the next year's appropriations.
There are no real solutions in this report, either. The Civic Federation wants aggressive cost controls, but they'll have to be draconian to put this budget into balance.
* And that's just the Medicaid problem. Here's the full Monty…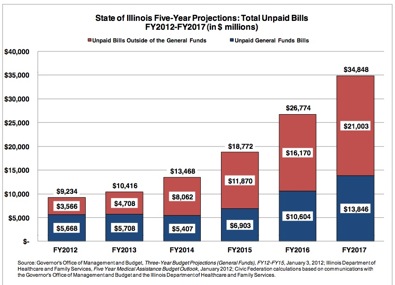 Click the pics for better views.
* Pension funding will cost the state a total of $9 billion from this year's base in five years. The red is debt service costs on the chart…
That $9 billion isn't chump change, of course, but it's nothing compared to how much money will go into the base via Medicaid.
* One of the Civic Federation's ideas is to tax retirement and Social Security income, as well as increase the cigarette tax by 98 cents a pack. This would put a dent into the stack of old bills, but not a big one. The Tribune, believe it or not, is not dismissing these two ideas out of hand…
All of us can debate these and other Civic Fed proposals. But we suspect many politicians would rather take an easy route this report doesn't suggest: renewing the "temporary" income tax hikes for years beyond 2014.

Tell us, Governor, where you stand. Candor in these two speeches might restore some of the credibility lost when you (a) pledged during the 2010 campaign to veto any personal income tax increase above 1 percentage point and (b) after the election, signed your 2-percentage-point increase into law.

Tell every Illinoisan, Governor, that "temporary" does not mean "permanent."
Um, even if the temporary tax is made permanent, that 2017 stack of unpaid bills will still be about $17 billion.
*** UPDATE *** AFSCME has issued a press release which it claims "debunks" the Civic Federation's report. The union doesn't challenge the Medicaid projections laid out above, however, and essentially focuses on a demand for a tax hike on the wealthy.
44 Comments



































































































































Sorry, comments for this post are now closed.