* "Downstate has seceded from the Democratic Party," bemoaned a Democratic operative a few months back. The Tribune's latest poll shows President Obama, who split the Downstate vote with John McCain in 2008, is in bad shape in the region. These first numbers are the president's job approval ratings…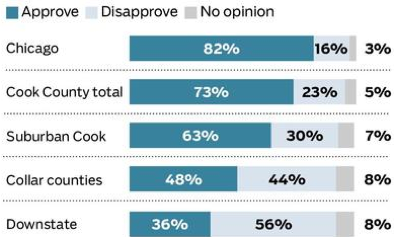 * And these ratings are for his handling of the economy…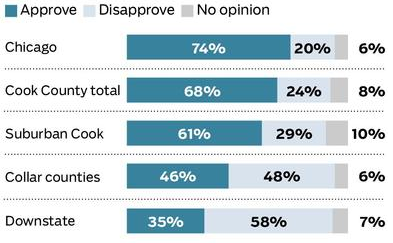 Democratic legislative leaders are pushing hard to win every possible suburban seat they can because they're deathly afraid of a Downstate bloodbath. Those results show you why.
A poll taken for Fox Chicago back in October had Obama's Downstate approval at 39 percent and his disapproval at 57 percent, so he's doing a bit worse in that region.
* However, the Tribune poll also clearly shows that Obama is rebounding in suburban Cook and in the collars. That October poll mentioned above had Obama upside down in the collar counties, 43 percent approved, 55 percent disapproved.
* And check out this Tribune poll nugget…
The survey found Obama to be particularly strong among women — especially among white suburban women who tend to be more socially moderate. Obama wins 63 percent of their vote against Romney and 65 percent of their vote against Gingrich, the poll found.
Yikes.
Suburban Republican candidates, particularly in Cook County, are not gonna like those numbers.
* More…
While tea party support for a congressional candidate has some influence among Republican voters, only 17 percent of voters overall said such an endorsement would make them more likely to vote for a contender.

Fully 34 percent of all Illinois voters said a tea party endorsement would make them more likely to vote against a candidate, and 39 percent said it would have no effect on their votes.
* But that's about November. Let's look at some primary news. House Speaker Michael Madigan's primary campaign is getting some help from what some might think is an unlikely source…
A mostly Latino group headed by the Illinois Coalition for Immigrant and Refugee Rights has scheduled a press conference for Friday morning and a rally for Saturday that's aimed directly at Michele Piszczor, the young legal assistant who's actually daring to take on the speaker in next month's Democratic primary.

Joshua Hoyt, the group's chief strategy executive, says Ms. Piszczor has refused to sign a "no hate" campaign pledge and is getting help from wealthy businessman Jack Roeser, a strong social conservative and vehement foe of the federal and state Dream Acts.

But Ms. Piszczor says she's never even seen the pledge, and continues to deny any Roeser ties. "All of this is a play by Madigan."

The pledge states that a candidate "will refuse any association with or support from — direct or indirect — individuals or entities that have a history of anti-immigrant extremism in Illinois."
This is about interests. And having a Speaker who is now on board with the group's agenda is most likely seen as far more preferable than electing a freshman who happens to have been born a Latina, especially if she's being supported by "the enemy." It's not personal, it's just business.
* New TV ads…
The U.S. Chamber of Commerce is making an extraordinarily early move to shore up two embattled Republican members of Congress here.

The chamber this morning began a cable and broadcast TV ad blitz on behalf of U.S. Reps. Robert Dold of Winnetka and Judy Biggert of Hinsdale.

The "substantial" ad buy is the "earliest we've ever been up" in Illinois, according to a chamber spokesman, and comes a full month before the primary election, in which both are expected to be made the official GOP nominee for re-election.
Those surging Obama numbers may be one reason for the ads. I'm hearing that Obama is surging in Dold's district, for instance. Here's the Chamber's Dold ad…
* Biggert ad…
As always when we discuss national politics, no bumper sticker slogans and drive-by comments. We're not that kind of blog. Thanks.
47 Comments












































































































































Sorry, comments for this post are now closed.