* Keep in mind when reading this Tribune poll result that respondents were allowed to choose more than one response…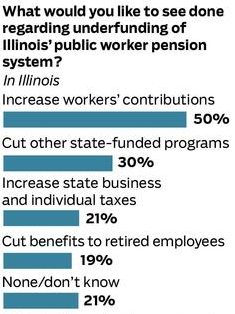 * According to the Tribune, 65 percent of collar county voters and almost 60 percent of Republicans favor the "workers pay more" option. More…
[On cutting benefits for current retirees] Opinion was divided along income levels, with 13 percent of those earning less than $50,000 a year supporting benefit cuts for retirees, and 28 percent of voters earning more than $100,000 a year favoring it. […]

30 percent of voters would support cutting other state programs to better fund pensions. Opinion is heavily divided along partisan lines, with just 17 percent of Democrats supporting that idea compared with 50 percent of Republicans.
* In other polling news, the Tribune's question on gaming expansion could've been fleshed out better…
Do you approve or disapprove of expanding gaming in Illinois?
The debate right now isn't so much whether to expand gaming, it's about how to do it. But here are the results…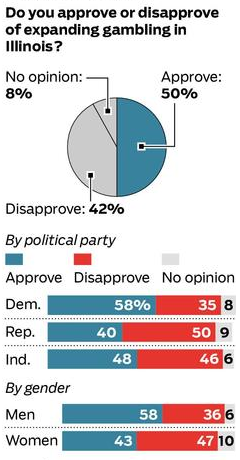 Discuss.
35 Comments








































































































Sorry, comments for this post are now closed.